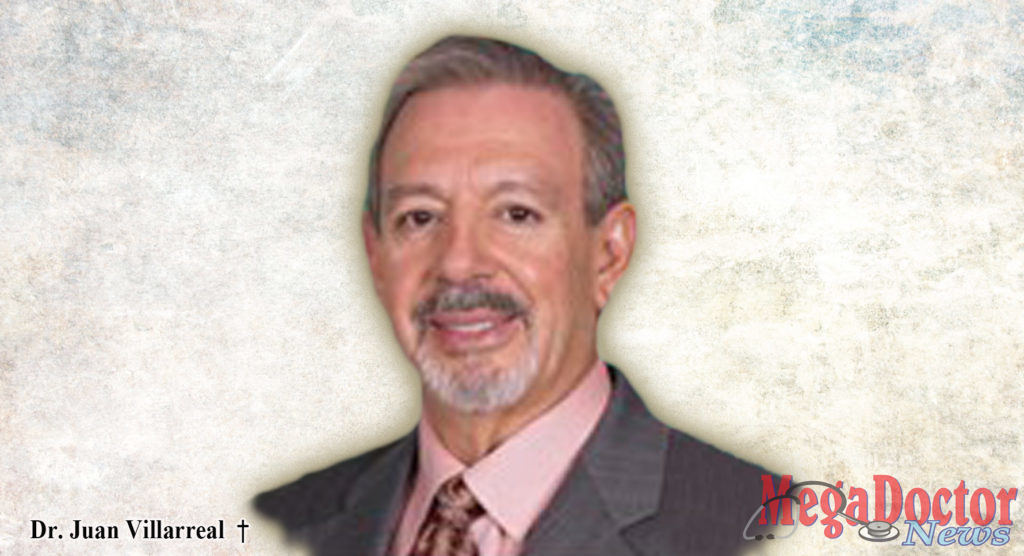 - Advertisement -

Mega Doctor News
By Roberto Hugo Gonzalez
As originally published by Mega Doctor News newsprint edition January 2020
Harlingen, TX – Mega Doctor News is sad to share that one of our Mega Doctors passed away. Dr. Juan D. Villarreal, a humanitarian, philanthropist, and a community leader passed away unexpectedly on Sunday, December 29, 2019, at the age of 66.
We first met him in 2011 and made plans to feature him as Mega Doctor in the February 2011 edition what was Mega Metropolis Health & Fitness. The title of the article was: Dr. Juan D. Villarreal: Hard Work, High Moral Principles Make Him Successful.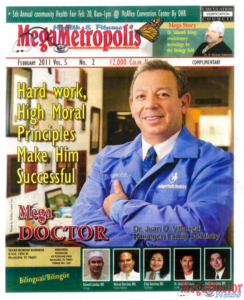 I used the following words to start the article about Dr. Villarreal: "They are difficult to find but if you look hard and close, you will find them. No, they are not a precious stone like a diamond, but they are professionals who do parallel in rarity and value." His hard work and high moral principles, and unique characteristics set him apart from many in south Texas.
Dr. Villarreal came from humble beginnings, his father used to work at the local Hygeia Dairy Company in Harlingen close to where Dr. Villarreal was born. "My father used to make the ice cream at the dairy company, so of course we used to have our refrigerator full of ice cream," he said.
By the time he was 13 years of age his father had passed away; this event changed the lives of everyone in his family. "Because of this, we learned how to work even harder," he stated. He was a child at the time when the activity of a newspaper route came into place. It was through that newspaper route and mowing yards that he was able to earn money to help the family. He went through the Catholic school system, then on to Coakley Junior High and Harlingen High School.
- Advertisement -

Dr. Villarreal's decision to go into the field of dentistry came about as a result of a suggestion from Joe, his 21-year-old brother who was in the Navy and worked as a dental technician. "My brother talked to me about dentistry and how much he liked it," he recalls.
At the time Dr. Villarreal was seriously thinking about going into medical school, he had become an x-ray technician, working full time in the medical field and his plan was to become a radiologist. The change in career path to go into the dentistry field was due to his brother's influence.
Dr. Villarreal graduated from Corpus Christi State University with a Bachelor of Science degree in Biology and a minor in Chemistry. Then he attended dental school at the University of Texas Health Science Center San Antonio and received his dental degree in 1983.
Dr. Villarreal told me that many of his patients in the dental clinic had also been his customers during the time he was a newspaper delivery boy.
The second time we wrote about him, was when he released a book about Government corruption in Texas Medicaid. He classified the corruption as the worst of its kind.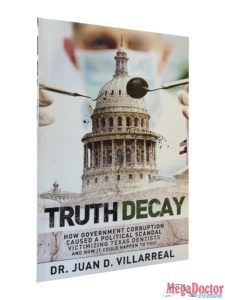 The courageous doctor wrote a powerful book to describe his struggle with the top bureaucrats of the Texas Health and Human Service Commission and its Office of Inspector General. They had targeted him and his practice in 2011 with serious but false allegations of misconduct within the Medicaid program.
The ensuing battle tested his belief in himself and pushed his practice to the brink of financial collapse. The state withholding over a million dollars in payments for services delivered to poor children in the Rio Grande Valley.
He describes it as the confrontation had by little David of Bible times with Goliath, a fearsome giant of a man. His story is a first-hand tale of right and wrong. Like the shepherd boy, the doctor bravely took on an intimidating giant, and in both battles, the little guy won. I still have a copy of his book "Truth Decay", (see the image of the book shown in the left).
Dr. Juan Villarreal will be missed.
---