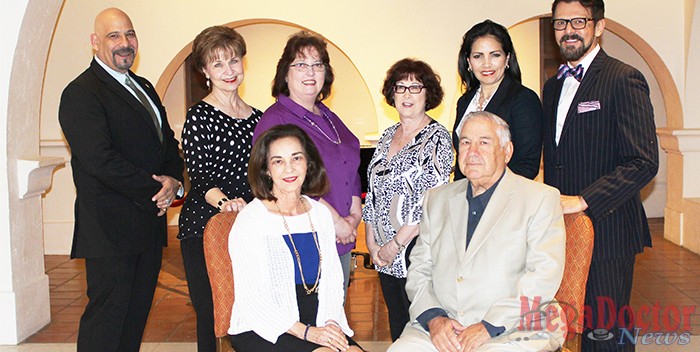 Mega Doctor News
- Advertisement -

McAllen, TX- The Collage 2015 Committee is pleased to announce this year's honorees to be Dr. Cayetano and Mrs. Yolanda Barrera for their outstanding years of service and dedication to many Rio Grande Valley organizations, including the International Museum of Art & Science (IMAS).
The Barreras have been active members of the community since the late 1960s. Mrs. Yolanda Barrera has served as President of Hidalgo-Starr County Medical Auxiliary, the McAllen Child Study Club, the International Women's Board, and the Pan American Round Table at McAllen. She has been involved with the museum since the 1970s in various capacities like Chairman of the MIM Expo Arts & Craft Show (1986-88), member of the Board of Trustees, Charter Member and President of the IMAS Guild, and Chair of the Spring Luncheon-Style Show.
Dr. Cayetano Barrera received his Doctor of Medicine from the University of Southwestern Medical School in 1963 and was drafted by the U.S. Army in 1966. Besides practicing medicine for 43 years, Dr. Barrera has served his community as President of the McAllen Economic Development Corporation, Texas Academy of Family Physicians (Valley Chapter), Hidalgo-Starr Counties Medical Society, Rio Grande Boy Scout Council, the UTPA's Rio Grande Valley Historical Collection, and Tejano Monument, Inc. Dr. Barrera served as the museum's Chair from 1973-1974. During his tenure at IMAS, he paved the way for the museum's first expansion and move to its current location.
"Collage: A Legacy of Service" will take place on Saturday, September 26, 2015 from 6:00p.m. to 12:00a.m. at the International Museum of Art & Science. Now in its 38th year, Collage is the largest and longest running in the Rio Grande Valley. The funds raised at Collage enable IMAS to continue building its legacy as an institution accredited by American Alliance of Museums, as well as the only Smithsonian Affiliated museum and ASTC member south of San Antonio. For more information on Collage, Dr. Cayetano & Mrs. Yolanda Barrera, and/or sponsorship opportunities, please contact IMAS at (956) 682-0123 or visit www.imasonline.org.