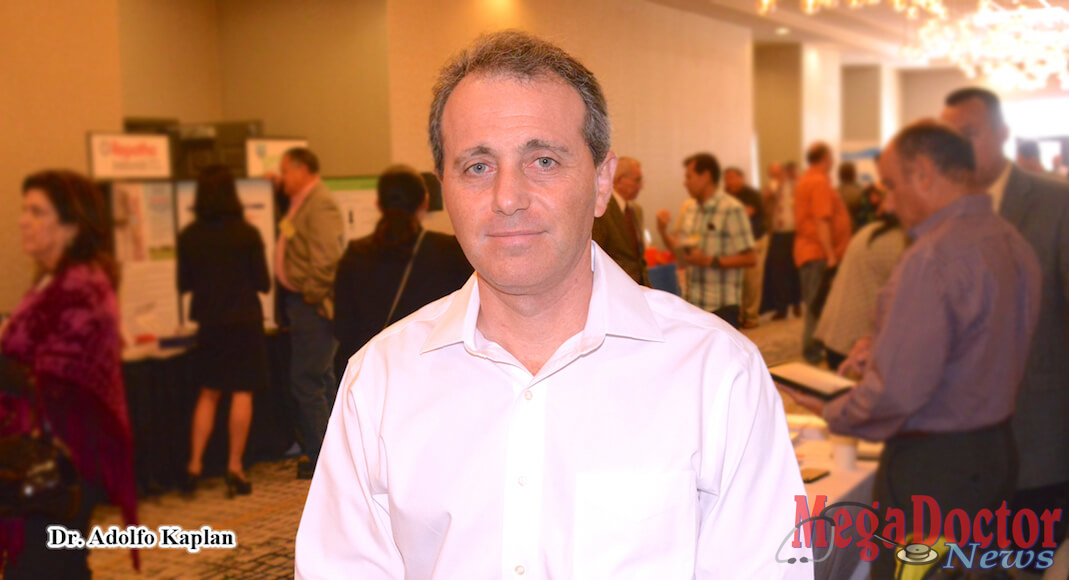 By Roberto Hugo Gonzalez
- Advertisement -

As originally published by Mega Doctor News in its newsprint edition May 2018
Dr. Adolfo Kaplan is a physician specialist in Asthma and Critical Care Medicine. He participated in the 26th Annual Rio Grande Valley Medical Education Conference & Expo where he lectured to hundreds of physicians committed to continuing education in the field of medicine.
Physicians are always learning, and the Medical Education Conference & Exposition with its theme, "Reaching New Horizons" gave them an opportunity to learn more.
The conference is mainly designed for primary care physicians and medical practitioners in the following specialties: family medicine, internal medicine, pediatrics, OB-GYN, surgery, emergency medicine and infectious diseases.
Dr. Kaplan as part of the faculty lectured on asthma, he said, "The problem is that diagnosing asthma is not that easy. The tests we have are, for the most part, pretty much the same ones used decades ago."
He pointed out that the knowledge about the pathways that lead to different presentations of asthma has evolved dramatically. "We're still stuck with breathing tests which are very important but should not and must not be the only way to determine if someone has asthma, and most importantly what type of asthma a person has," he stated.
Why and how do people get asthma? "That's an interesting question; there are many risk factors. But believe it or not one of the most important factors is when you are in the uterus when you are in your mom's belly." He said, "The exposure that the mother has like smoking herself, or inhalants and environmental pollution determine to a great extent the amount of lung development the baby will have. That exposure will mark them for the rest of their life."
- Advertisement -

Dr. Kaplan added that without question these are significant factors. However, he admits that there are many others including genetics.
Are children more susceptible to asthma? "It used to be thought that asthma was a disease of childhood and that is not the case. 50 percent of people diagnosed are adults."
He said that anyone could develop asthma. "You may not have had asthma for a long time, and then you develop it in some cases."
The first challenge is to diagnose it correctly and to do that, Dr. Kaplan recommends that a physician should be part of the equation. "It is important to follow the guidelines which are updated on an annual. If there's any question or symptoms and not a diagnosis or if there's any degree of uncertainty, you should probably be evaluated by a specialist."
According to him, ten percent of asthmatics have severe asthma, which he says to be very symptomatic with significant limitations in physical activity.
Do people with severe asthma have more chances of dying than people with no severe asthma? "Not really. That's one misconception. Certainly, the with the availability of inhalers in the market now for decades, the asthma death rate in the states has decreased tremendously," Dr. Kaplan stated.
But even with inhalers and different treatments, he said that 6000 people die from asthma and estimated 3600 babies die before being born because of their mother's asthma.
He points out that there are many different types of treatments in the market and it may be confusing because there are multiple medications within the same brand family. He said, "But we have different medications, which for us represent options."
He elaborated that by using inhalers when possible is because this medication goes directly into the lungs without having to go through the absorption in the intestine and liver. "Also," he said, "There are medications by mouth, and now there are medications with injections."
Which is the best way to avoid having asthma? "Don't smoke, don't smoke. Avoid polluted environments," he said.
Asthma is by no means the only respiratory problem you may encounter, but it's prevalent.  "It's probably more common than most of the other respiratory illnesses, but remember to seek help with a physician," finalized Dr. Kaplan.