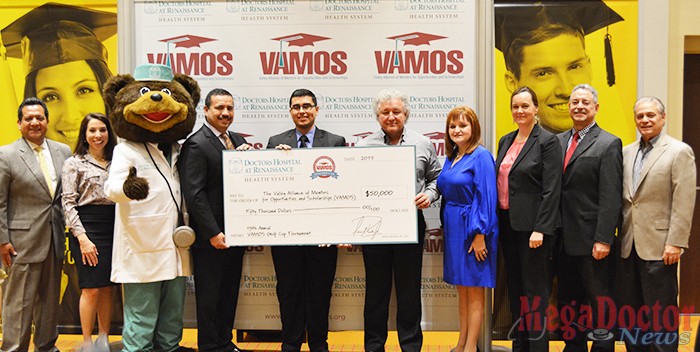 Mega Doctor News
Doctors Hospital at Renaissance named Presenting Sponsor for 2015 VAMOS Golf Tournament Fundraiser
Edinburg, TX, January 22, 2015:   Valley Alliance of Mentors for Opportunities and Scholarships (VAMOS) is holding its 19th Annual Golf Cup Tournament, on March 7, 2015 at the Palm View Golf Course.   Doctors Hospital at Renaissance (DHR) has committed to being this year's Presenting Sponsor with a generous contribution of $50,000.  Their financial support will help VAMOS toward their goal of raising $1 million in scholarship funding for students of the Rio Grande Valley.      
VAMOS held a Press Conference announcing the tournament's Presenting Sponsorship and check presentation on Tuesday January 22, 2015 at the Edinburg Conference Center at Renaissance, located at 118 Paseo Del Prado Ave., Edinburg, TX 78539 at 10:00 AM.   March's tournament is the organization's largest fundraiser and one of the most anticipated tournaments in the Valley.   Funds raised are applied to four year renewable scholarships designated for graduating high school seniors of the Starr, Cameron, and Hidalgo County areas.  The goal of VAMOS is to raise $1,000,000 for its scholarship program.  Last year, with the help of community support and its sponsors, the organization was able to award 70 students with four year scholarships to the university of their choice.
Doctors Hospital at Renaissance (DHR) is leading the way for advanced healthcare in South Texas and VAMOS wants to ensure Rio Grande Valley students have the opportunity to be at the forefront of all future medical innovations and advancements.  The partnership between VAMOS and DHR allows for the continuous support of Valley students through their post-secondary education and onwards with employment and internship opportunities for these students.  As Presenting Sponsor for the golf tournament, DHR has demonstrated its commitment to education and to our community's youth and future leaders. 
DHR is a health care facility dedicated to fostering health, education, and civic service in its community; VAMOS is delighted to have Doctors Hospital at Renaissance as a partner in promoting higher education among Valley students.   
"Doctors Hospital at Renaissance (DHR) is dedicated to the advancement and development of our community. Through our commitment, DHR's Board of Managers and Partners supports programs that enrich and foster health, education, and civic service. DHR is proud to support VAMOS as it gives back directly to our community, supporting the future of our students through scholarships and educational opportunities." -Marissa Castañeda, Senior Executive Vice President, Chief Operations Officer
VAMOS is thankful to Doctors Hospital at Renaissance for their generous contribution and dedication to providing Valley students with the opportunity to achieve a post-secondary education.  In partnership with sponsors like Doctors Hospital at Renaissance, and assistance from our outstanding volunteers, VAMOS can continue its mission to provide four year scholarships for students in the Rio Grande students. 
For more information about VAMOS and the upcoming VAMOS Golf Cup Tournament please call 956-631-1273 or visit our website at www.vamosscholars.org .  Find VAMOS on Facebook at www.facebook.com/vamosrgv .   For more information about Doctors Hospital at Renaissance, please visit their websites at www.dhr-rgv.com or find them on Facebook at www.facebook.com/thinkDHR.