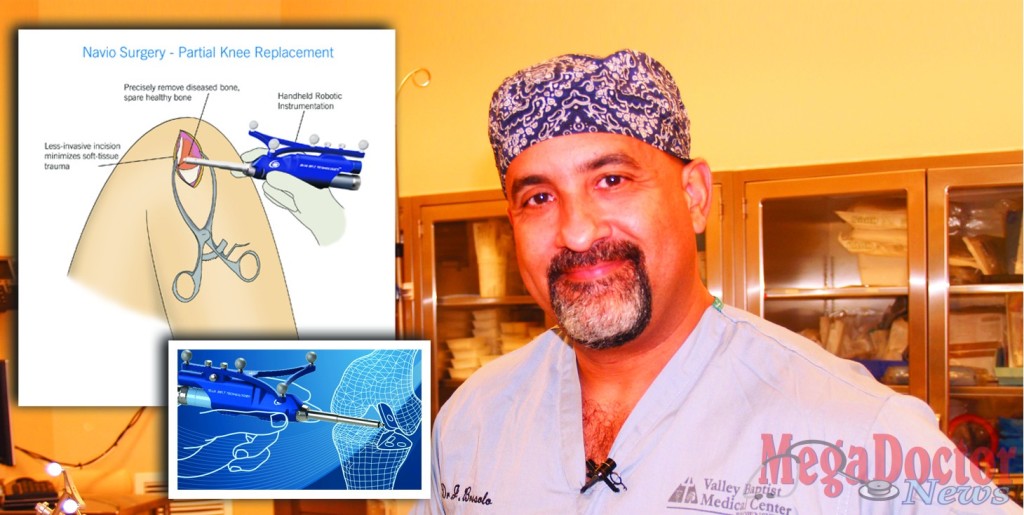 Mega Doctor News – 
- Advertisement -

Brownsville –  Dr. Jose A. Bossolo, a Brownsville Orthopedic Surgeon, has now performed over 100 knee replacement surgeries with the help of a robot.
Robotic-assisted knee surgery has benefitted many Valley patients through smaller incisions and a quicker healing time since Dr. Bossolo performed Cameron County's first "Navio™ partial knee replacement" surgery in Feb. 2014 at Valley Baptist Medical Center-Brownsville.
During the surgery, Dr. Bossolo holds a robotic instrument — and he directs where it goes and what it does; the small device does not move at all without his guidance.
"The robot is an extension of my hand, but since the robotic instrument is smaller than my hand, it can help line up a prosthesis (artificial knee) through smaller incisions and more precisely than any human can," Dr. Bossolo said.  "The Navio robotic system allows unprecedented accuracy and precision, so that the prosthesis is fitted as accurately as possible with the patient's bone."
Dr. Bossolo added that the computer system allows him "to picture what the X-rays will look like, before I make a single cut to remove any of the damaged bone … to make sure that we only remove the amount of bone required to place the implant.  This allows us to resurface the patient's knee in a very precise manner."
Dr. Bossolo said the new technique benefits many patients as in many cases there is less pain, less scarring, less loss of blood, lower risk of complications, and less exposure to radiation.  In fact, the Navio system eliminates the need for CT scans of the patient before the surgery.  Instead, the surgeon is able to "map out" the best location for implants immediately prior to placing them – creating an individualized plan to best treat each patient's knee.
"The Navio technology allows me to more precisely balance the patient's knee ligaments, with the result in many cases being a more natural-feeling knee after surgery," Dr. Bossolo added.
- Advertisement -

"In addition, these partial knee replacements are less invasive than total knee replacements, since we are placing an implant on just one side of the patient's knee, rather than over the entire knee joint surface," Dr. Bossolo added. "This means many patients can go home sooner and spend less time in the hospital.  In fact, many patients are able to go home within a couple of days after their surgery, some as early as the next day."
People with pain in their knee often have trouble with walking, going up stairs, jogging and other activities.  Some experience these problems for years, and are treated with medication and exercise – until the pain becomes so great and their mobility so impaired that they seek orthopedic surgery.  In most cases, this pain has been caused by arthritis, which is very common in the Valley and across the nation.
"Osteoarthritis" of the knees – in which the cartilage that cushions the bones wears away — can be genetic and is sometimes associated with obesity.  But arthritis in the knees has also been associated with certain types of injuries and work that the person may have done when they were younger – such as the heavy lifting and loading done by migrant farm workers," Dr. Bossolo said.
Dr. Bossolo has been practicing in the Valley for 12 years.  In 2008, Dr. Bossolo became the first physician in Cameron County to perform a type of "Computer-Aided Total Knee Arthroplasty" – which enabled a Brownsville woman to walk on her own only a day after having a knee replacement surgery.
A member of the U.S. Army Reserves, Dr. Bossolo completed two tours of duty in Iraq, where he performed surgeries on hundreds of injured U.S. troops as well as injured civilians.
Dr. Bossolo completed a fellowship in upper-extremity surgery at Baylor College of Medicine in Houston and orthopedic training at the Puerto Rican Medical Center at the University of Puerto Rico. MDN