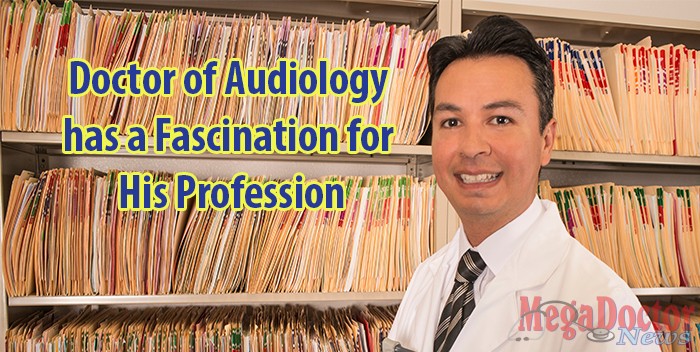 By Roberto Hugo Gonzalez,
As originally published by Mega Doctor News in its newsprint Edition
The year 2013 has been one to remember. The Patient Protection and Affordable Care Act (PPACA)commonly called the Affordable Care Act (ACA) or "Obamacare" has had a very strong impact this year. Doctors across the country along with everyone else were not quite sure how this reform was going to affect each of us. Even today at the end of the 2013 there are still many concerns that were exacerbated by the problems of the healthcare.gov website.
We ran the story "Doctor of Audiology has a Fascination for His Profession" about our Mega Doctor for the month of January 2013.
Hearing loss is one of the most common conditions affecting older adults. One in three adults over 60 years of age and half of those over 85 have hearing loss according to the National Institute of Deafness and other Communication Disorders.
Hearing problems can make it hard to understand and follow a doctor's advice, to respond to warnings, and to hear doorbells and alarms. Hearing loss can also make it hard to enjoy talking with family and friends.  All of this can be frustrating, embarrassing, and even dangerous.
For this reason, Mega Doctor News met with Dr. Ed Palacios, an independent audiologist in private practice since 2010. At the time of this interview he was providing comprehensive hearing evaluations and dispensing hearing aids to patients of all ages from newborn to geriatric.
At the time, we said that it was important to know that Dr. Palacios was the only independent Doctor of Audiology practicing in the Valley.  Independent, meaning that as an Audiologist he is a clinician providing diagnosis regarding hearing and disorders of hearing and under no obligation to any hearing aid manufacturer to select and dispense certain hearing aids in order to meet a quota.
Dr. Palacios said that referral sources need the expertise of an Audiologist to evaluate the hearing of patients and to diagnose the type and degree of hearing loss if present.  A comprehensive audiology evaluation begins with a thorough case history.  Diagnostic testing is then completed which provides the information needed to properly diagnose and possibly treat hearing loss with appropriate hearing devices. Patients are also counseled regarding the use of effective communication strategies to enhance hearing ability.
"Many referrals come from our existing patients," he said. At the time, he explained that his practice also followed a medical model of referrals that are made by hospitals, pediatricians, primary care physicians, ear-nose-and-throat physicians, school districts, nursing homes, and state and federal agencies.
What is the difference between a hearing aid dealer and a Doctor of Audiology? "The general public may not know the difference between an Audiologist and a hearing aid dealer since both provide hearing aid services, but the training involved is vastly different." He continued, "Doctors of Audiology must commit to a minimum of eight years at an accredited university studying and completing clinical rotations that culminate in the highest degree possible in the field."
Mega Doctor News chose Dr. Ed Palacios as the Mega Doctor for the month of January for his dedication to preserving and improving the hearing of his patients and improving their quality of life. MDN