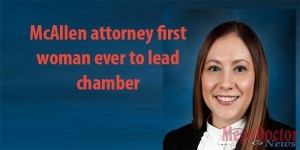 Texas Border Business
- Advertisement -

WESLACO – The Rio Grande Valley Partnership has named McAllen attorney Deborah Cordova as its chair for 2014 – the first time the chamber has ever been lead by a woman in its 69 years.
"Deborah is the absolute right choice to lead this organization right now," said Julian Alvarez, RGV Partnership President and CEO. "Deborah understands the Partnership's mission, knows the pulse of the business community and will help lead us as a broader entity especially as we deal with more and more regional issues."
Alvarez added that Cordova's selection was even more special because she was chosen by her peers to head up the Partnership. She has spent the last year serving as chair-elect. Current Chairman, Weslaco businessman Spencer Bell, conducted his last meeting on December 19. Cordova would immediately follow Bell and her first board meeting as chair will be in January.
"I am completely honored to be the first female to lead this organization in 2014.  I believe we have a good year ahead of us," said Cordova. "As chairwoman, I have specific ideas and goals I will seek to implement and accomplish in 2014.  Serving on the RGV Partnership board allows many individuals from different walks of life to come together as one to promote and advance our region.  Our main focus is on region wide issues.  We are, as our slogan says, one region, one voice."
A Mission native, Cordova earned her Bachelor's and Juris Doctor degrees at St. Mary's University in San Antonio and also received her MBA from the University of Texas Pan American. Cordova joined the McAllen law firm Kittleman Thomas & Gonzales, PLLC in 2007 and is a transactional attorney focusing on real estate, corporate and probate matters.
Over the last several years, Cordova has emerged as leader in a number of high-profiled leadership and service organizations in Texas and the Rio Grande Valley including as President of the Hidalgo County Bar Association in 2009-2010, as current Boys and Girls Club of Mission Board President, as current President of the Junior Service League of Mission and was also in Leadership McAllen Class XXVI.  She has also volunteered for several organizations in need of legal help.
"I grew up in a small community and was blessed with multiple opportunities," Cordova said. "There's nothing more fulfilling than giving back."
- Advertisement -

Cordova added that in accepting her new role at the RGV Partnership: "I am ready to dedicate 110% as a leader and eager to see this organization continue to prosper."  She said she is committed to working on regional issues such as education, health care, water, transportation and economic development.
The RGV Partnership has nine officers and 32 board members that help lead the organization. It is a regional chamber of commerce for the entire Rio Grande Valley area. Its mission is: To be the leader for regional prosperity in the Rio Grande Valley. www.valleychamber.com