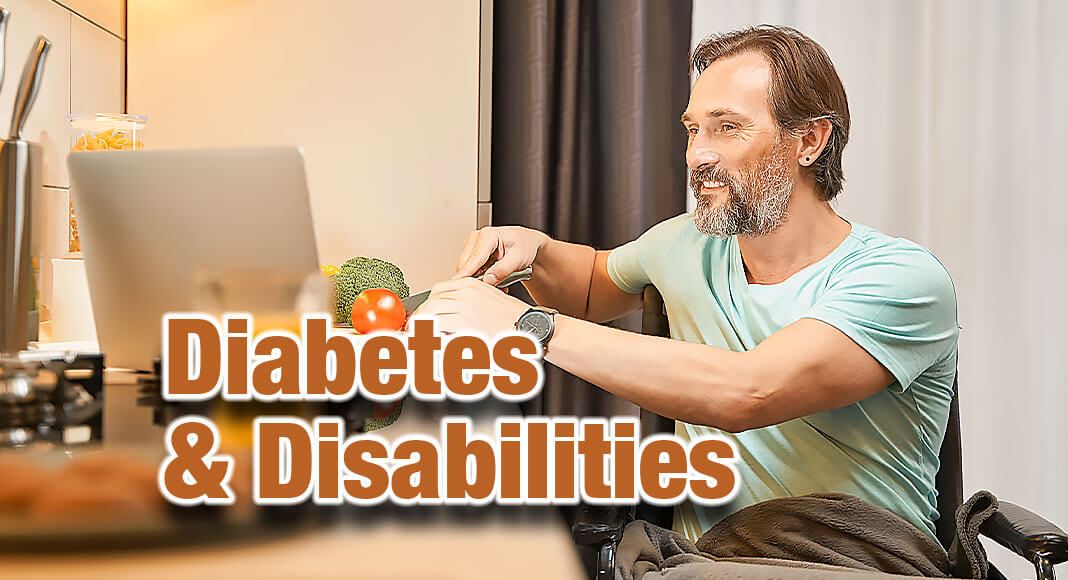 - Advertisement -

Mega Doctor News
CDC – It is important for people with disabilities to know their diabetes status to help them make the best decisions for their health. If you have a disability, learn what you can do to prevent or manage type 2 diabetes.
About 1 in 6 people with disabilities (16.2%) in the United States in 2020 had been diagnosed with diabetes, compared to 1 in 14 people without disabilities (7.5%). Differences are also observed across various states, races/ethnicities, and age groups. For example, diabetes is more common among people with disabilities who live in Mississippi (about 1 in 5 or 18.8%) compared to those who live in South Dakota (about 1 in 10 or 10.1%).1
You are at risk for developing type 2 diabetes if you:
Have prediabetes
Are overweight
Are 45 years or older
Have a parent or sibling with type 2 diabetes
Are physically active less than 3 times per week
Have ever had diabetes while pregnant (gestational diabetes) or given birth to a baby who weighed more than 9 pounds
Are African American, Hispanic/Latino American, American Indian, or Alaska Native (some Pacific Islanders and Asian Americans are also at higher risk)
Visit the Disability and Health Data System to learn more about diabetes among people with disabilities in your state and nationwide.
What Can People with Disabilities Do?
There are different ways that people with disabilities can get support to test for, diagnose, or manage type 2 diabetes.
How Does CDC Support People with Disabilities and Diabetes?
- Advertisement -

Projects
CDC supported a project at the University of South Carolina that resulted in a publication, Disparities in diabetes management among Medicaid recipients with intellectual and developmental disabilities (IDD): Evidence from five U.S. states. The goal of the project was to better understand the quality of diabetes care received by adults with IDD. The project provided information about the diabetes care needs among people with IDD insured by Medicaid in Iowa, Massachusetts, New York, Oregon, and South Carolina. It also served as the first study that looked at the quality of care for diabetes in the Medicaid population with IDD across multiple states.
Public Health Programs
Prevent T2 for All
CDC funds the National Centers on Disability, including Special Olympics and the National Center on Health, Physical Activity, and Disability (NCHPAD), which work to reduce the health differences between people with and without disabilities through inclusive health activities. NCHPAD adapted CDC's PreventT2 curriculum to create Prevent T2 for All. The aim of Prevent T2 for All is to improve access to lifestyle change programs for people with disabilities. Over a 12-month period, adults who have been diagnosed with prediabetes learn how to achieve modest weight loss, increase physical activity, and make other lifestyle changes to prevent or delay type 2 diabetes. NCHPAD also provides training on creating and sustaining an inclusive Diabetes Prevention Program and Disease Self-Management Education and Support program to its partners.
Several of CDC's funded State Disability and Health Programs, such as Florida, Minnesota, New York, and Montana, have also partnered with NCHPAD to offer trainings on Prevent T2 for All. Other funded states, like Michigan and Kentucky, have developed resources about diabetes including curriculum recommendations and handouts on A1c readings and blood sugar tests to make 
Taking Charge of Your Diabetes Educational Video
CDC funded the University of South Carolina to develop a video with self-advocates who have IDD and includes nine tips to help viewers manage their diabetes. A collaboration was formed across 10 State Disability and Health Programs (Arkansas, Iowa, Kansas, Massachusetts, Michigan, Montana, New Hampshire, New York, Oregon, and South Carolina) to create the Taking Charge of Your Diabetes educational video.
http://committoinclusion.org/diabetes-management-for-self-advocates/
More Information
References
1Centers for Disease Control and Prevention, National Center on Birth Defects and Developmental Disabilities, Division of Human Development and Disability. Disability and Health Data System (DHDS) [online]. Accessed November 23, 2022. URL: https://dhds.cdc.gov.
2Balogh RS, Lake JK, Lin E, et al. Disparities in diabetes prevalence and preventable hospitalizations in people with intellectual and developmental disability: a population-based study. Diabet Med. 2015; 32(2): 235-42. doi: 10.111/dme.12573
Information Source: CDC