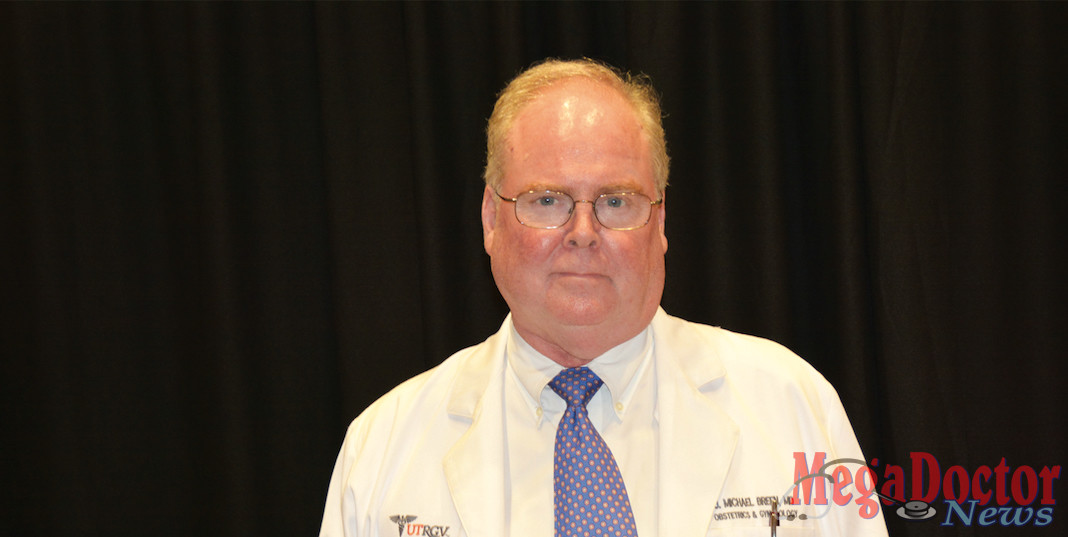 By Roberto Hugo Gonzalez,
As originally published by Mega Doctor News newsprint edition September 2016.
It was nice to see again a familiar face. He is Dr. Michael Breen, the director of the Obstetrics and Gynecology program at the medical school of the University of Texas Rio Grande Valley. Mega Doctor news had an opportunity to meet with him for the first time in March of 2014. Now, in a short time, there have been many events, because prior to coming here there was no residency program.
How do you feel about it? "I'm excited to be progressing. We had our bumps getting started. There's no question but it's starting to come together very well. The University and DHR have been very supportive, and I think we are going to have some outstanding physicians coming our pretty soon."
Dr. Breen is the program director for the obstetrics and gynecology program. He is in the graduate medical education section, which is separate from the undergraduate medical education part. He said, "We are taking care of the residents. We are training the residents," he said.
Dr. Breen is his thirtieth year as an educator. "I've been training residents for a long time, and I'm very pleased with the group that we've gotten down here," he stated.
He came originally from Tennessee where he spent about 22 years with the University of Tennessee.
What is your opinion of the region? "I find the population to be extremely friendly. It's very family oriented community. It was hot in Tennessee but it's hotter here but other than that I've been enjoying myself very much," he told Mega Doctor News.
Have you had a chance to go fishing at the island? "I've been down there a couple of times. My sport is golf. That's what I concentrate, but we are going to try to get down to the island a little bit more."
Doctor, what problems do you see in the Rio Grande Valley? "The population is so totally underserved. It's just that this population have not been taken care because they had no access to care."
He said that one of the services the residency programs provide is health care to the indigent population. He said, "Our doors are open to anybody whether you can pay or not. We are filling that niche. So, clinics like the Hope and El Milagro, places like that we are becoming their back up, and taking care of all their problems."
Doctors Hospital at Renaissance and the University of Texas RGV have put a lot of efforts in getting this programs open. Before they were available, there was two important residency programs like the internal medicine program established in 2002, utilizing Valley Baptist Medical Center in Harlingen and other clinical sites. James Hanley III, M.D., is program director.
Also the McAllen Family Medicine Residency Program, established in 1977, rounds out the rapidly growing group of residencies in the Rio Grande Valley. Eric Petersen, M.D., is director.
Additional residency programs in the planning stages include psychiatry with sites at the Valley Baptist Health System, Rio Grande State Center and VA Texas Valley Coastal Bend Health Care System, as well as child and adolescent psychiatry. A number of other specialty programs are being considered, as well.
"I'm just very pleased to be part of what's going on down here and I was very proud that they selected me to be the program director, and I'm just looking for to the future," Dr. Breen finalized.  MDN