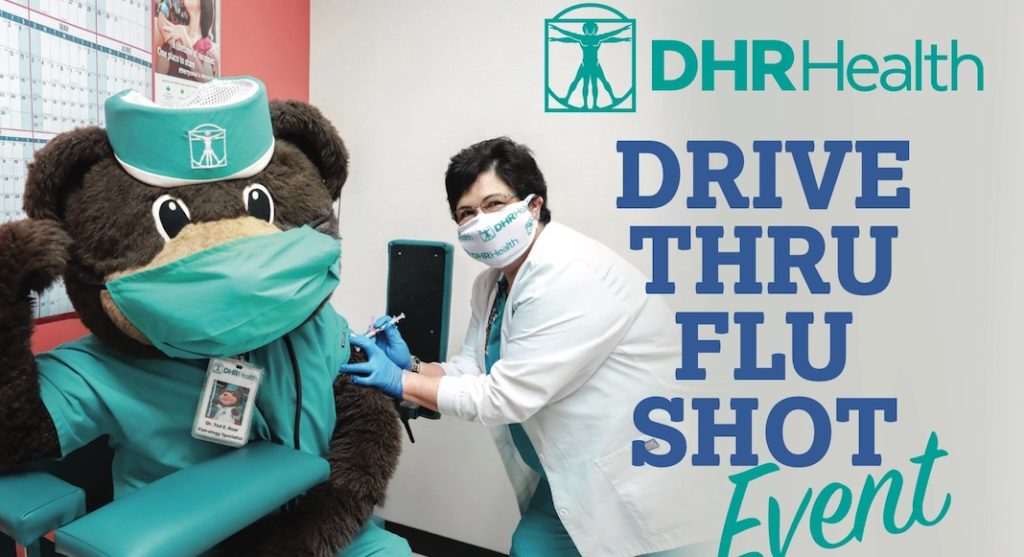 Mega Doctor NEWS
Edinburg, TX — The DHR Health Urgent Care facility in Mission, Texas will be hosting a Drive-Thru Flu Shot event on Saturday, December 19, 2020, from 8:30 a.m. to 11 a.m. at 2121 E. Griffin Parkway, Suite 16. DHR Health Urgent Care is dedicated to the health needs of families in the Rio Grande Valley and encourages those who have not received a flu vaccine to attend the event.
According to the CDC, it is likely that flu viruses and the virus that causes COVID-19 will both be spreading this season, meaning getting a flu vaccine is more important than ever. Influenza (Flu) and COVID-19 are both contagious respiratory illnesses and caused by different viruses. COVID-19 is caused by infection with a new coronavirus (called SARS-CoV-2) and flu is caused by infection with influenza viruses. Because some of the symptoms of flu and COVID-19 are similar, it may be hard to tell the difference between them based on symptoms alone, and testing may be needed to help confirm a diagnosis according to CDC.
The Drive-Thru event will allow the community to receive their flu shots without leaving their vehicle. Masks will still be required, and safety precautions will be in place to promote a safe and healthy environment for everyone. FREE flu vaccines will be available for those with insurance and those without insurance will only need to pay a small fee of $20. All ages are welcome, and the event is set to feature Dr. Ted E. Bear, entertainment, treats, and much more.
Drive Thru Flu Shot Event
Saturday, December 19, 2020 / 8:30 AM – 11:00 AM
DHR Health Urgent Care / 2121 E. Griffin Parkway, Suite 16, Mission, TX
Offering fast, affordable, urgent care, for non-life-threatening injuries or illnesses that require immediate attention, DHR Health Urgent Care in Mission is open from 5 p.m. to 1 a.m. Monday through Friday and from 12 p.m. to 12 a.m. on Saturday and Sunday. A physician or nurse practitioner is available to treat patients with high-quality medical care and no appointments are necessary. Patient services include laboratory, x-ray imaging, illnesses, minor injuries, diagnostic testing, and physical exams. For more information about the Drive-Thru Flu Shot event or about any of our three DHR Health Urgent Care locations, please call, (956) 362-5030