From the Bedside to the Boardroom Idea Culminates with Four Surgery Institutes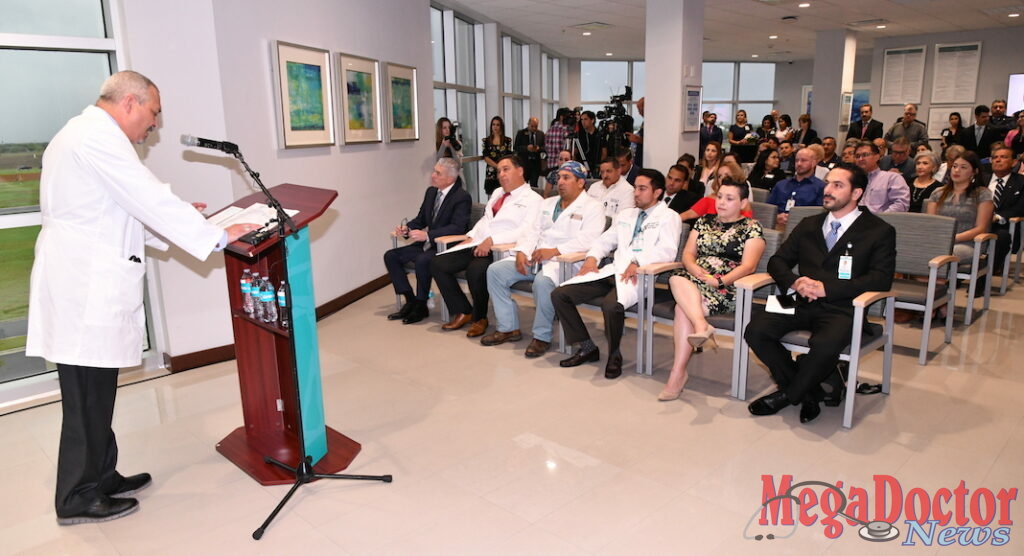 By Roberto Hugo Gonzalez
As originally published by Mega Doctor News newsprint edition September 2019
September 4, 2019 was indeed a special day for DHR Health System. The combined grand opening and ribbon-cutting ceremony officially open four DHR Health Institutes. The Ear, Nose and Throat Institute, DHR Health Plastic & Reconstructive Surgery Institute, DHR Health Surgery Institute, and DHR Health Vein Institute.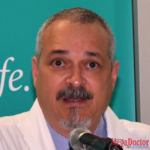 Dr. Carlos Cardenas, DHR Health Chairman of the Board, Chief Administrative Officer, Gastroenterology started the opening remarks and with the introduction of the institutes.
"The journey began in 1997 while I still had brown/black hair." He said, "When a group of forward-looking physicians decided that we ought to be able to work from the bedside to the boardroom." He continued, "To make choices and decisions that impact our community, and to help to transform healthcare in South Texas."
Dr. Cardenas also said that bringing together four surgical subspecialties and housing them under one roof helps serve more than one million people in South Texas.
"DHR Health System has now more than 730 physicians and 1200 nurses offering the full spectrum of care, and it all began as a day surgery center in 1997." He said, "Since that time, you've seen us grow and continue to talk to you about the different things that are transforming healthcare in South Texas."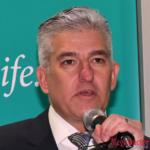 Dr. Robert D. Martinez, DHR Health Chief Physician Executive, and Chief Medical Officer said that from the beginning the idea was to provide a comprehensive level of services so that folks wouldn't have to leave the Valley. "I think today is a testament to what Dr. Carlos has talked about."
Next to the podium was Dr. Carlos Garcia-Cantu,DHR Health General Surgery Institute and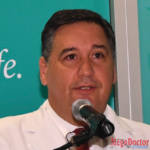 DHR Health Vein Institute, and Renaissance Medical Foundation Chairman of the Board. Dr. Cantu said, "As you can see, we're in a state-of-the-art facility with beautiful installations." He continued, "In this building, we have the following consultants and specialties that will allow patients to stay in the Valley and not to travel elsewhere seeking medical attention."
The services available include general and advanced laparoscopic and robotic surgery. Including vascular and endovascular intervention, reconstructive, colorectal, and breast surgery. Also, hernia surgery center of excellence, vein center, trauma and critical care, ENT, head and neck surgery, ophthalmology, and transplant surgery, and the imaging center with advanced equipment that provides the most advanced diagnosis and treatment.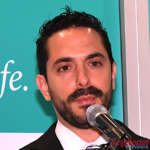 Dr. Mauricio De La Garza, DHR Health Plastic, and Reconstructive Surgery Institute Medical Director. He joined the DHR family about two and a half years ago. Dr. De la Garza said that they had the support from DHR administration to create a comprehensive plastic and reconstructive surgery center. "The efforts and dedication of many people, from Cantu Construction to the designer made this project a reality, for that thank you."
He pointed out that they started with three nurses, and today, 18 professionals help run the department. "It's a big team effort."
The center offers services from cosmetic surgery to reconstruction, including traumatic defects, congenital disabilities, complex wounds, tissue deformities following massive weight loss, breast cancer, and any skin cancer.
"We work in collaboration with multiple specialties, most of who are here in this building, making it easy to communicate with other surgeons."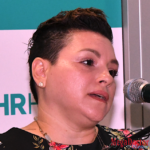 During the ceremony, he introduced Heidy Garcia, abreast cancer survivor. She gave her testimony of her breast cancer journey.
Dr. de la Garza said that Miss Garcia had right breast cancer. They proceeded with a multi-disciplinary approach, and this includes discussing the case in detail with general surgeons, oncologists, and radiologists, it was decided that she would benefit from bilateral mastectomies. "She underwent implant-based reconstruction with a good outcome."
Heidy was diagnosed with breast cancer stage 2 last August 2018. She expressed gratitude to the team of professionals that worked in her case.
"I still feel like a woman, that's where us women that go through this; it affects us a little. That we lose something and then we don't know how we're going to look again after," she said.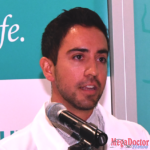 Dr. Melecio Medina, of the DHR Health Ear, Nose and Throat Institute was introduced as the newest ENT doc and a homegrown doc.
Dr. Medina said, "It's good to be home. DHR has created a healthcare network that can keep patients here, and I'm happy to be a part of that."
He said that when he left med school ten years ago, there was no ENT department at DHR. He said that coming back and work with this team was not even a dream for him.
"Our gamut of ENT services is the most comprehensive in the Rio Grande Valley. Anything from pediatrics, sinus surgery and allergy, head and neck cancer, hearing loss, and ear surgery are what we do here."
He mentioned about the hiring of a new audiologist and in the process of bringing on board an allergist to form part of the team.
DHR Health physicians conducted this ceremony excited, being the first time in South Texas that 4 of brand-new facilities open in one building.
Tours of the new offices and treatment rooms were in place after the ceremony.
Thee institutes are housed in DHR Health Medical Office Building at 1100 E Dove Ave. McAllen, TX, 78504.