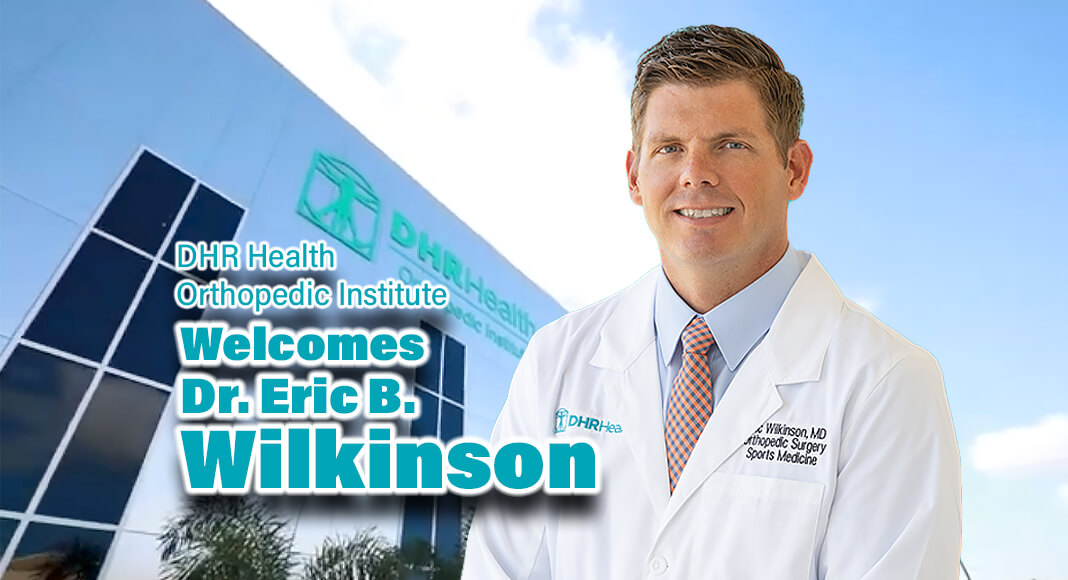 Mega Doctor News
- Advertisement -

EDINBURG, Texas – DHR Health is delighted to welcome Eric Wilkinson, MD as the newest Orthopedic Surgeon, specializing in Orthopedic Sports Medicine, to join its team at the DHR Health Orthopedic Institute. Dr. Wilkinson brings a wealth of experience caring for warriors and athletes from his time serving in the United States Navy and Orthopedic Sports Medicine training. During his fellowship at Houston Methodist, he cared for weekend warriors and recreational athletes in addition to the elite athletes at NASA, Houston Rodeo, Rice University, the Houston Texans and the World Champion Houston Astros. As a member of the DHR Health Orthopedic Institute, Dr. Wilkinson will devote his practice to the prevention, diagnosis, and treatment of sports injuries of the shoulder, elbow, knee, and ankle in addition to providing sideline and event coverage of athletic events across the valley.
Dr. Wilkinson began his academic training at Texas A&M University, where he graduated Magma Cum Laude with a Bachelor of Science degree in Biomedical Science. He then attended Texas A&M University College School of Medicine and graduated Cum Laude. After medical school, Dr. Wilkinson was commissioned as a Lieutenant in the United States Navy and completed a Transitional Year internship at the Naval Medical Center in San Diego in preparation to serve as a Naval Flight Surgeon. He then cared for Marine Corps Recruits at the Marine Corps Recruit Depot in San Diego, California prior to completing his Flight Surgery training at the Naval Aerospace Medicine Institute in Pensacola, Florida. As a flight surgeon, he was stationed at Marine Corps Air Station Miramar in San Diego, California where he cared for a Marine Corps Osprey squadron and deployed as the Air Combat Element Medical Officer for the 15th Marine Expeditionary Unit. Upon completing his military commitment, Dr. Wilkinson was mentored by Dr. Kip Owen and Dr. Michael Sander prior to moving to Alabama for his orthopedic residency. He completed his orthopedic surgery residency at the University of Alabama at Birmingham in Birmingham, Alabama and then completed further specialized training in Orthopedic Sports Medicine through his fellowship at the Houston Methodist Orthopedic & Sports Medicine in Houston, Texas.
"My wife and I are excited to return to the Rio Grande Valley to be close to family and join the vibrant community. In the words of a local artist, "When we saw the palm trees, we knew we were home." While Sarah will be saving lives in the emergency department, I look forward to saving lifestyles on the sidelines and in the operating room. We look forward to seeing you out there," stated Dr. Wilkinson.
The DHR Health Orthopedic Institute is led by a team of skilled physicians who excel in delivering exceptional orthopedic care. Whether addressing minor sprains, overuse injuries, chronic conditions, or traumatic injuries, the institute offers comprehensive specialty care for the entire musculoskeletal system. DHR Health Orthopedic Institute provides specialty care in Sports Medicine, Total Joint Arthroplasty, Trauma, Spine, Hand, and Pediatrics in addition to general orthopedics. These injuries may require medications, focused physical therapy or possibly surgery to return to full prior activities. With a multidisciplinary team-based approach, the doctors of the DHR Health Orthopedic Institute use their easily accessible advanced diagnostics, specialized surgical expertise, and valley wide network of physical therapy services to lead their patients back to peak performance, enabling them to embrace a vibrant and active life.
Dr. Wilkinson is currently accepting new patients at the DHR Health Orthopedic Institute. His office in located in Edinburg at 5540 Rafael Drive. To schedule an appointment, please call (956) 362-6683 (MOVE). The DHR Health Orthopedic Institute accepts broad range of medical insurance plans, Medicare, and Medicaid. Dr. Wilkinson will also see workers' compensation cases.