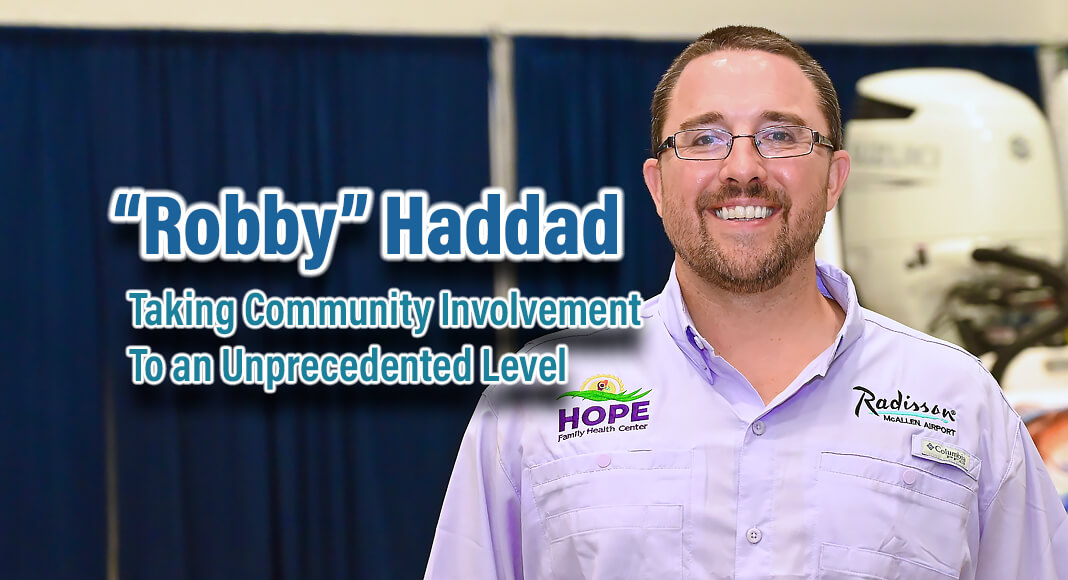 Mega Doctor News
By Roberto Hugo González
The healthcare landscape in the Rio Grande Valley has been significantly enriched by the tireless work of Roberto "Robby" Haddad and the team at DHR Health, where he belongs. As the Vice President of the Council for Government Affairs at DHR Health, one of the region's largest medical conglomerates, Haddad has taken community involvement to an unprecedented level. This commitment is most apparent in his involvement with the Hope Family Health Center. This charitable organization provides indigent and uninsured individuals integrated behavioral and medical care at no cost.
Haddad's involvement with the Hope Board dates to 2017. He has moved up the ranks, having served as Vice Chair in 2020, and is now in his third term as Chairman. Under his stewardship, the Hope Family Health Center navigated the turbulent waters of the COVID-19 pandemic and a surprising leadership transition, expanding its reach into the Mid-Valley region. One of the primary drivers of this financial benefit is the "Fishing for Hope" tournament at South Padre Island. This creative fundraising event brings the community together for a noble cause.
The Fishing for Hope tournament isn't just any other community event; it's a rallying point for DHR Health and the surrounding community. Organized, staffed, and largely funded by DHR Health and its partners, this annual event has continued to break records in fundraising, culminating in a recent staggering total of $400,000. It's worth noting that this sum accounts for roughly 35% of Hope Family Health Center's annual budget. It provides much-needed funds to cover many expenses: staff salaries, equipment, surgeries, prescriptions, and even utility bills that help keep the clinic's lights on.
But this financial accomplishment isn't the product of the fishing tournament alone; it's also a tribute to the collective efforts of DHR Health's large workforce. Robby says the company mobilizes approximately 6,000 employees in a fundraising drive that starts months before the event. Departments within DHR Health engage in friendly competition, conducting various activities from raffles to duck races and from cookie sales to hosting food trucks where a portion of the proceeds are donated. According to Marissa Castañeda, Senior Executive VP at DHR Health, only the employees raised over $180,000 for the clinic. Though separate from the fishing tournament, this employee-generated fund is part and parcel of the broader fundraising strategy, underlining the collective will of an organization deeply embedded in its community.
The interconnectedness between DHR Health and the Hope Family Health Center illustrates a crucial model for how medical conglomerates can extend their reach far beyond the traditional realm of patient care. In focusing not just on medicine but also on broader social determinants of health—like poverty and access to care—DHR Health is making a lasting impact. The organization has shown that community healthcare is not merely the responsibility of a clinic or hospital's responsibility but a collaborative effort involving every stakeholder in the region.
In a time when the need for comprehensive, affordable, and community-driven healthcare is ever-pressing, the partnership between DHR Health and the Hope Family Health Center is an inspiring testimony to what can be achieved when corporate responsibility meets community activism. The monetary achievements are undeniably spectacular, but the real treasure lies in the countless lives transformed by the services these funds make possible. Each dollar raised serves as a steppingstone toward a better life for the indigent and uninsured, and every individual involved—be it an executive like Robby Haddad or one of the 6,000 DHR Health employees—is a champion in this greater and noble cause.
The tale of robust community service and impactful healthcare does not stop with DHR Health's proactive fundraising but extends to the board of Hope Family Health Center itself. Taking charge of increased responsibilities, the board, under the leadership of Robby Haddad, has shown a renewed sense of dedication toward fundraising. While DHR Health has been the bedrock of financial support for the clinic, Haddad recognized that it was time for the board to roll up its sleeves and contribute more actively. "We must do more than sit here and rely on DHR to do all the work for us," Haddad told Mega Doctor News in Exclusivity, and the numbers tell the story. Last year, the board members collectively raised $50,000, and this year, they managed to gather $57,000 through securing sponsors and other means. These funds were part of a milestone where the annual "Fishing for Hope" tournament raised $400,000 for the clinic, a significant increase from the previous year's $350,000.
Board members went the extra mile to maximize fundraising by employing various strategies. They utilized their personal and professional connections to invite sponsorships and presented potential sponsors with an in-depth look at the clinic's operations and contributions to community health. This was wider than warm leads; board members also cold-called potential sponsors to expand the outreach. As a result, organizations in the Rio Grande Valley that understood the significance of the clinic's work were more than willing to contribute, further solidifying the community's support network.
This active participation by the board is not just about fundraising; it reflects a broader commitment to serve the community more extensively. The Hope Family Health Center has recently expanded its services to Weslaco, offering crucial counseling services. With this extension, the clinic aims to establish a full-service center in Weslaco, acknowledging that the dire need for healthcare services extends beyond McAllen, Edinburg, and Mission to the Mid Valley community.
Outside of his role as chairman of the Hope Family Health Center, Robby serves as the Council for Government Affairs Vice President at DHR Health. In this role, he monitors legal and regulatory developments in healthcare at both the state and federal levels. But his work is not just about compliance; it's about advocacy. Haddad engages with policymakers, striving to build relationships that benefit DHR Health and the larger Rio Grande Valley community. Approximately 60% of his conversations with officials focus on community needs and issues beyond healthcare, highlighting the multifaceted nature of his role.
Perhaps most significantly, Haddad views his advocacy work as educational. He notes that legislators usually have good intentions but may need to fully grasp the implications of the bills they draft. In these instances, Haddad provides invaluable insight and information, aiding legislators in making informed decisions. This educational component is critical to facilitating better healthcare laws and a greater understanding of the Rio Grande Valley's unique needs and challenges.
As Robby reflects on the collective effort that goes into this monumental task of community service and healthcare delivery, he quickly expresses his gratitude towards DHR Health. "I want to thank DHR because if you look at it, DHR doesn't get anything out of it, and they provide the essential and more all the time, staff effort, and resources," he states. This sentiment encapsulates the essence of this community-driven endeavor: a synergy between a healthcare conglomerate, a dedicated board, and an engaged community, all united in the mission to provide much-needed healthcare services. In doing so, they prove that the most effective way to address community needs is through collective action, cementing the notion that everyone, from executives to ordinary employees, has a role to play in improving the lives of those around them.