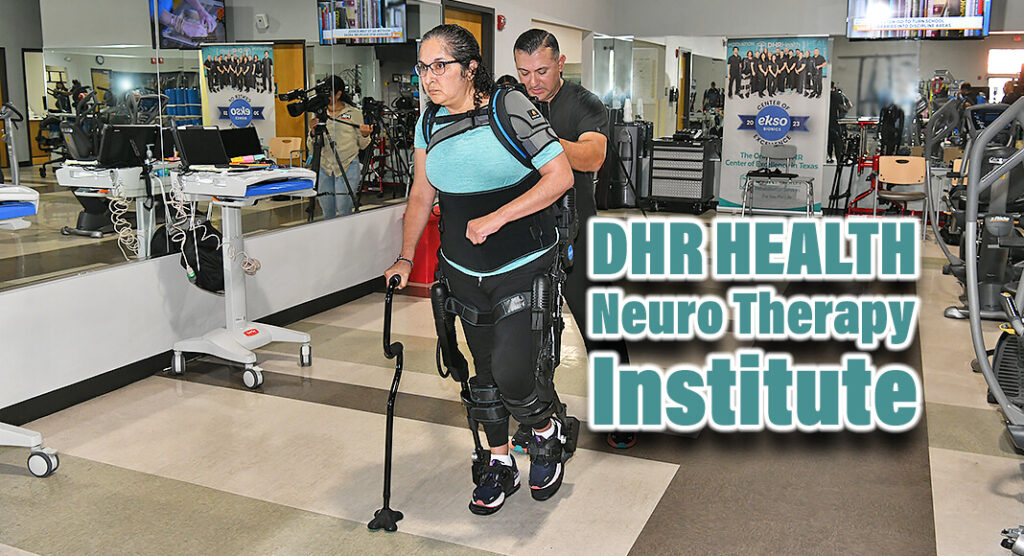 Mega Doctor News
- Advertisement -

By Roberto Hugo González
Mega Doctor News had the privilege to attend an event held at DHR Health Neuro Therapy Institute 4500 N 10th St #400, McAllen, 78504 (Corner of 10th & Violet Streets).
The gathering was not only filled with stories of recovery and triumph over adversity but was also a testament to the advancements of medical technology. The DHR Health Neuro Therapy Institute was recognized as Texas' only "Center of Excellence" for EKSO NR, a robotic exoskeleton used for rehabilitating stroke and brain injury patients.
Mega Doctor News had the opportunity to speak with some of the key figures who made this success possible, alongside patients who have experienced the transformative power of EKSO NR firsthand.
One such person is Yvette Rangel, a former DHR Health Physical Therapy Assistant and a stroke survivor. Yvette's journey began with an unexpected aneurysm, followed by multiple strokes that severely impacted her physical capabilities. "She was weak. She couldn't really move her left arm, her left leg. And then she had trouble with her thinking process," revealed her husband, Javier Rangel. This sudden change in Yvette's health was particularly emotional as she had previously led an active lifestyle, participating in running, cycling, and hiking activities.
With the help of DHR Health's medical team and the EKSO NR device, Yvette's recovery has been remarkable. "Right now she's able to walk by herself," confirmed Javier, speaking about the significant improvement in his wife's condition.
The live demonstration of Yvette using the EKSO NR underlined the effectiveness of this cutting-edge technology. As a former physical therapy assistant herself, Yvette expressed her familiarity and satisfaction with the EKSO NR device, stating, "It helped a lot. Yes. It did a lot with the walking and the sidestepping, the squatting, so it's helped me a great deal."
- Advertisement -

The man behind this remarkable recovery, Dr. Michael E. Auer, the Director of DHR Health Neuro Therapy Institute, spoke to us about the innovative therapeutic device. As the only Center of Excellence for EKSO NR in Texas, DHR Health's contribution to neurological rehabilitation cannot be understated. Dr. Auer spoke about the device's efficacy, explaining how it leverages neuroplasticity, maintains postural alignment, and promotes high repetition – key aspects in driving neural recovery.
Dr. Auer himself has been a therapist for over 20 years, with a career punctuated by the desire to assist those with neurological disorders. He noted that DHR Health's commitment to embracing technology has been pivotal in providing the Rio Grande Valley with access to such specialized care. "We're on par with the rest of Texas and the nation. And so, this, and this is a very big testament to what the valley's able to do now," he concluded.
This narrative of recovery, resilience, and remarkable technological advancements encapsulates the work being done at the DHR Health Neuro Therapy Institute. Being recognized as the only Center of Excellence for EKSO NR in Texas, the institute proves that the highest caliber of neurological care and rehabilitation is available right in the heart of the Rio Grande Valley. The institute's success story, as exemplified by patients like Yvette, is evidence to the institute's commitment to healthcare innovation and the empowerment of patients. It stands as an example of the power of technology in reshaping the futures of stroke and brain injury patients.