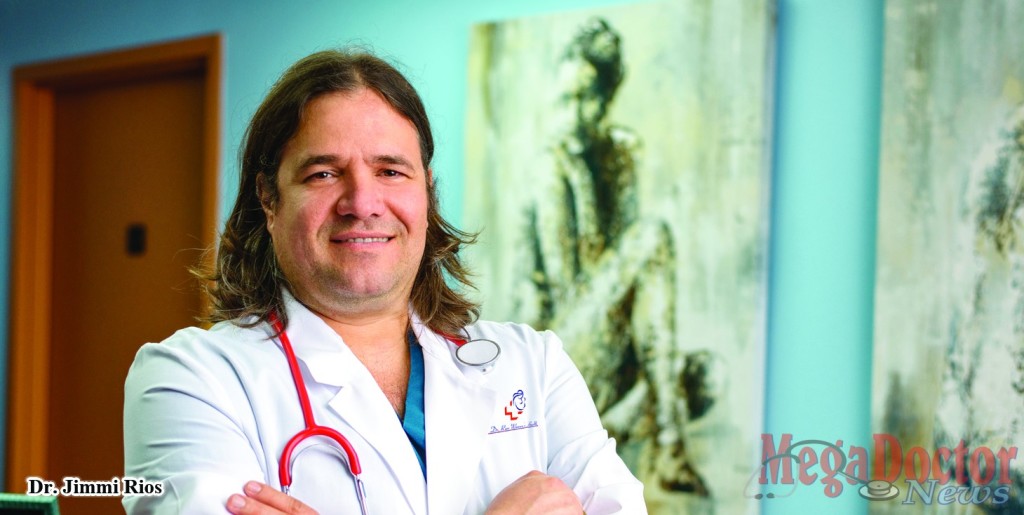 By Roberto Hugo Gonzalez,
Publisher of Mega Doctor News,
As Doctor Jimmi Rios was growing up in his native Cuba, at an early age he went to work daily in the farm fields before going to school. Still today it is the law of the land. Cuba is a communist country that for decades has deprived its citizens of the freedom that other countries have, especially the freedom that we all enjoy in the United States.
Mega Doctor News is proud to present to you a featured story about Dr. Rios, an Obstetrician/Gynecologist. He is a man that has sacrificed himself in order to make a better life for his family. When he decided to migrate to the United States, the Cuban government prohibited his wife and three-year-old son to travel with him. For that reason he was separated from his family for six years but as soon he got the chance he brought his family to the U.S.
In Cuba, he was already all he could be as a medical doctor, but the freedom of success ended when he graduated in Cuba. Dr. Rios continued to work at the National Institute for Oncology in Cuba until 2005 when he decided to leave to pursue a medical career in the United States.
This is a must read story so you can learn more about one of the professionals that make America the best.
On another matter, help me welcome Michael Eisen, MD, MS, ATC a new sports medicine / family practice physician in the Valley – who has worked with pro sports teams such as the New York Jets. He discussed how to prepare for long runs, such as marathons, and half-marathons. Find his story in this issue.
What a nice surprise to learn that the Collage 2015 Committee in McAllen Texas announced this year's honorees to be Dr. Cayetano Barrera and his wife Mrs. Yolanda Barrera for their outstanding years of service and dedication to many Rio Grande Valley organizations, including the International Museum of Art & Science (IMAS). Read more inside this issue.
I am pleased to announce that Gavino "Gabby" Garza, R.Ph., was awarded Preceptor of the Year at the Texas A&M Health Science Center Irma Lerma Rangel College of Pharmacy Awards Banquet on the 20th of May.
Mr. Garza has been the director of pharmacy at Doctors Hospital at Renaissance (DHR) in Edinburg, Texas, since 2007.
This month Mega Doctor News has dedicated more space to cholesterol in an effort to educate our readers to avoid high cholesterol foods. This article will open your eyes at the same time you will be surprised of how many foods are high in cholesterol; and how bad cholesterol can affect you health, this is regardless of whether you have high cholesterol or not.
I know that you will enjoy this issue, so start to read now.  MDN