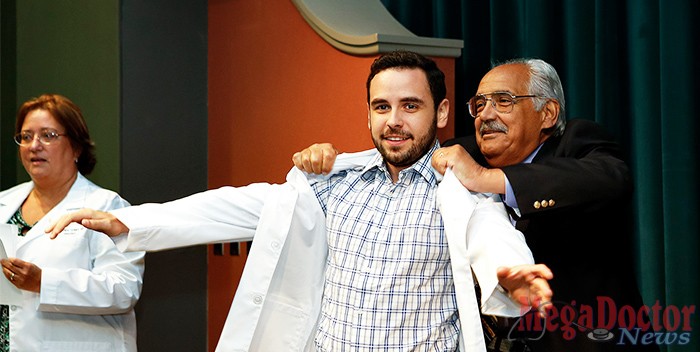 Mega Doctor News
- Advertisement -

HARLINGEN, TEXAS – JUNE 23, 2015 – The University of Texas Rio Grande Valley welcomed its newest doctors Monday, June 22, in a White Coat ceremony at the Regional Academic Health Center.
UTRGV bestowed coats on 42 #FirstMatch medical residents who will be working at three hospitals in the Rio Grande Valley: 10 in internal medicine at Valley Baptist Medical Center in Harlingen; six in family medicine at McAllen Medical Center; and 26 at Doctors Hospital at Renaissance in Edinburg, with 12 in internal medicine, six in family medicine, four in obstetrics and gynecology, and four in general surgery.
"Today you are the foundation for a formidable learning environment for the medical school, and so we're here to honor you and honor your accomplishments," said Dr. Francisco Fernandez, inaugural dean of the UTRGV School of Medicine, which is undergoing accreditation and is slated to open in fall 2016. "Congratulations on making history."
White Coat ceremonies serve as a rite of passage for medical students and residents. Though the residents participated in similar ceremonies when they began their journey at their respective medical schools, Fernandez said, "You get this next one as a sign of the transition for you on the final leg of your career and establishing yourself in your discipline of choice."
The residents were chosen earlier this year on Match Day, when a computer-based selection process matched each medical student with a hospital with a residency program. UTRGV is the sponsoring institution for the residents.
Dr. Julia Flores, a Brownsville native, said she is happy to be home, practicing medicine. She is a first-year medical resident in family practice at DHR, attended medical school in Guadalajara, Mexico, and did additional training in New York before being selected as a resident at DHR.
"For all of that long, rigorous education, I'm so happy to finally be back here in the Valley," Flores said.
- Advertisement -

Being a part of the ceremony was very emotional for her, she said.
"Wearing this white coat gives me the opportunity to treat all of my family that lives here, friends, neighbors, people that I grew up with. I can't explain it … it makes everything that I did so worthwhile," Flores said.
Dr. Cesar Uribe, a medical resident of internal medicine at Valley Baptist Medical Center and a native of Guadalajara, Mexico, said he is glad to be a part of Valley history now.
"It's really exciting to be a part of the first generation of UTRGV and I'm just glad that they picked me, that they gave me their trust. I'm just going to be putting all my effort into making them proud," Uribe said.