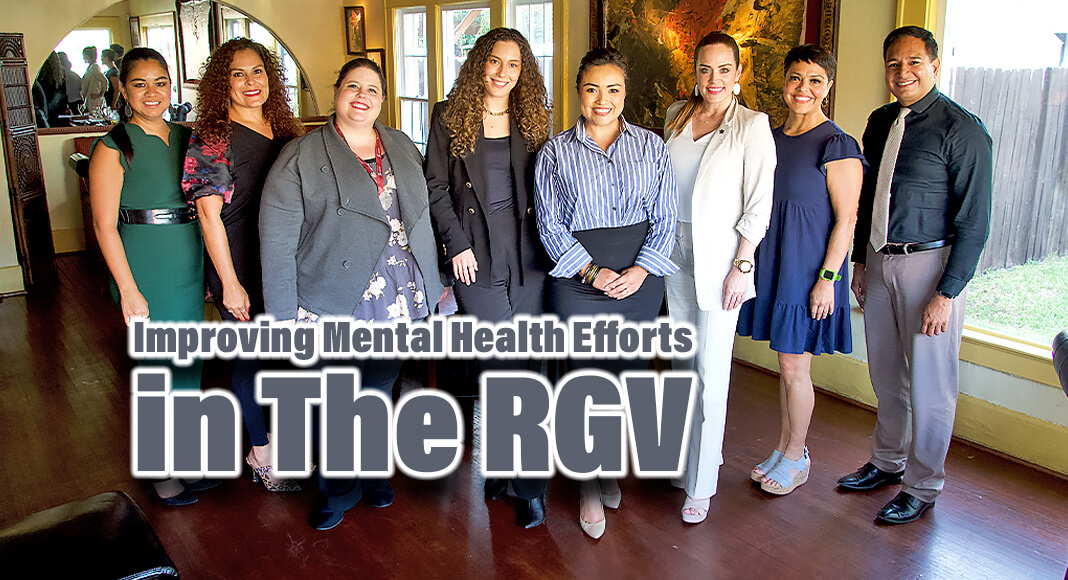 Mega Doctor News
Each year, approximately 26% of Americans ages 18 and older — roughly 1 in 4 adults — suffer from a diagnosable mental health disorder, according to the National Institutes of Health. Unfortunately, many don't get the treatment they need. In fact, the state of Texas ranks 47th in the country when it comes to adults receiving treatment for their mental illness, according to Mental Health America.
Striving to improve access to mental health resources throughout the Rio Grande Valley, South Texas Health System Behavioral launched its new Community Advisory Panel on August 31, bringing together mental health advocates from across various industries, including local government, education, law enforcement, healthcare, business and the nonprofit sector.
Harnessing their knowledge and expertise from their respective fields, panel members offered their unique views on how we can come together as a community to address mental health in the Rio Grande Valley and help break the stigma surrounding mental health while building stronger relationships between their organizations to enable them to work together in the future to establish a greater network of mental health resources.
The advisory panel meetings, which will occur every quarter, help to open the line of communication between all representatives so that they can work together to address issues that they otherwise might not be equipped to grapple with in their own sectors.
"We put together a community advisory panel comprised of various community members that represent various demographics. They represent different age groups, economic backgrounds and industries, but all work to help individuals within the community prioritize their mental health, including children and adolescents in the school system, military veterans and business professionals. We're coming together to have important conversations about the mental health needs in our community as a whole and how we can work together as one resource to help everyone," said Jessica Becker, Chief Executive Officer, STHS Behavioral. "When it comes to mental health, resources can be very fragmented on the local level. So, when someone is trying to seek out resources, they can encounter barriers, which we're hoping to break down by coming together as a united group. As providers of mental health resources, we want to be able to lean on each other to provide information on resources available to better support the community."
The creation of the community advisory panel is a continuation of the discussion on the current state of mental health in the Rio Grande Valley that was held at the Region One Education Service Center during Mental Health Awareness Month.
"During that enlightening panel discussion in May, which highlighted the mental issues and concerns of the people of the Rio Grande Valley, we quickly realized that there are many resources available in the community to help those experiencing mental health challenges. But we're all working in our own silos," says Tom Castañeda, System Director of Marketing & Public Relations, South Texas Health System. "We're so busy working in our own silos that we don't always realize the resources available elsewhere. By coming together through the STHS Behavioral Community Advisory Panel, we can learn from one another and work together to effect real change in our communities and help people struggling get the help they need."
Among the members of the new community advisory panel is Nicolas Perez-Zepeda, who also participated in the May discussion. The mental health officer with the Pharr Police Department says the diverse backgrounds of the panel members enables them to approach situations from different standpoints while working toward a common goal of helping the community by providing important resources and assisting them in their time of need.
"The panel discussed several things related to mental health with topics ranging from school shootings to mental health in children, mental health in adults and all those topics were touched on from different perspectives because each member of the panel holds their own unique view on how to address them," Perez-Zepeda said. "Individually, we also work within different parameters, we have legal limits when it comes to the law, so if there is a situation that we may not be able to respond to, somebody else on that panel or in the community might be able to attend to those needs."
Other members of the panel include Judge Renee R. Betancourt, 449th District Court, Hidalgo County; Jamie Brown-Rosas, Director of Business Development & Community Engagement, Texas Regional Bank; Hidalgo County Judge Richard Cortez; Dalinda Gonzalez-Alcantar, CEO, Boys & Girls Club of McAllen; Laura Mendiola Macias, CEO, EM3 Hope Foundation; Samuel Perez Jr., Director of Veterans Services, Hidalgo County; Roxanne Ramirez, Executive Director, Hope Family Health Center; Yovann Salinas, Director of Guidance, Counseling & Mental Health, Region One ESC; Kasie Sauceda, Licensed Professional Counselor, Mercedes ISD; and Brooke Williamson, Co-Founder, Mental Monarchs.
The advisory panel members will continue to meet quarterly, as well as stay in touch regularly, to provide support and collaborate on filling the gaps in the mental health needs within the community.
"As we progress, we hope to add resources and strengthen communication," Becker said. "We'll meet again in a few months and in the interim, we will still be networking, communicating and updating each other on what we have going on in our own industries, as well as what we're seeing out in the community and how we can help address those needs."
STHS Behavioral has been providing quality, compassionate mental and behavioral healthcare to Valley residents for more than 30 years. To learn more about the services offered at the facility, please visit STHSBehavioral.com. If you or someone you know is struggling, you can schedule a confidential assessment with STHS Behavioral by calling 956-388-1300.