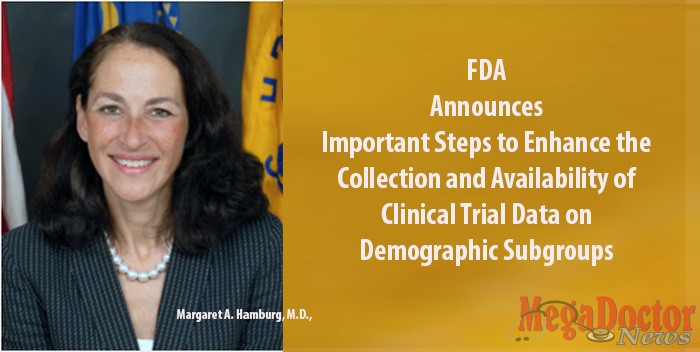 Mega Doctor News
Posted on August 20, 2014 by FDA Voice
By: Margaret A. Hamburg, M.D.
Today FDA is announcing important steps that the agency plans to take to enhance the collection and availability of clinical trial data on demographic subgroups – patient populations divided by sex, race/ethnicity or age.
Section 907 of the 2012 FDA Safety and Innovation Act directed us to take a closer look at the extent to which clinical trial participation and the inclusion of safety and effectiveness data by demographic subgroups is included in medical product applications, report our findings, and then, within one year, produce an action plan with recommendations for improvements.
Our report, issued on August 20, 2013, found that the agency's statutes, regulations, and policies generally give product sponsors a solid framework for providing data in their applications on the inclusion and analysis of demographic subgroups. Overall, sponsors are describing the demographic profiles of their clinical trial participants, and the majority of applications submitted to FDA include demographic subset analyses. We also found that FDA shares this information with the public in a variety of ways. Now, one year later, we're releasing the FDA Action Plan to Enhance the Collection and Availability of Demographic Subgroup Data, which we developed after extensive interaction with stakeholders.
The action plan includes 27 action items that are designed to meet three overarching priorities – improving the completeness and quality of demographic subgroup data collection, reporting and analysis (quality); identifying barriers to subgroup enrollment in clinical trials and employing strategies to encourage greater participation (participation); and, making demographic subgroup data more available and transparent (transparency).
In addition to the action plan, we're publishing a final guidance entitled, "Evaluation of Sex-Specific Data in Medical Device Clinical Studies." It was written in response to the fact that certain medical devices may yield different responses in women than men, and yet women are under-represented in some medical device studies. This has led to less information for women regarding the risks and benefits of using these devices.
The guidance includes recommended methods for clinical study design and conduct to increase enrollment of men and women, if needed, and ways to analyze data for sex differences. FDA has held a series of public workshops to raise awareness about common strategies for enhancing recruitment and retention of women in medical device clinical trials. Fully integrating this final guidance into the templates used by FDA's reviewers of medical devices, and providing a webinar for industry on how to use the guidance, comprise one of the 27 items in our action plan.
I hope you'll find that the action plan is responsive and pragmatic and, most importantly, when fully implemented, it will improve medical care and public health. Many of the steps it outlines will have a broad impact on the work of FDA's medical product centers and will require great thought and planning as they are implemented, depending on current evidence and available resources. The action items range from relatively short-term goals that can be achieved in a year, to others that will take 1-3 years, to a small number that will require a longer period, 3-5 years, to achieve.
Although the plan certainly places significant responsibilities on FDA's medical product centers and other FDA offices, it also engages our partners inside and outside of government to share the responsibility for this important mission. For example, industry is being asked to help develop and share best practices for encouraging broad clinical trial participation, and the National Institutes of Health will be participating in several research projects with FDA.
We know that richer information is collected when different subgroups are enrolled in pivotal studies for medical products. This kind of enrollment in turn gives us greater assurance in the safety and effectiveness of the medical products used by a diverse population.
To set the plan in motion quickly, FDA is setting up a steering committee that will oversee implementation, come up with metrics for measuring progress and be responsible for planning a public meeting to be held within 18 months after release of the plan. FDA has already set up a website where the public will be able to track the agency's implementation progress. That website will be updated on a regular basis.
Also, we're reopening our Section 907 public docket to solicit comments for the action plan. I encourage everyone to review the document and consider how you might be able to partner with FDA and others in encouraging necessary and appropriate demographic subgroup diversity and representation.
Margaret A. Hamburg, M.D., is Commissioner of the U.S. Food and Drug Administration