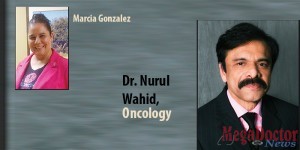 As originally published by Mega Doctor News in its newsprint Edition
- Advertisement -

McAllen speech pathologist Marcia Gonzalez is the kind of person, and cancer patient, who may or may not take 'no' for an answer. After she and her husband tried for four years to start a family, Gonzalez asked her doctor about fertility options, such as in-vitro fertilization. At the same time, she had noticed a lump in her breast and insisted on a mammogram, resulting also in a biopsy of the suspicious tissue.
The diagnosis: stage 2A breast cancer.
"My first thought was 'I want kids, what's going to happen?'" says Gonzalez. "It was most important to me that whatever treatment I received still allowed motherhood to be a possibility."
Dr. Nurul Wahid at Texas Oncology-McAllen designed Gonzalez's treatment plan specifically with that priority in mind, including ensuring that she had the opportunity to freeze eggs so she might have children after her fight with cancer was completed.
Not all patients are as engaged in researching and actively participating in their treatment planning as Gonzalez was. But they should be.
When faced with a major health crisis like a cancer diagnosis, it's important for patients to embrace the key role they play in the overall success of their treatment. Consider the following tips for becoming a more proactive patient:
Upon Diagnosis, Learn about Your Type and Stage of Cancer
- Advertisement -

Ask your doctor for an overview of your specific type and stage of cancer, and treatment options. Don't be afraid to ask your doctor to explain in "layman's terms," to ensure that you really understand. Make sure you leave the doctor's office with additional information to review at home and with resources to find more information.
Spend time learning on your own before your next appointment. But remember to use reliable sources including trusted organizations like the American Cancer Society (Cancer.org), National Cancer Institute (Cancer.gov), American Society of Clinical Oncology (Cancer.net), National Comprehensive Cancer Network (NCCN.org), and Texas Oncology (TexasOncology.com).
Have a Voice in the Decisions about Your Treatment
Prior to meeting with your doctor to outline your treatment plan, compile a short list of questions, including:
What successes have you had with different treatments for my type of cancer?
What are the benefits and risks of each type of treatment?
What option would you recommend to one of your friends or family members if they were in my shoes?
In addition, ask your physician whether your particular cancer case may benefit from a clinical trial. This is a research study that examines how patients respond to new medical approaches for various types of cancers. Texas Oncology patients have the opportunity to take part in some of the most promising clinical trials in the nation.
In every cancer fight, patients receive advice from healthcare providers, other cancer survivors, family, and friends. It's important to weigh this advice carefully and make confident, educated decisions about your health and treatment options.
Like Marcia Gonzalez, you can help ensure that your personal priorities are addressed in your treatment. After her cancer diagnosis, Gonzalez's dreams of having children are one step closer thanks to active discussions with her medical team and subsequent procedures to preserve her fertility.
For more information about cancer types and treatment, please visit www.TexasOncology.com.  MDN