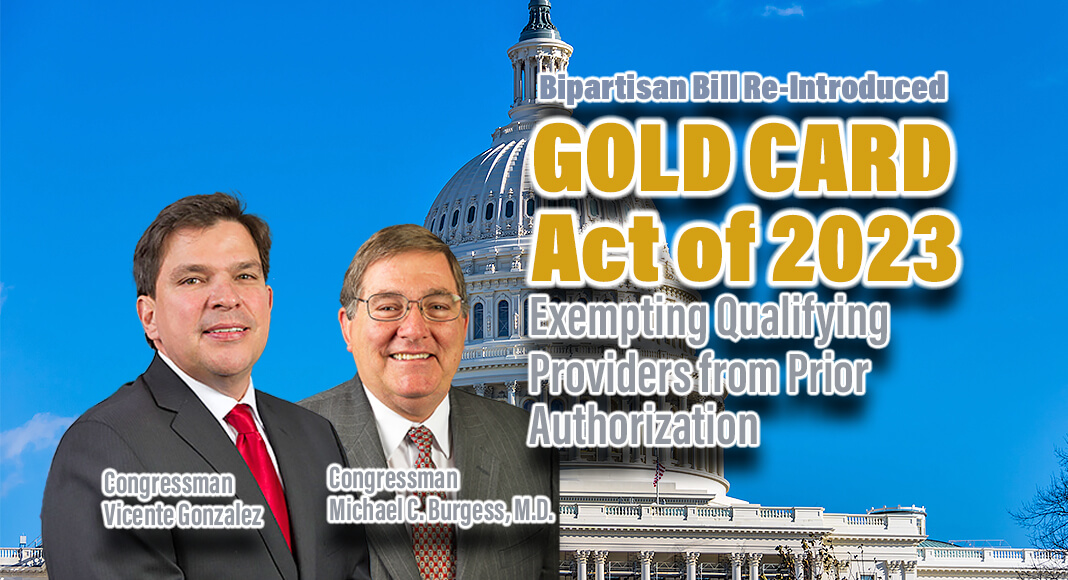 Mega Doctor News
- Advertisement -

WASHINGTON D.C. – Last week, Congressman Vicente Gonzalez (TX-34) and Congressman Michael C. Burgess, M.D. (TX-26) introduced H.R. 4968, the GOLD CARD Act of 2023. This bipartisan bill will exempt qualifying providers from prior authorization requirements under Medicare Advantage plans.
"This commonsense bill will pass at the federal level what many states, including Texas, have already enacted," said Congressman Gonzalez. "Bureaucratic red-tape should not hinder patients' ability to receive attention or our medical professionals' ability to perform preventative or even life-saving care. This bill will increase provider efficiency and improve care for South Texans."
"Having practiced medicine for nearly three decades before entering Congress, I empathize with the frustration of waiting on the government's approval to administer necessary treatments to my Medicare patients," said Congressman Michael Burgess, M.D. "I want to extend my gratitude to my fellow Texan, Congressman Vincente Gonzalez, for collaborating with me on introducing this vital legislation. By streamlining the prior authorization process for physicians, this bill will enable patients to receive timely and high-quality care. Witnessing the overwhelming support for this policy in my home state, I am optimistic that the GOLD carding policy will effectively enhance clinical outcomes."
"Prior authorization continues to serve as a chief frustration for physicians due to its excessive use, opacity, responsibility for delaying and denying patient care, and direct correlation with poorer health care outcomes. The GOLD CARD Act is an important step to right-sizing these insurance-created obstacles to care for Medicare Advantage patients. The American Medical Association supports federal legislation that exempts physicians with high prior authorization approval rates from these harmful and burdensome requirements. One can almost hear the bureaucratic red tape being cut — a rare sound coming from D.C. We commend Reps. Michael Burgess, M.D. (R-TX) and Vicente Gonzalez (D-TX) for introducing this bipartisan bill that will help reduce physician burnout and improve patient satisfaction," said AMA President Jesse M. Ehrenfeld, M.D., MPH
"The GOLD Card Act is a necessary response to the over utilization of prior authorization in Medicare Advantage plans that have created needless barriers between patients and the care they need. Ophthalmology's patients come to us to save their sight and preserve their quality of life. In some cases, putting off a procedure will lead to further complications. It is unfair to make those same patients get preapproval for procedures that are widely approved anyway, and further delay that sight saving care. The GOLD Card Act will remove this barrier and allow patients to get the care they need when they need it, not later. The American Academy of Ophthalmology is proud to support this commonsense solution," said Michael X. Repka, MD, American Academy of Ophthalmology (AMA), Medical Director for Governmental Affairs.
"Prior authorization requirements often delay or deter patient access to necessary care," said Christopher S. Kang, MD, FACEP, President of the American College of Emergency Physicians (ACEP). "Patients should not be constrained by their insurer to postpone medical attention until their condition becomes debilitating, life-threatening, or the emergency department becomes their only option for care. The bipartisan GOLD CARD Act of 2023 takes important steps to remove perfunctory barriers to medical care while improving the prior authorization process for physicians and patients alike."
"Prior authorization takes away from the critical time orthopaedic surgeons could be spending with patients and can sometimes delay or deny medically necessary care. We are long-time advocates who strongly support the GOLD CARD Act and look forward to advancing this bipartisan bill," said
- Advertisement -

American Academy of Orthopaedic Surgeons (AAOS) First Vice President Paul Tornetta III, MD, PhD, FAAOS.