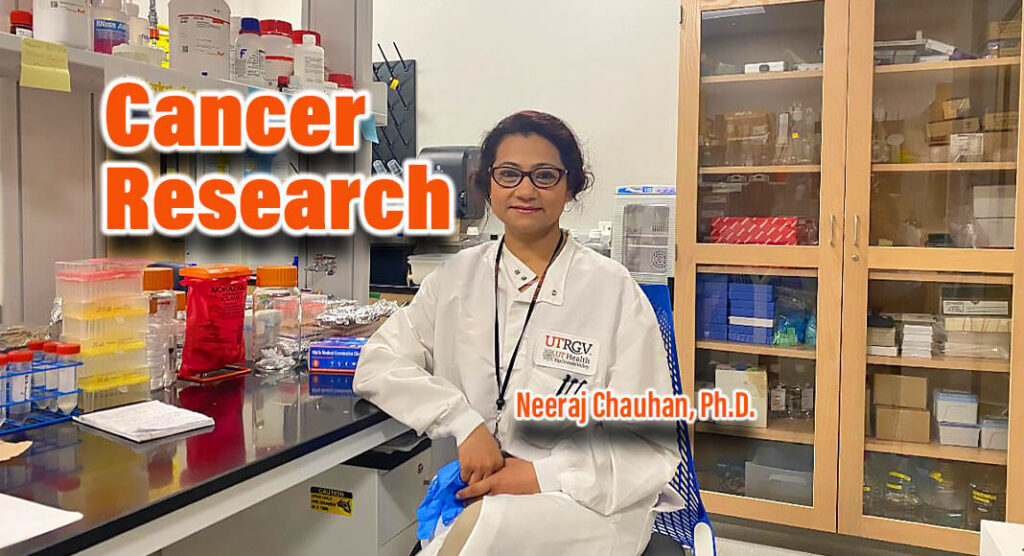 Mega Doctor News
- Advertisement -

By Dimitra Trejo
EDINBURG, Texas – UTRGV School of Medicine assistant professor of research Neeraj Chauhan, Ph.D., says it has taken hundreds of hours and thousands of miles to be the award-winning cancer researcher she is today.
Originally from Rishi Kesh, India, Chauhan said she's always wanted to be in academia despite really understanding what people in academia do.
"Growing up I had this fascination for the word Ph.D. because it is the highest form of education you could get," Chauhan said. "I didn't know how, I didn't know where and I didn't know what it involved, but I knew that's what I wanted to be."
Chauhan said it was when a family member lost their battle with cancer that she knew she wanted to combine her passion for learning with her passion for helping people.
"My mother's maternal uncle was 60 when he was diagnosed with prostate cancer at a very late stage," she said. "It was then that I realized I wanted to learn about cancer altogether and what I could do to help others catch it earlier than he did."
Chauhan said getting into the field of cancer research was challenging, but she was determined to learn as much as she could.
- Advertisement -

"I remember I was in my second year of college, I went to the bookstore and picked out a book about cancer," Chauhan said. "The clerk looked at me and asked, 'Do you even know how many types of cancers there are?' I was shocked, I didn't know there were a variety of cancers. It was a big reality check for me, but I was going to learn all I could about it."
UPHILL BATTLE
Chauhan said throughout her career in cancer research there have been many more reality checks she has had to overcome, especially making it in a male-dominated career field.
According to the UNESCO Institute of Statistics, less than 30% of the world's researchers are women.
Chauhan said while she was trying to make it big in the world of cancer research, she still felt small at times.
"There was a presentation project for class that I had put so much work into," she said. "I remember when it came time to present the project, my male partner was asked to present and he did, even though I had done all the work."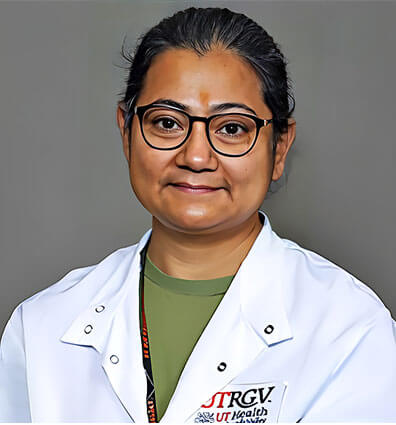 Neeraj Chauhan, Ph.D., UTRGV School of Medicine assistant professor of research. (Courtesy Photo)
"When it was time for questions, however, I was the one that stepped in to answer them because he couldn't." Chauhan said. "It was then that I told myself, I'm not going to wait for anybody to give me the chance, I'm going to give myself the chance."
Chauhan said once she was set on breaking through the glass ceiling, she soared in her career as a researcher.
Some of the accolades she has received include the 2013 best poster award at the Sanford Science Fair, the 2019 best flash talk, the best poster award at the third annual Health Disparities Research Symposium, the 2023 best oral presentation and top overall poster award at the fifth annual Research Colloquium at the UTRGV School of Medicine.
WOMEN IN ACADEMIC MEDICINE
Fast forward to today, and those hundreds of hours and thousands of miles seem minuscule to the road that lies ahead for Chauhan and her work in cancer research.

Just this year, she and her colleagues at the South Texas Institute of Cancer Research were awarded $6 million from the Cancer Prevention and Research Institute of Texas (CPRIT).
The ST-CECR grant is the first of its kind and amount for the academic medical institution and the community. It will support the UTRGV Ambulatory Surgery Center and Cancer Center operations and accelerate cancer research at the university and across South Texas.
It also will support liver cancer research projects and other cancers prevalent in the region, including cervical and colorectal cancer.
"When the research team and I arrived in McAllen four years ago, we started to look at the perspectives of research that we could do, especially cervical cancer," Chauhan said. "My Ph.D. is in cervical cancer and the Valley population is underserved, and I knew I could do so much here."
According to Dr. Michelle Le Beau, CPRIT chief scientific officer, despite cancer death rates falling by 33% over the past three years, the Texas border region has the nation's highest cancer incidence and mortality rates and bears a disproportionate amount of the cancer burden.
Chauhan said she wants to improve the rates of cancer in the region from an academic medical perspective in terms of education, research and clinical care.
"It takes a decade or sometimes even over a decade for cervical cancer specifically to fully develop into cancer," she said. "This is one of those cancers that can be highly prevented. However, there is still such a high mortality rate. We are determined to do more research, train future researchers and educate the community to improve the lack of awareness."
RESEARCH IS FOR EVERYONE
Chauhan has worked on all types of cancers, including pancreatic, breast, ovarian, prostate, colon, lung and liver.
Asked how she feels to have "made it" in terms of landing the research career she's passionate about and what advice she would give to future female researchers, Chauhan said being direct is best.
"No one is going to give you that chance, you must take that chance yourself," she said. "I came to the United States when I was just 21 years old. Finding your way is key."
Today, Chauhan encourages not just herself to keep going but female medical students who may look to her as a role model in the male-dominated field of research.
"You can bring yourself into a man's world," Chauhan said. "Research is for everyone."