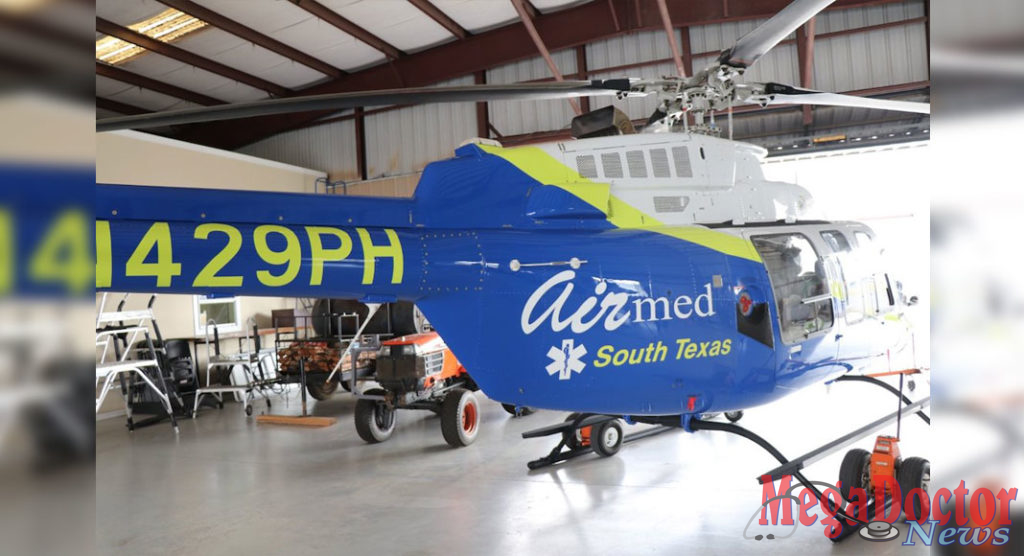 Mega Doctor News
By DAVID A. DÍAZ
A ribbon cutting ceremony and press conference to officially celebrate the arrival of Air Med 1, a Bell 407 rotor (helicopter) ambulance, has been scheduled for 10 a.m. on Tuesday, June 18, 2019, at the South Texas International Airport at Edinburg, according to Hidalgo County EMS/South Texas Air Med.
The city-owned airport is located at 1300 E. FM 490, which is about 12 miles from the Hidalgo County Courthouse traveling on I-69N.
In a public invitation titled "Save the Date – Air Med 1 Ribbon Cutting and Press Conference", Hidalgo County EMS/South Texas Air Med, which is a private business, states the event is designed to announce "the service of rotor ambulance in deep South Texas".
Air Med 1 represents the fulfillment of a promise earlier this year by the leadership of Hidalgo County EMS/South Texas Air Med to bring the life-saving capabilities of the rotor ambulance to deep South Texas after Air Evac Lifeteam in McAllen immediately ceased operations on Thursday, January 31, 2019.
Air Evac Lifeteam had been operating from McAllen Medical Center since its October 2011 opening, according to an Air Evac Lifeteam press release distributed to media outlets in the Valley announcing their departure from the region, which has an estimated 1.5 million residents.
Restoring rotor (helicopter) emergency air ambulance service to Hidalgo County is the right thing to do, said Kenny Ponce, President/CEO of privately-owned Hidalgo County EMS/South Texas Air Med.
"It's something we have been working on the past several months to ensure that this community has this type of service," said Ponce. "In the meantime, we do have two fixed wing (aircraft) ambulances for emergency flight service to and from the Valley."
Helicopter (rotor) and fixed-wing aircraft typically play very different roles. Helicopters can be seen as substitutes for ground ambulances, because they can land almost anywhere. They typically serve patients in true emergency situations, where quick access to a trauma center is literally a matter of life and death.
Because airplanes are less flexible about where they can land and take off they are typically not used to transport patients from the scene of the emergency to the hospital. They also have a much longer range than helicopters do, so they can travel farther distances without refueling. Yet they can still offer life-supporting care for patients who are critically ill or injured. So fixed-wing air ambulances are more often used to transport patients from one hospital to another.
Hidalgo County EMS/South Texas Air Med have more than 100 ambulances, wheel chair vans, supervisor units, as well as a communications bus used for disasters, and a special operations trailer equipped for mass casualty incidents, and two fixed wing Beechcraft King Air 90 air ambulances dedicated to emergency transfers.
Paul M. Vazaldua, Jr., Vice President of Organizational Leadership and Government Affairs for Hidalgo County EMS/South Texas Air Med, said the region's residents are fortunate to have the largest EMS (emergency medical service) company south of San Antonio with the vision to make helicopter emergency air ambulance service available.
"Hidalgo County EMS services 90 percent of Hidalgo County residents, from pediatric to geriatric patients – and every person in between. We think of everyone. We always remember, 'What if it is my baby or my grandma who needs ambulance service?'" Vazaldua said. "We deeply care for all families. It is this high level of dedication to life-saving public service that inspires Hidalgo County EMS and its sister company, South Texas Air Med, to move forward with this initiative to provide helicopter emergency ambulance service."
Hidalgo County EMS/South Texas Air Med has 430 highly-trained staff members, basic/advanced paramedics, certified flight paramedics, registered nurses, and support personnel.
"We bring the unmatched abilities to promote, extend, and save lives in the Rio Grande Valley, a major metropolitan region with an estimated population of 1.4 million residents or more," Vazaldua said. "We pride ourselves on EMS (emergency medical services) training. Our experienced men and women are ready at a moment's notice to provide top quality care and support services for our patients and professional associates. Our EMT B/A and Paramedic staff are highly skilled and participate in training and refresher courses on a regular basis."