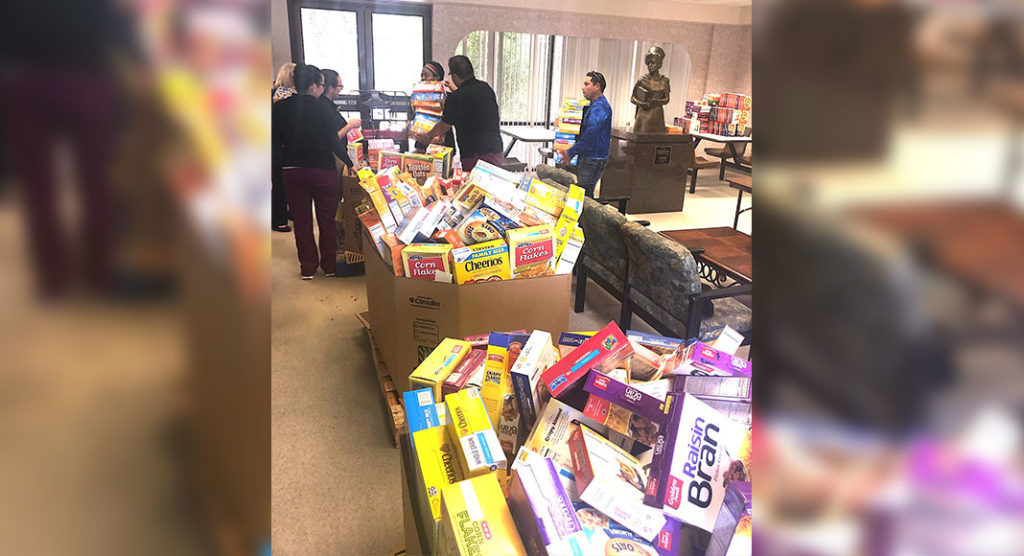 Mega Doctor NEWS
HARLINGEN – When Valley Baptist Medical Center School of Vocational Nursing Director Janis Baker's students and educators saw this year's Healthy Over Hungry Cereal Drive on the calendar, they all knew they had an opportunity to impact their community in a big way.
Those same students and educators did just that, collecting more than 1,000 boxes of cereal to benefit the Food Bank of the Rio Grande Valley during the cereal drive that took place from June 7 – June 14.
Students and staff made multiple trips carrying armloads of cereal boxes from storage to a collection point for pickup by foodbank representatives earlier this week, but the effort to move the fruits of their generous labor was worth the opportunity to help those in the community who might otherwise go without breakfast this summer.
"The nursing students and educators saw this as an opportunity to pay it forward and help those in need. To help facilitate this process, the nursing students and educators created two teams that competed to see who could collect the most boxes of cereal. It seemed to snowball from there," Baker said. "Everyone wanted to outdo the other. They reached out to family, friends, previous students of the program and even the newly established HCISD students. It was amazing to watch. Everyone wanted to see how much he or she could collect and ultimately give to those less fortunate. As the numbers grew from 500 to 600 and so on, they set a goal of at least 1000 boxes, and they reached that goal. I am extremely proud of this class and the faculty and staff of the Vocational Nursing Program and everyone at Valley Baptist that participated. They are amazing. In the end, everyone was a winner."
Valley Baptist Health System and its community partners raised $3,522 and collected 3,126 pounds of cereal during the Healthy Over Hungry Cereal Drive. Those efforts equate to 48,870 servings of cereal that will be used by the Food Bank of the Rio Grande Valley to help those in need of nutritious meals this summer.
"The donations we collected during our Healthy Over Hungry Cereal Drive will help provide local children and adults struggling with hunger with a healthy breakfast during the summer, and I am so grateful for the support of our staff and community in this effort," said Manny Vela, CEO for Valley Baptist Health System and Valley Baptist Medical Center-Harlingen. "Good nutrition is essential to good health, and we wanted to help lead the fight against hunger in the Rio Grande Valley."