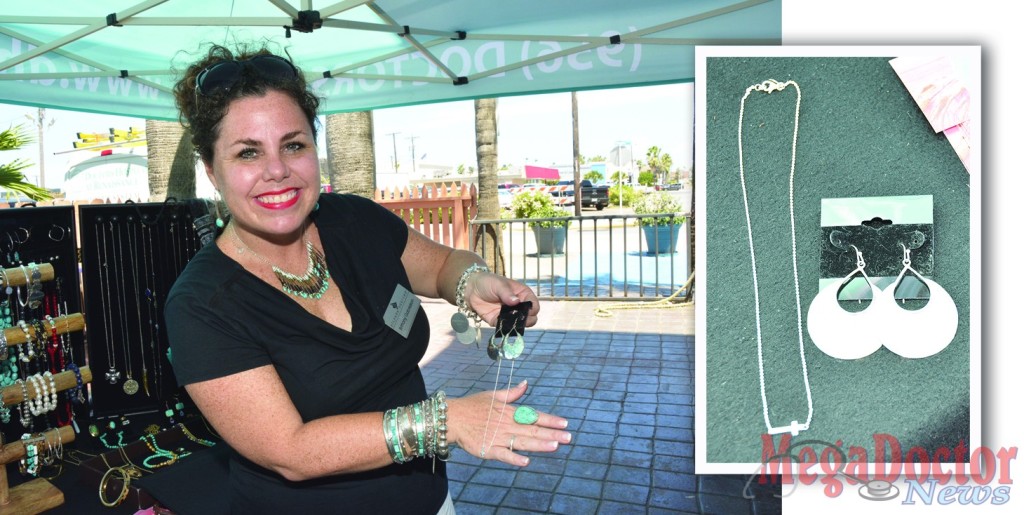 Mega Doctor News – 
By Roberto Hugo Gonzalez,
It is like a breath of fresh air, when you meet people like Brittany Gabrielson. She travels to South Padre Island, sets up a tent and displays jewelry products that she sells and then gives her profits away.
Brittany is a resident of McAllen and a great supporter of Hope Family Health Center. She told Mega Doctor News, "I am here today selling Silpada Designs silver jewelry and so that all, everything that I make goes directly back to Hope." She was a participant of the 'Fishing for Hope' Tournament event, however, she was doing her own thing to help.
She is a rep for Silpada Designs, a direct sales company out of Kansas City, Missouri. The company specializes on designs manufactured with sterling silver, but they also have a brass line; most of the jewelry is designed in Kansas City and made all over the world.  "There's a lifetime guarantee on all of our pieces," Brittany assured us.
She has been doing sales for this company for the last three and a half years. She said, "This is my fourth time to be here at 'Fishing for Hope' to give back to the clinic." Brittany makes a thirty percent profit, which all goes directly to the Hope Family Health Center.
"We have items anywhere from $15 all the way up to $399. Our most popular earrings are these; they're called the Half Moon Bay earrings and they're sterling silver," she said.
Brittany showed us another popular item which is a $29 sterling silver cross necklace. "It's a sideways cross, sterling silver with a sixteen-inch chain. So it's a very nice piece and I've already sold one today and I have sold a bunch of jewelry at Hope events," she said.
- Advertisement -

If people want to buy something from you, where can they call you? "They can call 956-778-3748 and I have a card with my website httpss://silpada.com/public/?rep=Brittany.gabrielson"
Brittany is already planning to participate again this coming year to help the Hope Family Health Center. "So I hope to see you all here next year as well," she finalized. MDN