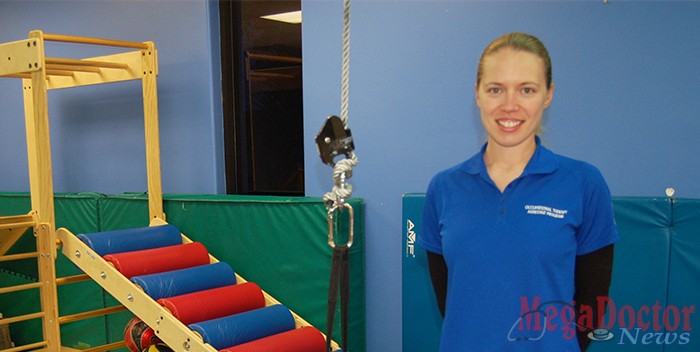 - Advertisement -

Mega Doctor News & Texas Border Business
On the first day of orientation at the Dr. Ramiro R. Casso Nursing and Allied Health Campus, Occupational Therapy Assistant (OTA) student Amanda Delgado sat quietly in her chair, surrounded by unfamiliar faces, carrying a level of nervousness that made her doubt if she was going to make it through that first session. Then, her instructor walked into the room, and before even introducing himself, called out, "Who's the veteran?" Immediately Amanda felt a wave of relief as she raised her hand, knowing that there was someone who understood what it was like to transition into a civilian environment.
[videojs mp4="/wp-content/uploads/2015/03/civilian_career.mp4″ poster="/wp-content/uploads/2015/03/Screen-Shot-2015-03-06-at-3.02.47-PM.png"]
"At first, I wasn't sure if I could make it as a civilian," Amanda said. "After so many years of military life, I was used to things being done in a certain way. It's hard to explain. I was concerned that my time in uniform where I'm all business might affect how I relate to people socially. But as soon as I knew that my instructors understood my situation, and could help me transition into being a student, I was ready for the challenge."
Without a doubt, Amanda's work ethic and dedication come naturally after serving in the United States Air Force Security Forces for 11 years. She met her fiancé, Arturo Delgado, Jr., who was also in the military while serving in Afghanistan and has served additional tours in Saudi Arabia, Qatar and Kuwait. After graduating this coming spring, Amanda and Arturo plan on getting married in August.
"One of the most important resources that I took advantage of at South Texas College is the Office of Veterans Affairs," said Amanda. "To have an entire space that is dedicated to helping veterans with regular student services, computer labs and study area was a huge help. I always knew there was an inviting place where I could just go and socialize with other veterans as well. It definitely helped me to transition into a well-rounded student."
- Advertisement -

Amanda has not only transitioned, but has excelled in the OTA Program. She is currently completing her clinical hours at Kids Korner LLC, where rehabilitative physical, occupational and speech services are provided for children. The thought of working with children was daunting at first, but just as with her other obstacles, Amanda has proved ready for the task.
"I sincerely thought that my future as an OTA was going to involve working with adults," Amanda explained. "But now, thanks to my clinicals at Kids Korner, I'm torn in the best sense. I've actually learned how to engage and play again. It's a very important part of children's therapy. The kids are just inspiring and rewarding as patients."
As fate would have it, Amanda's clinical instructor and occupational therapist at Kids Korner LLC, is also her OTA professor at South Texas College. "Amanda is now completing her sixth week of clinicals at Kids Korner, and I can't say enough about how much she has flourished," Lizett Guevara said proudly. "In order to work with children, you have to be creative and think outside of the box. In addition to being upbeat and great with the patients, Amanda is someone we can all count on to be on time and to take her work seriously. She has proved to have dedication, passion, heart and goes above and beyond."
"I'm very excited about what the future holds for me," said Amanda. I feel like my options are endless because of my education and support of everyone at South Texas College. Hopefully veterans and those currently serving will ready my story and find motivation to pursue their higher education. It won't be easy, but there are resources and positive support out there. You just have to go for it."