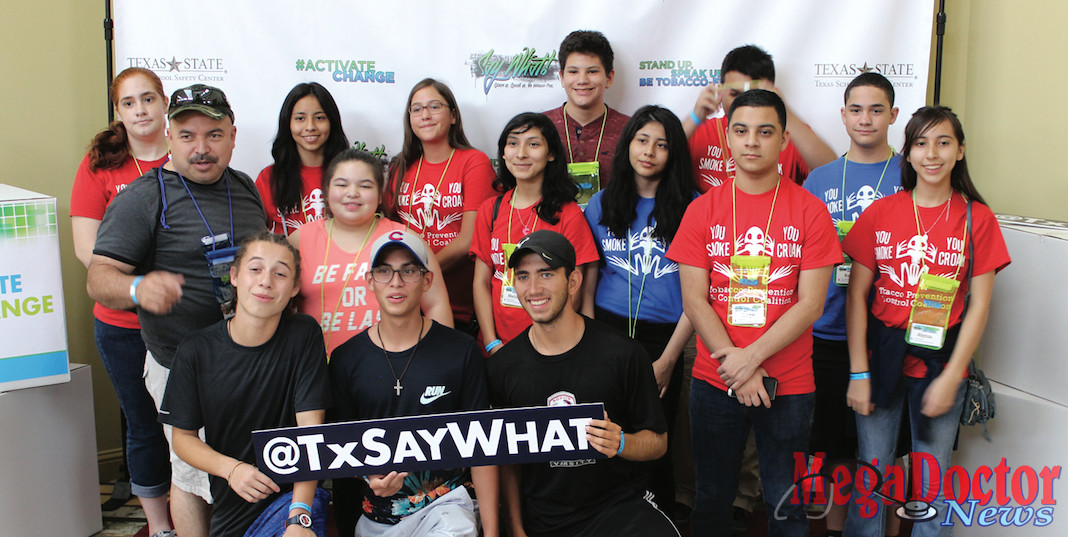 The annual Say What! Tobacco-Free Conference offers free leadership training for teens
Mega Doctor News
Pharr, Texas. – Every day 77 Texans die from diseases related to tobacco use. Nationwide that number reaches 480,000 annually. Tobacco use is the #1 cause of preventable death in the US; causing more deaths than alcohol, AIDS, car crashes, illegal drugs, murders, suicides, and homicides combined. These are just some of the facts that teens and adults learned while attending the 2016 Say What! Tobacco-Free Conference in Montgomery, TX.
Say What! stands for Students, Adults and Youth Working Hard Against Tobacco! and was created by Texas youth to connect everyone working towards reducing tobacco use throughout the Lone Star State. Youth leaders saw a need to unify the various, and typically disconnected, tobacco prevention efforts statewide aimed at protecting Texans from the harmful effects of tobacco. Youth from all over the state from various coalitions and tobacco prevention groups attended the conference, which featured workshops, motivational speakers, and training sessions to teach advocacy and leadership skills to teen leaders. 14 teens from the RGV attended, selected for their continued dedication and community engagement with the Tobacco Prevention & Control Coalition.
The Hidalgo County TPCC is a coalition effort of Behavioral Health Solutions of South Texas, located in Pharr. The Coalition was established to empower Hidalgo County to affect individual and social change through cooperation, sharing and coordination of resources focused on preventing and reducing the illegal and harmful use of tobacco products.
The TPCC's goals are to prevent tobacco use among young people, promote compliance and support adequate enforcement of federal, state and local tobacco laws, increase cessation among young people and adults, eliminate exposure to secondhand smoke, reduce tobacco use among populations with the highest burden of tobacco-related health disparities, develop and maintain statewide capacity for comprehensive tobacco prevention and control. MDN