Dr. Frank Ambriz, the Department Chair, Clinical Associate Professor, and Director of the Master in Physician Assistant Studies Bridge Program (MPAS) UTRGV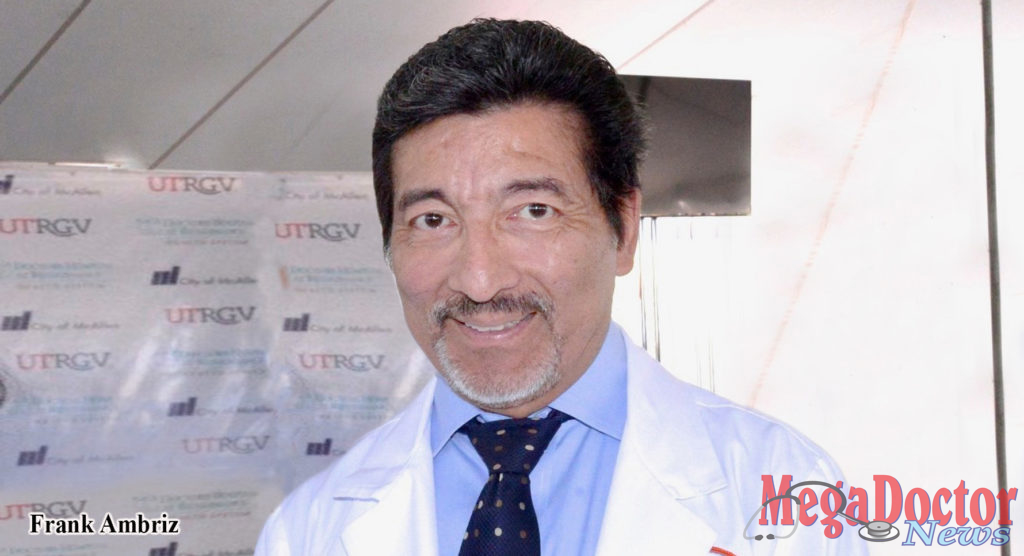 By Roberto Hugo Gonzalez
As originally published in Mega Doctor NEWS newsprint edition May 2020
The COVID-19 pandemic has crippled the world; and the U.S. is no exception. The medical field is also experimenting with many changes, and that is why Mega Doctor News contacted Frank Ambriz, the Department Chair, Clinical Associate Professor at the Department of Physician Assistant Studies, and Graduate Program Director of the Master in Physician Assistant Studies Bridge Program (MPAS) at the Univesity of Texas Rio Grande Valley.
We wanted to learn his most significant concerns about COVID-19, also known as a coronavirus and its effect on his field. He is mostly in Academic Medicine with limited clinical practice.
"My most significant concern about COVID-19 is that we do not know too much about it." He said, "This unknown disease makes it challenging to treat and prevent."
According to Ambriz, when the business reopen, they will have to ensure everyone's safety at work. "We all will have to practice preventive measures such as washing our hands more frequently, wearing masks when seeing patients (even if asymptomatic), and no handshaking." He stressed, "We all need to be vigilant and not let our guard down."
People have questioned what's the difference between the Flu and COVID-19.
Ambriz told Mega Doctor News that the Flu is predictable and preventable. "We have medication and vaccines to assist in the management of the Flu. With the Flu, we know when an individual is no longer contagious and may return to work or school." He said, "We do not know much about COVID-19. We know now that COVID-19 is very contagious and we have no proven treatment regime."
Ambriz also pointed out that the group of people with the highest risk are the elderly. They have a higher incidence of acquiring viruses due to their inactive T-cell immune system. "As we get older, our T-cell immunity decreases." he continued, "Data also tells us that individuals with hypertension and diabetes have higher morbidity and mortality with COVID-19. The RGV has a high population with these two health problems."
Being that it is contagious and dangerous for everyone, especially for the elderly, we wanted to know, are there long-term consequences for someone that has contracted COVID-19?
"Besides knowing it takes weeks to recover from a significant symptomatic COVID-19 episode, we do not know what if any long term effects a COVID-19 patient will endure."
Immune is a privileged state; the world's population is eager to find out what does being immune mean in the era of COVID-19?
"This is a question being raised right now. We do not know," Ambriz said. "We know if the patient has developed some IgG antibodies for COVID-19, they may have some immunity, but we do not know for how long."
Immunoglobulin G (IgG) is the most common and abundant antibody found in your blood and other body fluids. These antibodies protect you against infection by 'remembering' germs you've been exposed to before.
He said, "Besides, antibody testing will help allow people to return to work or school with increased peace of mind. We will still need to observe specific preventive measures."
Ambriz also said that rapid testing would help us leave quarantine. However we may never get back to normal as we know it. "Social distancing will be the norm. Wearing a mask in public will be the norm with no handshaking, instead, a hand wave or bow. Zoom meetings will be the norm instead of a board room or conference room meeting with large groups," he said.
Ambriz says there will be more Telemedicine, and less face to face patient encounters in large waiting rooms. "This is a global watershed event. Priorities will shift. Healthcare will change. Economic dynamics will change. Society will change," he finalized.