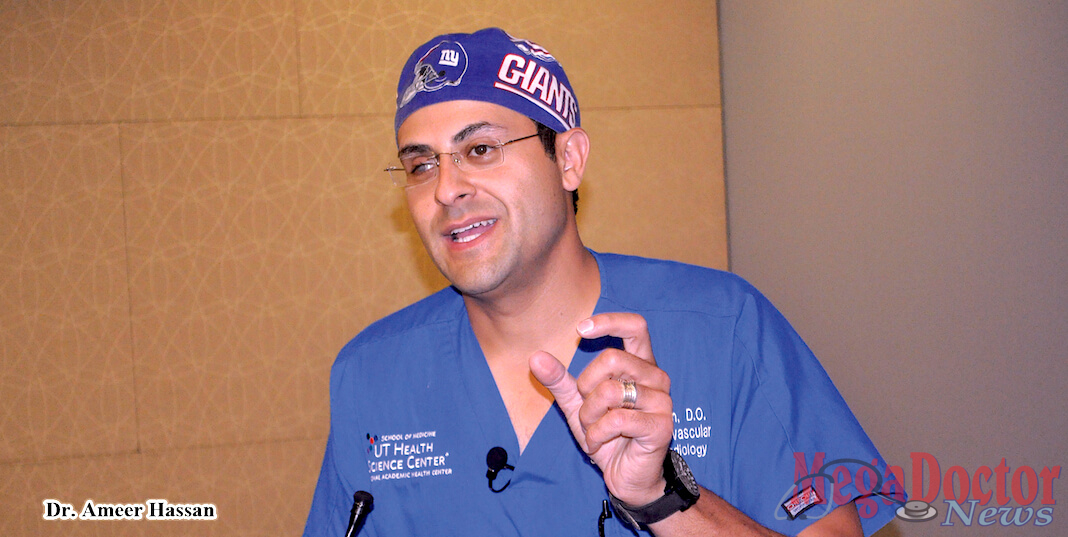 Mega Doctor News
Harlingen/Brownsville – As it relates to ischemic stroke treatment, patients and physicians have often relied on the saying "time equals brain" – meaning that the faster a patient is able to receive medical treatment, the greater chance that they will experience a successful recovery.
Previously, that time was proven to be a six-hour window, during which physicians could utilize a combination of medication and/or endovascular treatment to treat stroke patients. But according to a recent study published in the November 2017 edition of the New England Journal of Medicine in which the Valley Baptist Medical Center-Harlingen Neuroscience Program was a participant, that treatment window can be as long as 24 hours for some patients.
"The DAWN trial looked at stroke patients from 6 to 24 hours, a group of patients that have never been looked at before and proved that actually performing mechanical thrombectomy significantly benefitted patients," said Dr. Ameer Hassan, an investigator in the trial and head of the Neuroscience Department, Director of Endovascular Surgical Neuroradiology, and Director of Clinical Neuroscience Research at Valley Baptist Medical Center-Harlingen. "This is a big deal because we as physicians never had anything for patients outside of the six-hour window."
Traditionally, many stroke patients seeking medical treatment within six hours are treated with a combination of IV-tPA – a medication that works to dissolve the blood clot responsible for a stroke – and mechanical thrombectomy, a procedure in which an endovascular neurologist inserts a catheter into a patient's leg through the blood vessels to the brain to remove the clot, thereby reopening the clogged vessel and restoring blood flow to the brain.
"We've had IV TPA since the late 1990s, which is FDA-approved through up to three hours. Some patients can get it up to four and a half hours," Hassan said. "Then we had endovascular treatment, which was proven in 2015 to benefit patients through up to six hours. Now we have something to show that some patients can still benefit after having a stroke up to 24 hours if they have favorable imaging."
Hassan said that as part of the study, patients received a number of tests to determine if they were viable candidates prior to treatment. Those who showed the necessary results and went on to receive endovascular treatment often experienced significant outcomes, Hassan said. "In the study, 49 percent of patients treated had complete functional independence at 90 days," he said.
The findings are significant because most stroke patients, including those in the Rio Grande Valley, seek medical treatment after the six-hour window. Recent studies suggest that just 5 to 13 percent of patients receive treatment within three to six hours.
"If you suffer a stroke in the Valley, most people in Cameron County know that Valley Baptist is a Comprehensive Stroke Center, but they also know that time is brain, and if a patient did not come in within six hours, there may not have been much to offer them," Hassan said. "The majority of patients in South Texas present after six hours, hence the importance of this research for a region like ours."
The recently-published study continues Valley Baptist-Harlingen's participation in ground-breaking stroke research. Hassan and the Valley Baptist-Harlingen neuroscience research program also participated in the 2015 SWIFT PRIME study, which was also published by the New England Journal of Medicine and revealed that adding endovascular treatment to traditional stroke care could result in improved long-term functional outcomes for patients.