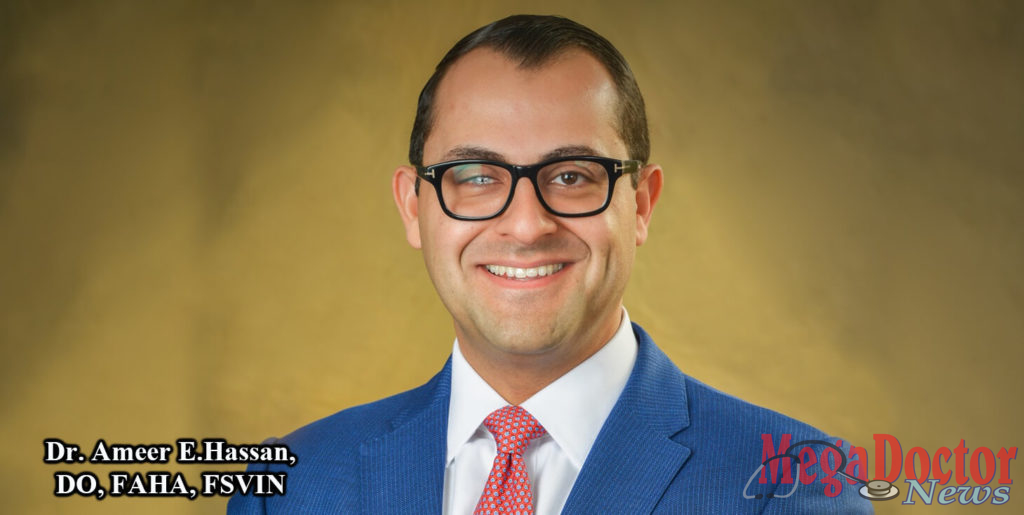 Mega Doctor News
- Advertisement -

Harlingen, TX – Valley Baptist Medical Center-Harlingen is one of the first in Texas to treat a patient for a cerebral aneurysm, using the Surpass Streamline Flow Diverter device.
"We are excited to have successfully implanted one of the first Surpass flow diverters in Texas, right here in the Rio Grande Valley," said Dr. Ameer E. Hassan, DO, FAHA, FSVIN, Head of the Neuroscience Department, Director of Endovascular Surgical Neuroradiology and Director of Clinical Neuroscience Research at Valley Baptist Medical Center-Harlingen.
Valley Baptist-Harlingen is advancing the way patients with large and unruptured aneurysms are treated by using the latest stent to reliably keep the artery open and close the blood flow to the aneurysm.
"We are committed to advancing the treatment for patients suffering from intracranial aneurysms," said Hassan. "Due to the location of these aneurysms, they can pose a challenge to access and treatment. The Surpass provides a less invasive form of intervention to treat these patients."
The Surpass Streamline Flow Diverter was FDA approved in 2018 and is the second flow diverting stent to gain FDA approval in the United States. Surpass Streamline Flow Diverter is a small cobalt chromium braided stent that is used to direct blood flow within an intracranial artery away from a weakened blood vessel sac or aneurysm.
Brain aneurysms form when the walls of the arteries in the brain become thin and weak, causing the artery to balloon out and fill with blood. Risk factors include high blood pressure left untreated, history of aneurysms in a first-degree family member, cigarette smoking, or age can often be a factor.
"Aneurysms left untreated can lead to serious health problems such as cerebral hemorrhage, stroke, brain damage, coma, and even death," said Hassan. "This is a serious health condition that should receive immediate treatment."
- Advertisement -

According to the Brain Aneurysm Foundation, an estimated 6 million people in the United States have an unruptured brain aneurysm of which approximately 25,000 are treated with endovascular or surgical treatments each year.
Dr. Hassan recently chaired the 11th Annual Society of Vascular and Interventional Neurology Program in San Diego, California, focused on advancing the care and treatment for stroke, subarachnoid and intracerebral hemorrhage patients. The three-day conference gathered neuro specialists from around the world to share best practices and breakthroughs in treatment and research.
"Every day, we are making advancements and finding new ways to treat patients with neurological conditions," said Hassan. Valley Baptist continues to make advances in stroke research and education through The Stroke Research and Education Foundation. The Stroke Research and Education Foundation provides stroke education and programs to Cameron County stroke survivors, caregivers, and the healthcare community. The Valley Baptist Neuroscience Institute continues to expand treatment services for neurological conditions.