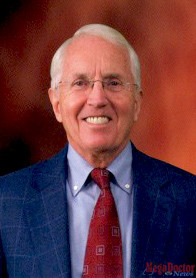 Mega Doctor News
EDINBURG, TEXAS – JUNE 13, 2016 – Dr. James Prochaska, one of the most preeminent clinical psychologists in the world today, will headline the UTRGV School of Rehabilitation Services & Counseling's annual conference, Friday, June 17, on the Edinburg Campus.
In collaboration with the Department of Assistive and Rehabilitative Services – McAllen Office, the "Counseling and Employment Supports: Current Trends" conference is the ideal event for practitioners, researchers and educators to get the most up-to-date information on issues related to counseling and rehabilitation.
Prochaska will be keynote speaker, with a presentation on "Changing for Life: Using the Stages of Change to Support the Recovery Process." Prochaska also will share his lifetime work in the area of behavioral change and his role as creator of the Transtheoretical Model of Behavior Change.
Dr. Bruce J. Reed, director/professor for the UTRGV School of Rehabilitation Services & Counseling, said having Prochaska at the conference is a unique opportunity to personally hear from one of the world's leading personality theorists and innovative clinical psychologists.
"His textbooks remain one of the most common ones in higher education today in counselor education courses," Reed said.
Prochaska currently is director of the Cancer Prevention Resource Center and a professor of Clinical Health Psychology at the University of Rhode Island.
Prochaska also will speak to faculty and graduate students during a Faculty Seminar from 3:30-4:30 p.m. Thursday, June 16, on the Edinburg Campus.
Conference registration is $100 for professionals and $60 for students. Participants can network with other counseling professionals and educators from the Rio Grande Valley and across the state.
Participants can earn up to six credit hours of continuing education toward LCDC, CRC, LPC, or a certificate of attendance.
For more information and to schedule media access, contact Teresa Guerra at (956) 665-7971 or at teresa.guerra@utrgv.edu.
- Advertisement -