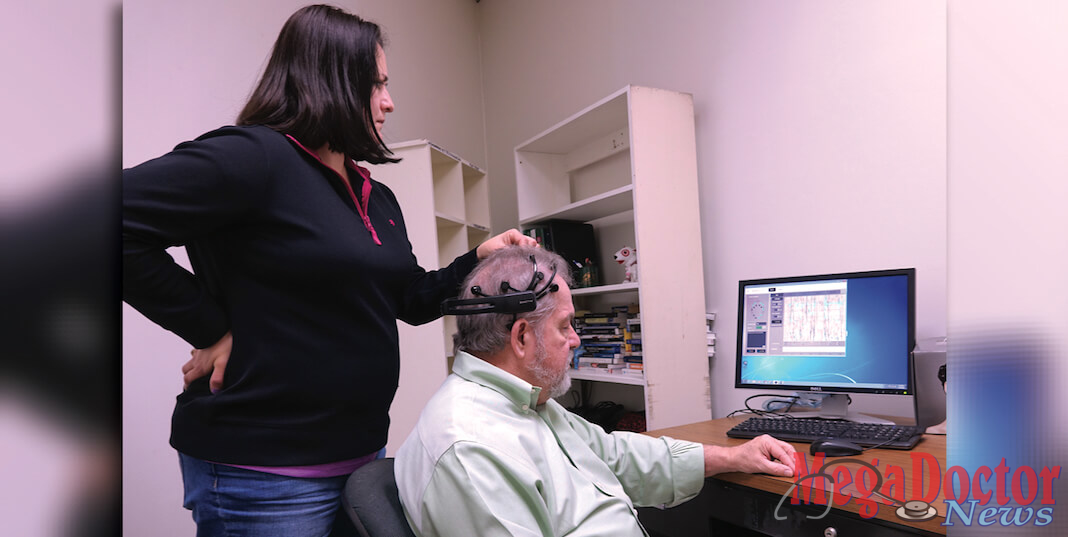 By Maria Elena Hernandez
- Advertisement -

Mega Doctor News
Rio Grande Valley, Texas – Dr. Reto Felix is carefully reviewing a recording of his driving. Unlike a dash cam, this recording includes a red dot that shows exactly where his eyes have focused.
The University of Texas Rio Grande Valley assistant professor of marketing is conducting an informal test of one of the department's newest pieces of equipment – an eye tracker. It shows an advertisement on a van, and the branding on a FedEx truck gets his attention briefly while he drives. The red indicator also appears on the side mirrors.
"Hopefully, that would give me points from the driving instructor," Felix jokes.
The eye tracker is just one of the devices the UTRGV Department of Marketing, in the Robert C. Vackar College of Business and Entrepreneurship's Academic Affairs division, is using as its research expands to consumer neuroscience. And spearheading the project is Dr. Michael Minor, professor and chair of the marketing department, who is working with faculty and graduate students to get an in-depth look at how consumers process information. It is a project with lots of moving parts.
TERABYTES OF DATA
UTRGV doctoral candidate D.J. Rew is using functional magnetic resonance imaging data to help marketers better understand consumers. "My study actually is this: to find out the better model to understand how consumers decide or what they decide through brainwaves," he said.
- Advertisement -

For his work, Rew is downloading 120 terabytes of data from across the country; so far, he has downloaded only two. If he wanted to print out those two terabytes of data, he would need paper from about 100,000 trees.
THE FUTURE OF MARKETING
Minor is working with electroencephalographs, which register brainwaves. "There are several different brainwaves. And they each mean something, or, in combination, they mean something," he said.
"We're engaged in various methods of looking at the brain to see what we really think, possibly rather than what we say. This is the way marketing is going."
SKILL BUILDING 
Zoila Zambrano, a UTRGV doctoral candidate in marketing, set up the EEG for a demonstration, as Minor spoke of the importance of students gaining experience with this technology.
"Students who have no idea what we're talking about are going to have trouble finding jobs in places which are looking for someone who can administer this equipment and interpret the data," he said.
RESEARCH PLANNED
While the eye tracker is relatively new to the department, Felix and UTRGV associate professor of marketing Dr. Xiaojing Sheng already plan to include it in new research.
"Our research hopefully can shed some light in terms of helping build trusts, especially for new businesses," Sheng said. "Our interest is to look at whether providing a privacy policy is an effective way of alleviating consumer concerns about privacy breach or protection of their information."
PRACTICAL APPLICATIONS
Felix said the eye tracker could be used for consulting as well. "The eye tracker would be ideal for a little bit of consulting work, for instance, if a grocery store or large retailer wanted to know what people actually see in their store," he said.
As part of the expansion into consumer neuroscience, the marketing department is working with other UTRGV departments. "We're working with people who have even fancier equipment in the School of Medicine, specifically the psychiatry department," Minor said.
Both faculty and students say they are looking forward to the potential discoveries, like Lorena Garcia Ramon, a UTRGV graduate student in marketing. "It just gives the type of research that we do a different angle, because we're able to not only capture self-report data, but it's really biological reaction," she said.
Felix agrees. "We're looking forward to surprises, definitely," he said.