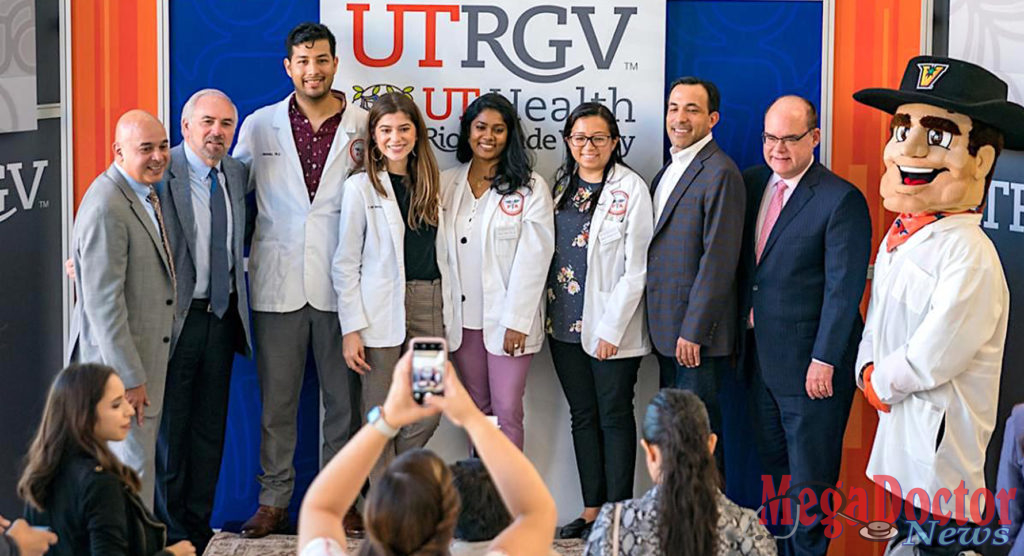 Mega Doctor News
By Victoria Brito Morales
Brownsville, Texas – Starting in Spring 2020, The University of Texas Rio Grande Valley will launch its new Physician Assistant Career Track (PACT) program, designed for South Texas high school students moving toward a Master of Physician Assistant Studies.
The early assurance program was announced at a press conference on Wednesday, November 20, at the UTRGV Brownsville Campus. The objective of the early assurance program will help increase the number of students who enroll and complete their undergraduate studies at UTRGV while securing a seat in the UTRGV College of Health Professions' Physician Assistant Studies Program.
"Our Physician Assistant Career Track is our 'pact' with South Texas high school students who wish to pursue a master's degree in Physician Assistant Studies," said Dr. John Krouse, dean of the UTRGV School of Medicine and executive vice president for the Division of Health Affairs. "We want to attract and retain high-achieving students from South Texas that have an interest in pursuing an exciting career in healthcare, and that have a desire to train locally and help care for this community."
In partnership with the UTRGV Honors College, up to 10 applicants will be selected for the program, which is geared toward high-achieving South Texas high school students who will begin their undergraduate education at UTRGV in Fall 2020. Students selected for this program also will receive a guaranteed seat in UTRGV's Master of Physician Assistant Studies program in 2024, if they meet the requirements.
To be eligible for the PACT program, interested students must graduate from a South Texas high school – Cameron, Willacy, Hidalgo, Starr, Zapata, Webb, Kennedy, Brooks Jim Hogg, Kleberg, San Patricio, Aransas or Nueces counties – and enroll at UTRGV as an incoming freshman for fall 2020, among other qualifications.
Ximena Del Monte, a second-year graduate PA student from Brownsville, said she has known since she was very young that she wanted to be in the medical field. She just didn't know in what capacity until she encountered the PA program.
"This PA program encompasses everything that I believe that I am," Del Monte said. "It teaches us to be empathetic and to care for others, and work as a team.
She said that, as a PA, you can talk in-depth with patients. "You are not only a provider, but you become someone they can turn to," she said.
Frank Ambriz, PA department chair, graduate program director, and clinical associate professor, said this program helps with the expansion of an already growing program.  "We are now up to 100 students," Ambriz said.  "The competition to get in is very tough, very competitive, and this new program will give an opportunity to local applicants to have a pathway into the PA field."