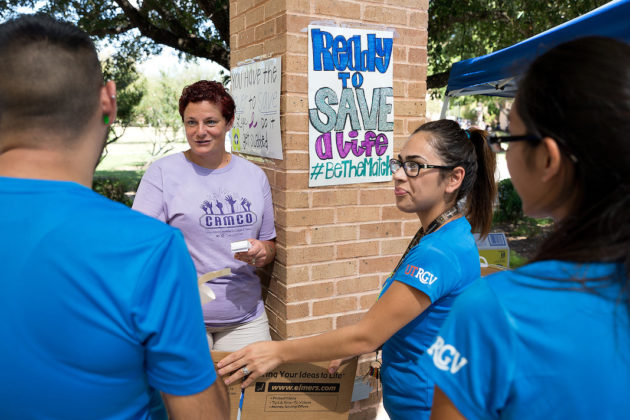 Mega Doctor News – 
- Advertisement -

By Neiby Rodriguez Rangel
EDINBURG, TEXAS – On a sunny Wednesday afternoon, Daija Coleman took her lunch break to help save a life.
The 20-year-old UTRGV sophomore and student athlete registered as a potential bone marrow donor under the Be The Match® program, and her decision is personal, she said.
"One of my classmates back in high school had leukemia, and he actually passed away from it," said Coleman, a nursing major and a jumper for the UTRGV Track and Field team.
"The minute I heard about the "Be The Match" drive, I just felt the need to be part of it. I could be helping someone, and seeing my friend going through what he went through encouraged me to do this."
Coleman was one of 1,196 people who registered to be bone marrow donors under the GenCure Be The Match donor program. UTRGV hosted the Cancer Advocacy Movement for Colleges and Outreach (CAMCO) drives Oct. 4-6 on the Brownsville Campus and Oct. 17-19 on the Edinburg Campus.
"This drive has a lot of impact and is encouraging, because if you're a match, you can probably help a person with leukemia to get cured and to grow," Coleman said.
- Advertisement -

Beth Carrion, a GenCure Be The Match representative, said the CAMCO drives are an annual event in many colleges, and where a variety of student organizations are able to volunteer.
"We get in touch with the school's student activities, mainly like a Health Occupations Students of America (HOSA), student athletes or any student organization that would be willing to volunteer their time," Carrion said. "It's usually a three- to four-day event, and the hope is that we can find matches for cancer patients."
Adriana Estrada, a marrow recruitment consultant for "Be The Match", said joining the donor program gives more patients with a blood cancer or disorder a chance to find a match.
"Every donor registered is added to the national marrow donor program, Be The Match, in hopes of one day helping to save a life," Estrada said.
UTRGV's legacy institution, UTPA, participated in the "Be The Match" drive for about a decade, and 11 CAMCO donors have come from UTRGV and its legacy institutions, Estrada said.
The registration process is simple, said Zachary De Silva, 22, a UTRGV theater design major who registered as a donor.
"You just write down your information and put cotton swabs in your mouth," he said.
De Silva said he was hesitant, but then he thought about his family.
"I registered because of my family, and also, to not be selfish. I mean, if I think about myself all the time, I'll never get anywhere," he said. "It's others that matter more than myself. If you are the match for someone, that's a chance to help someone out."
Adan Vega, 22, a senior pre-med major at UTRGV, said he had never thought about registering as a bone marrow donor, but learning more about it got him interested.
"There are so many people who need the bone marrow," Vega said, "and becoming part of this registry is a great help to the community."
Registration is still open online at Join.bethematch.org/utrgv