Written and Produced by Erika Ender, Sergio George and Andy Clay "Cuenta Conmigo" is Part of Univision's Multi-Platform Campaign to Ensure a Fair and Accurate Count of the Hispanic Community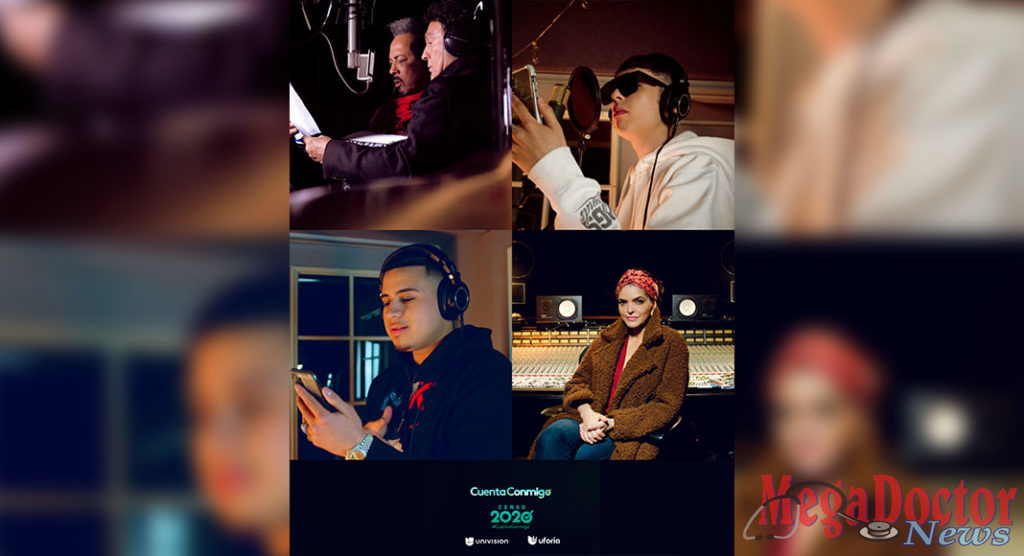 Mega Doctor NEWS
By Univision PR Team 
MIAMI – Uforia, the Home of Latin Music, today announced the release of "Cuenta Conmigo," (Count With Me) a musical anthem featuring top Regional Mexican artists created to motivate and inspire Hispanics to participate in the 2020 U.S. Census. The song is part of Univision's broader multi-platform community empowerment campaign that includes PSAs and special programming on Univision's networks, local television and radio stations, and digital properties aimed at ensuring a fair and accurate count of the Hispanic community.
---
---
"Cuenta Conmigo" is a cumbia-infused track that features some of the most influential Latin artists today, including seven-time Grammy and eight-time Latin Grammy winning Norteño legends Los Tigres del Norte, Latin Grammy winning and La Reina Grupera Ana Barbara,  as well as urban corrido rising stars Natanael Cano and Fuerza Regida. Click here for a sneak peek of "Cuenta Conmigo."
The anthem was written and produced by some of the most talented, prolific and award-winning creatives in Latin music today, including:
Executive Producer/Producer/Songwriter: Sergio George, multi-award-winning music producer, who has worked with chart-topping musicians like Marc Anthony and Prince Royce.
Songwriter: Erika Ender, songwriter extraordinaire and composer whose credits include Luis Fonsi's Despacito and who has written countless songs for Marc Anthony and Chayanne, among many others.
Songwriter: Andy Clay, producer/songwriter, who has collaborated closely with Erika Ender and has also written hits for CNCO, Karol G, and Luis Fonsi.
Producer: Toy Selectah – Mexican cumbia and alternative music producer, who has produced for 3BallMTY, Angeles Azules, Mexican Institute of Sound, among others.
"We believe that music is a catalyst in bringing our community together and we're excited to partner with these great artists to convey a message of unity and civic duty to our audience," said Jesus Lara, President of Radio, Univision. "Through the power of music, Univision is bringing to life our commitment to inform, empower and entertain Hispanics in America and ensure a fair and accurate count."
"Cuenta Conmigo" is available starting today on UforiaMusic.com and fans can also listen by tuning into select Uforia radio stations across the country, including:
Chicago (Que Buena 105.1 and Amor 106.7), Houston (Que Buena 102.9 and Amor 106.5), Dallas (Que Buena 94.1 and ZonaMX 99.1), Las Vegas (ZonaMX 103.5), San Francisco / San Jose (Que Buena 98.9, 99.1 and Amor 100.3), New York (Que Buena 92.7), Austin (Que Buena 104.3 and Amor 107.7), Fresno (La Jefa 107.5, ZonaMX 107.9, and Amor 92.1), Los Angeles (La 101.9 Puros Hitazos, K-Love 107.5, and Recuerdo 103.9/98.3), McAllen (La Jefa 98.5 and Recuerdo 96.1), Phoenix (Que Buena 105.9 and Amor 106.3 ) San Diego (Que Buena 106.5 and Amor 102.9)
Additionally, through a partnership with Universal Music, "Cuenta Conmigo" will be available on all digital streaming platforms on Monday, April 6th 2020.
The cumbia version of "Cuenta Conmigo" is the first release of Uforia's initiative to increase awareness of the 2020 Census and drive the community to participate through the power of music.
Univision's broader Cuenta Conmigo campaign is a year-long campaign that leverages the company's media portfolio to demonstrate the importance of the Census and to encourage the Hispanic community to help ensure a fair and accurate count by participating in the Census. The effort includes a nationwide Census Day programming roadblock on April 1 across all of Univision's network shows; PSAs featuring network news and radio personalities airing on TV and radio, respectively; weekly network radio segments; in-depth national and local news coverage, among others. The company also partnered with Sesame Street Workshop to create a PSA aimed at informing Univision's youngest viewers about the importance of being counted. Across digital, animated video explainers, social media toolkits, infographics and Facebook Lives are providing audience members with real-time updates and instructions on how to support and complete an accurate 2020 census count. Census information is used to determine funding for healthcare, education, infrastructure, and other issues in addition to proportional representation.
Fans can join the conversation about the U.S. Census across Uforia's social media platforms using the hashtag #CuentaConmigo2020 on Twitter, Instagram, Youtube, and Facebook.
Visit corporate.univision.com for more information on Univision, and follow @UnivisionPRTeam on Twitter and Instagram
CONTACT:
Julissa Bonfante 305.793.7082 jbonfante@univision.net
Candice Georgi 305.471.4057 cgeorgi@univision.net