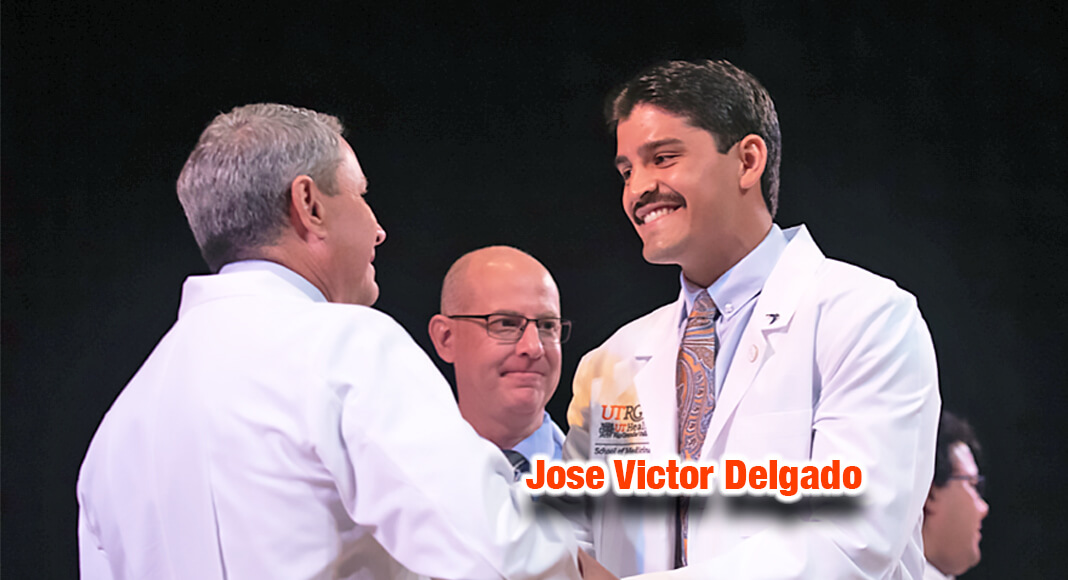 - Advertisement -

Mega Doctor News
By Saira Cabrera
RIO GRANDE VALLEY, Texas – For Jose Victor Delgado, a Rio Grande Valley native and Second Lieutenant in the U.S. Air Force, the Fourth of July has special meaning this year as he and 117 UTRGV School of Medicine students received their white coats on Saturday.
Delgado, an incoming first-year medical student, took part in the annual White Coat Ceremony signifying his entrance into the medical profession. Family, friends and loved ones shared the important moment with the medical studentsduringtheFourth of July weekend at the UTRGV Performing Arts Complex, which was decked out in red, white and blue colors.
"Today is a chance to do good for others, not only in my community but for military families all over the country," said Delgado, who comes from a long line of service men and women. "Moreover, it is an opportunity, a privilege, to serve my country and be a part of something beyond myself."
During this year's ceremony, a standing ovation was given to medical students and audience members who served or are currently serving in the armed forces.
After a challenging welcome to the UTRGV School of Medicine during COVID-19 restrictions, the Class of 2024, who did not get the opportunity to celebrate an in-person White Coat Ceremony, joined the Class of 2026 to commemorate the next generation of medical students.
"Life has been extremely hectic," said Delgado. "This moment is a bit surreal. However, I have to say that the main emotions right now are excitement and great pride. I, as well as everyone else at the School of Medicine, have worked tirelessly and consistently to reach this goal."
- Advertisement -

These two classes are the fifth and seventh groups of medical students for the program.
THE WHITE COAT TRADITION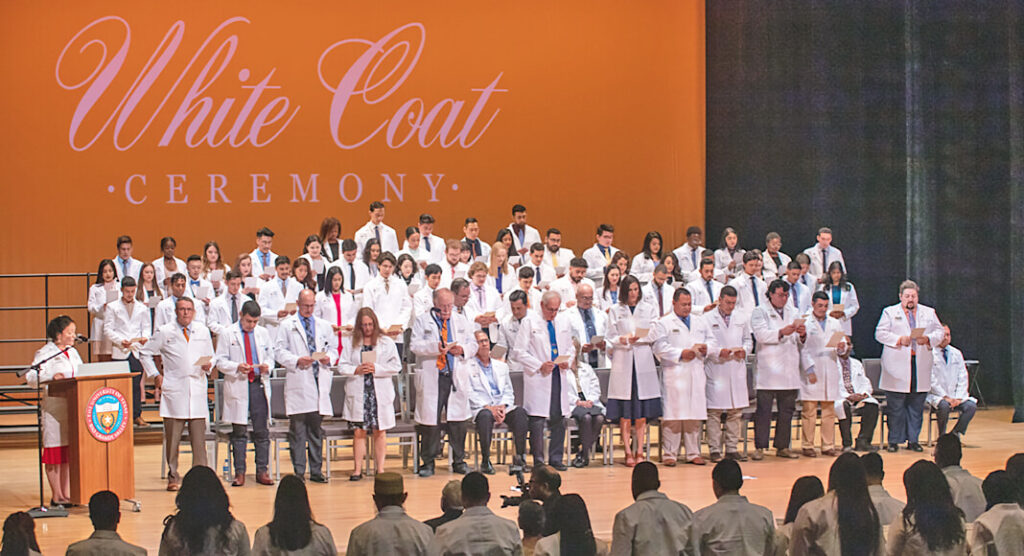 For medical students across the United States, the White Coat Ceremony symbolizes an emblematic occasion as they initiate their careers in patient care and service.
The symbolic white coat was placed on each student's shoulders as the Hippocratic Oath – an oath of ethics made by physicians – was recited, marking their entrance into the healthcare profession.
"I am excited to begin my journey, learn where it will take me, and see what will become of myself as I evolve into what I hope will be a great physician," said Delgado.
A SYMBOL OF RESPONSIBILITY
Delgado, whose family has served in the U.S. Air Force for generations, said the white coat represents responsibility.
"Accepting and wearing the white coat means bearing a moral obligation unlike any other. The white coat, to me, is a symbol of responsibility. It reminds me of the career path I have chosen, one that emphasizes service to others," said Delgado. "The moment I put on my white coat for the first time will be the moment I embark on the journey of becoming an attending physician."
Keynote speaker, Dr. Jeremy Gibson, UTRGV School of Medicine vice dean for Educational Affairs, also shared Delgado's sentiments.
"The White Coat Ceremony is an important rite of passage for medical students. It represents the beginning of a life-changing journey to becoming a physician," said Gibson. "The coat itself symbolizes professionalism, caring and trust. The ceremony today symbolizes the commitment to serving humanity for the rest of their life."
Sharing in Delgado's moment was his sister Major Amanda Delgado, 81st Surgical Squadron OBGYN physician, who earlier in the month commissioned him and administered his oath to the U.S. Air Force on June 3.
"My sister has been the biggest role model for me regarding career choices. She laid the path, being the first physician in the family, and has been my biggest resource and insight into a career of service to my country through medicine," said Delgado.
SIGNIFICANT MILESTONE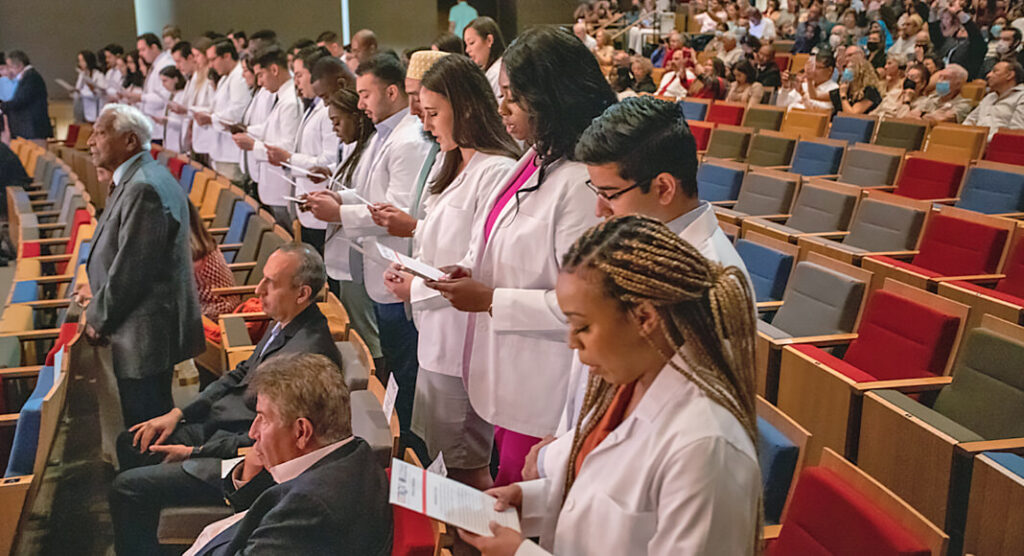 Dr. Leonel Vela, UTRGV senior associate dean for Educational Resources, department chair, and senior physician for Community Health Partnerships & Outreach, spoke at the ceremony and recalled the long, sometimes arduous journey students experience as they enter medical school – with the White Coat Ceremony symbolically welcoming them to the medical profession.
"We have looked forward enthusiastically and with anticipation to this day," said Vela. "We congratulate you on achieving and taking this noteworthy step to commence your medical education towards a lifelong career of service to your community and country as future physicians."
A former U.S. Navy flight surgeon, Dr. Michael B. Hocker, dean of the UTRGV School of Medicine and senior vice president for UT Health RGV, said the ceremony is a significant milestone for aspiring medical professionals.
"Class of 2024 and 2026, as you embark on this exciting journey, know that you are making our dream a reality. You bring pride to our UTRGV School of Medicine," said Hocker. "You are a testament to our promise to train diverse and talented physician-scientists to serve our Rio Grande Valley community and beyond."
ADAPT, IMPROVISE, AND OVERCOME
Hocker went on to advise that, much like in the military, the challenges of medical school can be overcome with hard work and strategic dedication.
"We've all endured so much but getting accepted into medical school is hard enough; then you put COVID on top of that. It's been challenging for our faculty, our students, our staff and yet you somehow made it through this," he said. "I have a personal philosophy I learned in the Navy that I also apply professionally, we must adapt, improvise and overcome. You being here today is a testament to that."