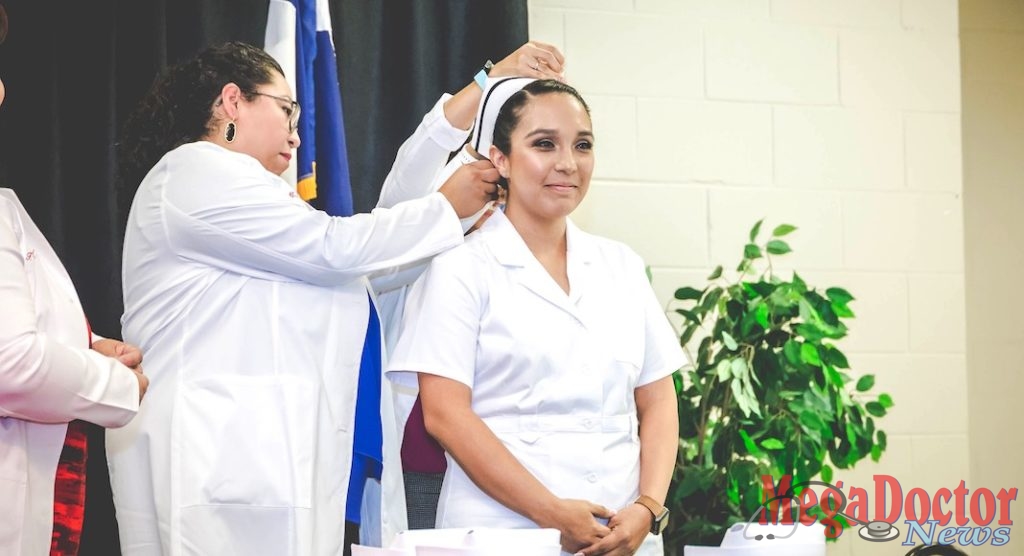 Mega Doctor NEWS
By Amanda Sotelo
Stephanie Perez grew up admiring the work several of her cousins did as nurses. She promised herself that she would be a nurse when she grew up, and in Summer 2019, her dream finally became a reality she graduated from Texas State Technical College's.
The 28-year-old and mother of two earned her associate degree in registered nursing last month and a certificate in vocational nursing in Fall 2017.
"I'm so happy to be in a profession where I get to help others while doing what I love," she said. "This was a trying, yet exciting time for me and my family, but here I am, with a dream come true."
As a child she enjoyed listening to her cousins' conversations about helping newborn babies and their mothers or about saving a life, and although they were her inspiration, it wasn't until her daughter was in the neonatal intensive care unit (NICU) that her heart grew tenfold for nursing.
Perez's youngest daughter was born with gastroschisis, a birth defect of the abdominal wall in which the baby's intestines are found outside of the body.
"Although it was seven years ago, I still remember how those NICU nurses made me feel," said the Harlingen native. "They kept me calm and well informed in one of the scariest moments a mother could experience. They are also a big part in why I chose nursing as a career."
She said her daughter is now healthy and thriving and comments often on how she wants to be a nurse too. Her sister shares the same sentiment.
"My daughters are watching everything I do, so no matter how hard both programs got, I could not give up," said Perez. "I did this for them, to give us a better life and they tell me often how proud they are of me and how they want to be smart like me. That alone, makes everything worth it."
Perez said the program was intense and challenged her often, but from the top-notch nursing skills she learned and hands-on training received to clinical rotations, she said it all prepared her for a successful career in a field where she holds other's lives in her hands.
"The program is intense for a reason. As a nurse you hold a lot of responsibility, and I understand that, but what made it harder for me was my mom guilt," she said. "I missed school assemblies, programs, birthday parties and sleepovers. It was heartbreaking."
But it was a heartbreak that she said her instructors helped her through.
"It was honestly the instructors that made this program worthwhile," she said. "They go above and beyond what an instructor has to do. They treated us like sons and daughters, they were a shoulder to cry on and motivators. That is what helps us succeed."
Perez not only graduated from both programs with honors, but as valedictorian, making her the top student in her class.
And upon passing her National Council Licensure Examination (NCLEX) in the next few weeks, she will begin working at the oncology department at Valley Baptist Medical Center in Harlingen.
"I'm so excited to start working and that confidence comes from TSTC," said Perez. "TSTC has made me a more independent person, professionally and financially. It's a great feeling."
Perez will be taking a break from school to work, gain experience and spend much needed time with her family, but her ultimate goal is to become a nurse practitioner so college is still in her future.
"I did it once, I can do it again," she said. "And I hope my story inspires others to go for their dreams as well, no matter the circumstances. It's all up to the individual, but I can say for me TSTC did not let me fail."