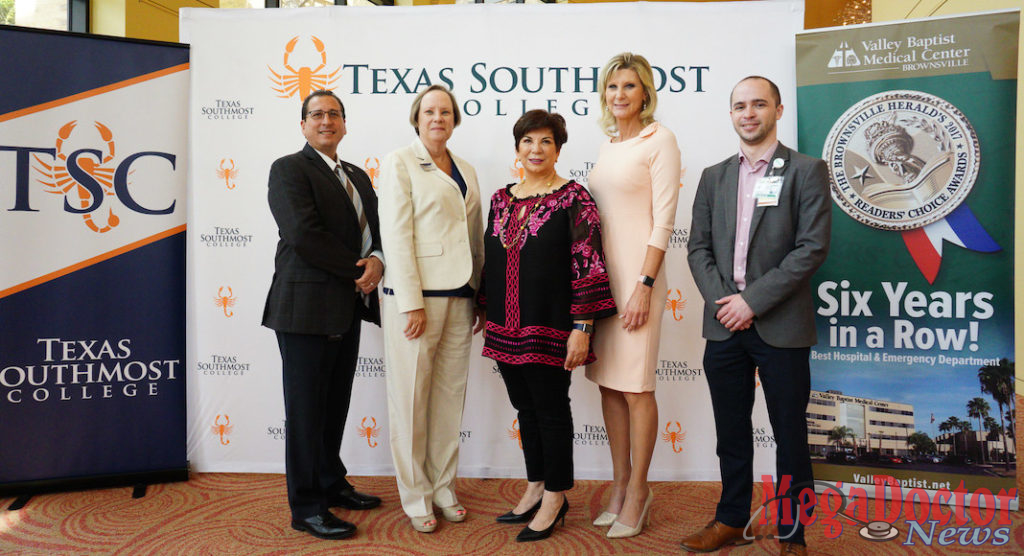 Mega Doctor NEWS
BROWNSVILLE, Texas – Future Texas Southmost College Certified Nursing Assistant program students will now benefit from hands-on clinical learning experience through Valley Baptist Medical Center-Brownsville after both institutions expanded their longtime partnership to include the CNA program in their affiliation agreement during a signing ceremony Aug. 28 at the TSC Performing Arts Center.
"Texas Southmost College and Valley Baptist's partnership goes back a long way and includes all of our health career programs," said Adela G. Garza, TSC Board of Trustees Chairwoman. "We're delighted to have our Certified Nursing Assistant program included in the affiliation agreement. The clinical experience our students will receive through this partnership will not only benefit the students and the healthcare facilities that they will be working for, but most importantly, the patients they will be caring for in our community."
TSC President Jesús Roberto Rodríguez and VBMC-Brownsville Chief Executive Officer Leslie Bingham signed the amended affiliation agreement to include the CNA program during the ceremony.
"The wonderful partnership TSC has with Valley Baptist Medical Center is vital to our region, which contributes to the economic success of our communities, as well as to the health and well-being of our communities," said Dr. Jesús Roberto Rodríguez, TSC President. "The addition of the CNA program to our partnership will provide our students with valuable clinical learning opportunities and experience through the application of knowledge and skills in actual patient-centered situations."
TSC's CNA program is a 112-hour, seven-week workforce training program that is highly in-demand and provides a pathway to other healthcare careers.
"Healthcare is a growing need as the Rio Grande Valley population continues to expand, and we are always looking for healthcare providers," said Bingham. "The CNA program can be an entire career or serve as a springboard to getting a nursing degree, going into physical therapy, or becoming an ultrasound technician. As a nationally-recognized and award-winning acute care hospital, Valley Baptist-Brownsville will continue to provide Texas Southmost College students with the optimal clinical setting to become outstanding healthcare providers."
TSC offers healthcare programs in Diagnostic Medical Sonography, Emergency Medical Science, Licensed Vocational Nursing, Associate Degree Nursing, Medical Laboratory Technology, Radiologic Technology and Respiratory Care Science. They are all part of the TSC and VBMC-Brownsville affiliation agreement.
For more information about TSC's Certified Nursing Assistant program, contact (956) 295-3724 or email workforcetraining@tsc.edu.
About Texas Southmost College
Originally established in 1926, Texas Southmost College currently offers the first two years toward a bachelor's degree, along with career and technical education leading to certificates and associate degrees, college preparatory studies to prepare students for college-level work, workforce training, and continuing education. TSC offers 50 programs of study leading to an associate degree or certificate.