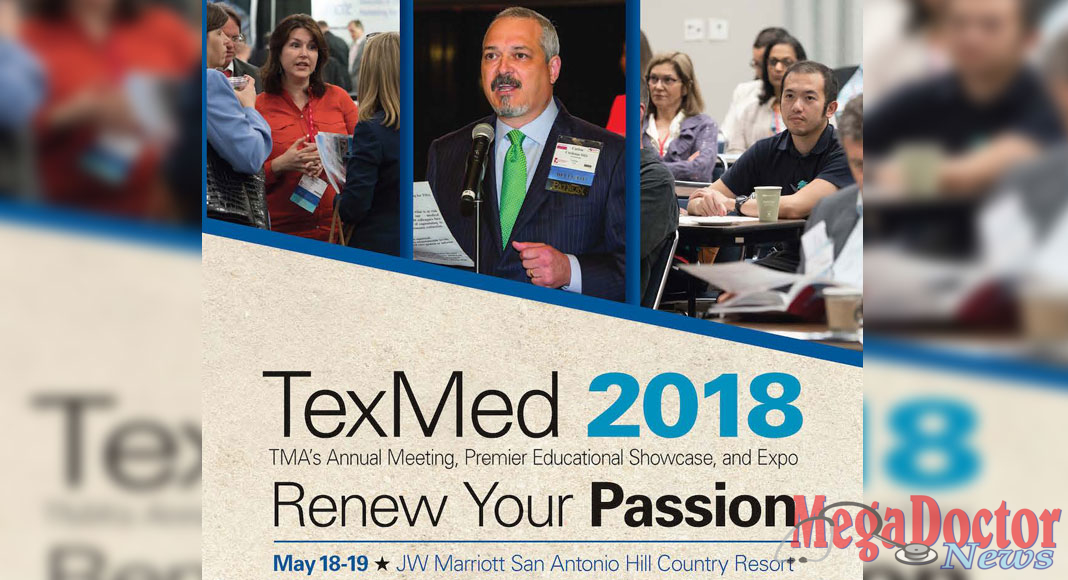 Mega Doctor News
The issue of addressing preventable deaths and disease in pregnant women and new mothers leading top-priority policy debates; recommendations to protect physicians and other health care workers from potential retaliation in hospital "whistleblower" cases; cyberspace medicine (and drugs) in the era of the "dark web"; a physician's perspective on the problem of school shootings; an edgy keynote speaker and more highlight TexMed 2018, the Texas Medical Association's (TMA's) annual physician conference, in San Antonio.
Close to 2,000 TMA physician leaders and other health care experts will gather for TexMed, the largest annual meeting of America's largest state medical society.
TMA will install a new president during TexMed, elect other officers, and honor a highly respected physician leader with its top honor. This meeting also marks the 100th anniversary of the TMA Alliance volunteer organization, which started in San Antonio.
WHEN: This Friday-Saturday, May 18-19 (See details below.)
WHERE: JW Marriott San Antonio Hill Country Resort, 23808 Resort Pkwy., San Antonio
WHO: Nearly 2,000 TMA member physicians from across Texas, notable speakers in medicine, and other health care experts
HIGHLIGHTS:
- Advertisement -

Friday, May 18
1 pm — Continuing medical education presentation: School Shootings and Targeted Violence: What Can or Should Be Done?
4 pm — Opening General Session keynote speaker Zubin Damania, MD(aka ZDoggMD): Health Care, Remixed. Dr. Damania, an internist and founder of Turntable Health, a health care startup in Las Vegas, will discuss the root causes of dysfunction in the delivery of health care in the United States and how physicians can avoid burnout. Dr. Damania's funny, edgy, ZDoggMD videos mercilessly satirizing our dysfunctional health care system have hit one-quarter billion views on Facebook and YouTube, so the talk should be entertaining!
Saturday, May 19:
8:30 am-Noon — House of Delegates policymaking meeting
9:15 am — Distinguished Service Award presentation. Surendra K. Varma, MD, a renowned Lubbock pediatrician and pediatric endocrinologist, receives TMA's highest honor. Among many achievements throughout his career, Dr. Varma is credited with helping Texas mandate newborn hypothyroid screening, likely preventing thousands of children from intellectual and other disabilities.
10 am — Continuing medical education presentation: The Dark Web: Cyberspace Marketplace
10:45 am — Installation of Douglas W. Curran, MD, of Athens, as TMA's 153rd president.
Throughout the morning — Policy debate. TMA's House of Delegates will debate and consider adoption of new guidelines for medicine, the association, and Texas. Among the house resolutions up for consideration:
A seven-point report to address the crisis of preventable deaths and disease in pregnant women and new mothers, from TMA's Maternal Health Congress;
Recommendation to adopt a Medical Staff Rights and Responsibilities Bill of Rights, including protection of physicians and health care workers from retaliation by hospitals because they advocated on patients' behalf; and guarantee of due process for physicians in those situations;
A report to arm physicians with resources and materials to counsel parents and children about the effects of sugar-sweetened beverages, and high-fat, high-salt, and high-carbohydrate foods; and
Dozens of other medical and health care policy recommendations
1:30 pm — Closing General Session keynote speaker Gordon Hartman (founder, Morgan's Wonderland): You Are Only Disabled in an Environment That Makes You That Way. Mr. Hartman of San Antonio will discuss how communities can come together to empower the lives of people with cognitive and physical disabilities. Inspired by his daughter Morgan, who faces both physical and cognitive challenges, Mr. Hartman started a foundation and built San Antonio's Morgan's Wonderland, the world's first theme park designed with special-needs individuals in mind.