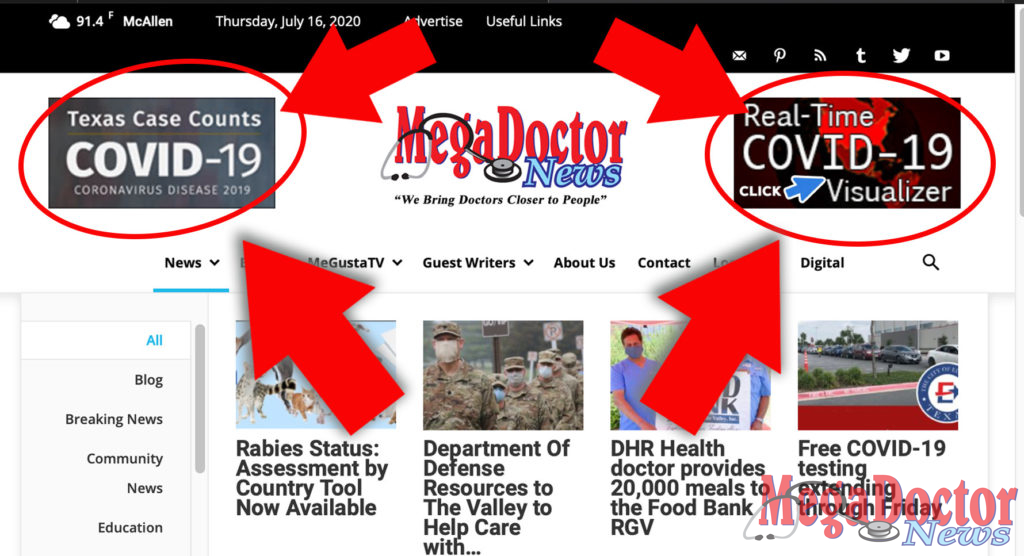 Mega Doctor NEWS
By Roberto Hugo Gonzalez
While multiple companies are in a race to develop a vaccine that brings a solution to the Pandemic started in China, Texas Border Business and Mega Doctor NEWS added two dashboards, one for Texas and the other to track World fatalities caused by COVID-19.
The two dashboards are in the front of both websites, so no matter what you read, the dashboards will stay with you for prompt reach.
The Texas Cases Count dashboard gives you reports instantly by County, and they are: Cases, Fatalities, Recoveries, Active cases, Case trends, Case demographics, Fatality demographics, and Data sources. This dashboard on the upper left corner of our website updates daily by 4:00 PM.
Numbers are estimated based on several assumptions related to hospitalization rates and recovery times, which were informed by data available to date. These assumptions are subject to change, as we all learn more about COVID-19. 
The estimated numbers do not include data from any cases reported before 3/24/2020.
The Worldometer's dashboard is on the right upper corner, and it provides a simple, interactive way to visualize the impact of COVID-19. 
It offers data in real-time updates, utilizing reliable sources from around the world. The TODAY cases/deaths are based on GMT (+0). The website pulls new data every 2 minutes, refresh to see any changes.