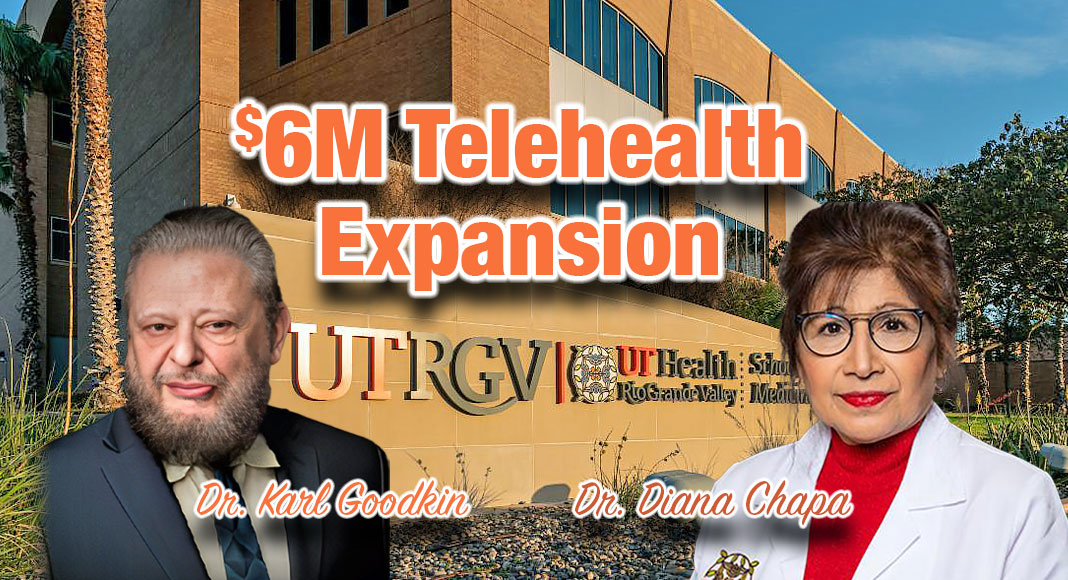 - Advertisement -

Mega Doctor News
By Karen Villarreal 
EDINBURG, Texas –  The UTRGV School of Medicine's Department of Psychiatry is expanding a telehealth program that addresses the regional and state need for more mental health providers for children and teens.
Dr. Karl Goodkin, MD, DFAPA, professor and chair of the UTRGV School of Medicine's psychiatry department, said access to mental healthcare for children and youth across the state is sparse at best, making these programs critical interventions.
"There are areas in Texas that have no child or adolescent psychiatrist available," he said. "And patients can face up to a year's wait before they're able to be seen."
The United States long has faced a shortage of mental health professionals. According to a 2018 study published by staff at the Wexner Medical Center at Ohio State University, the psychiatry workforce faces a shortage through 2024 of between 14,280 and 31,091 psychiatrists, depending on the psychiatrist-to-population ratio.
In the Rio Grande Valley, an estimated 34 full-time psychiatrists are required to meet the needs of the four counties (Hidalgo, Cameron, Starr and Willacy).
In 2020, Hidalgo County had 23 psychiatrists, Cameron had 20, Starr had one psychiatrist, and Willacy County had none.
"The beauty of this program is that if we have children referred to us, they will be screened and we can look at the medication component," Goodkin said. "And a master's level therapist can recommend psychoneurological testing for clarification of a diagnosis."
REACHING STUDENTS IN NEED
Since 2021, UTRGV School of Medicine has participated in a statewide initiative called Texas Child Health Access Through Telemedicine, or TCHATT, which aims to bridge the gap for underserved children by providing telehealth therapy services in a private, in-school setting.
- Advertisement -

UTRGV's service area began with the Region One Education Service Center. UTRGV's psychiatry department within just two years expanded its TCHATT service area, from initially serving nine school districts, and expanding services to 19 school districts with 193 campuses and 135,084 students.
The program is actively onboarding 10 school districts of 127 campuses, serving an additional 71,666 students.
In her role as interim chair of the UTRGV School of Medicine's psychiatry department, Dr. Diana Chapa received funding for the continuation and expansion of the program.

"Our goal is to provide services in the rest of the ISDs and charter schools in our region by the next academic year," Chapa said.
According to the TCHATT website, UTRGV's TCHATT program is planning to serve an additional 45 school districts, which means 288 campuses with 137,954 students.
With the planned schools included, 34,4704children will be able to access therapy and mental health assessments for free through 608 schools in 74 school districts.
Chapa said 12 universities across the state participate in TCHATT, and all of them have committed to contacting every public and charter school in Texas by September 2023 to offer the TCHATT program.
EXPANSION OF SERVICES
With an additional $6 million in funding from the Texas Child Mental Health Care Consortium (TCMHCC), the UTRGV School of Medicine's Department of Psychiatry is also increasing the number of therapy sessions and types of services available to students.
The new funding will allow them to expand screenings and psychological testing by offering neuropsychological testing when needed.
"We look at brain function and try to identify some diagnosis that can be supported by clinical information," Chapa said.
The disorders include ADHD, cognitive limitations, autism, dyslexia, and dysgraphia.
Additionally, TCHATT therapists will be able to provide twice as many therapy sessions to the students referred to the program, she said.
"The initial core funding was for four sessions, and now we can provide eight," she said.
That will give them more time to work with students and to help stabilize them, and will allow more time to find resources to continue their care.
SUPPORTING SCHOOLS
The UTRGV School of Medicine is currently training 19 psychiatry residents, who will graduate over the next four years. Over the course of their studies, they will serve as TCHATT therapists – under the supervision of SOM faculty who also provide free therapy sessions to children via computer or iPad in a confidential space in their respective schools.
Chapa said the schools have been very eager for the program, which is free to the schools and the families of the students – from the psychologists and psychiatrists' time to installing the technology at the schools if needed.
"The schools struggle to help some of their students, who are struggling, when they don't have the resources," Chapa said.
Through TCHATT, UTRGV mental health clinicians – psychologists, psychologists and licensed professional counselors­ – step in to provide expert therapy for students who are struggling, and they connect the family with lower-cost options for medication when appropriate.
"We form that bond with the students," Chapa said. "We've heard they feel relief – knowing there's someone who wants to help them, someone they can talk to."
She said schools not yet participating in the program should consider the need for the students for this additional supportive intervention.
"TCHATT can be an adjunct to the school counselors in supporting and meeting students' mental health needs. We can work along other programs you have in place to serve more students," she said. "Every school that wants us, we will be there."