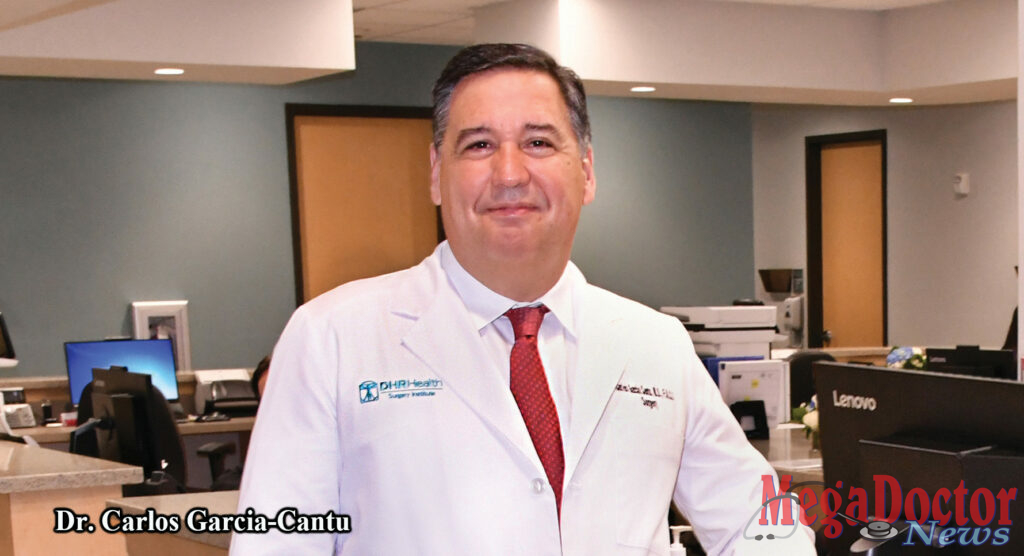 Mega Doctor NEWS
For years we have followed Dr. Carlos Garcia-Cantu as he provides surgical care for a broad range of diseases and disorders. With over 31 years of experience, he specializes in breast, hernia, vascular, and trauma surgery.
He is currently with DHR Health General Surgery Institute, DHR Health Vein Institute, and he is also the Chairman of the Board for Renaissance Medical Foundation.
In this issue, you will learn more about him and other medical professionals at DHR Health.
On another note, most countries around the world are in short supply of blood for transfusions. As we all know,blood transfusions are a key part of health care, yet supplies are often nowhere near demand. A new study found that in 2017, the world needed more than 300 million blood units, but was short by nearly 30 million units.
Of the 195 countries around the world, 119 did not have a sufficient supply of blood units and were short by a combined 100 million blood units. Higher-income countries were largely able to meet their demand, with Denmark having the largest supply. In contrast, South Sudan had the greatest shortfall, where the need was 75 times greater than the country's supply. The WHO recommends 10-20 donors to supply enough blood to help 1,000 people, but the authors write that many countries will need more donors to meet the overwhelming demand. So, help to save lives and donate blood.
Stop Smoking: New CDC data from the 11 countries that have 70% of the world's smokers found that there were 20 million fewer smokers in 2017 than a decade prior. Here's more:
Smoking Incidence: Russia saw roughly a 9% decrease in the number of smokers between 2009-2016, while Turkey saw a 0.4% increase in smokers around a similar time period.
Secondhand Smoke: Some 53 million fewer people were exposed to secondhand smoke, with nearly 25% fewer people in Russia being exposed. At the same time, 13% more people in Thailand were exposed in 2011 than in 2009.
Thoughts About Quitting: The number of people thinking about quitting due to warning labels increased by more than 12 million during the decade. India saw the highest increase in this group, while Vietnam saw a decrease in people thinking about quitting.
Congratulations: Dr. Saul Rivas is a clinical assistant professor of gynecology at the UTRGV School of Medicine. He has been named the 2019-2021 Norman F. Gant/American Board of Obstetrics and Gynecology Fellow by the National Academy of Medicine.
Reminder: The Epilepsy Foundation Central & South Texas announces the 2nd Annual Walk to End Epilepsy – RGV. The walk will begin on Saturday, November 16, 2019, at 8:30 a.m. with refreshments and family-friendly activities at the Edinburg Municipal Park.
Community members are invited to run or walk a non-competitive route along Edinburg Municipal Park. Those unable to attend can register as a "virtual walker." The walk provides social and educational opportunities for people with epilepsy and their family members. Enjoy this issue!