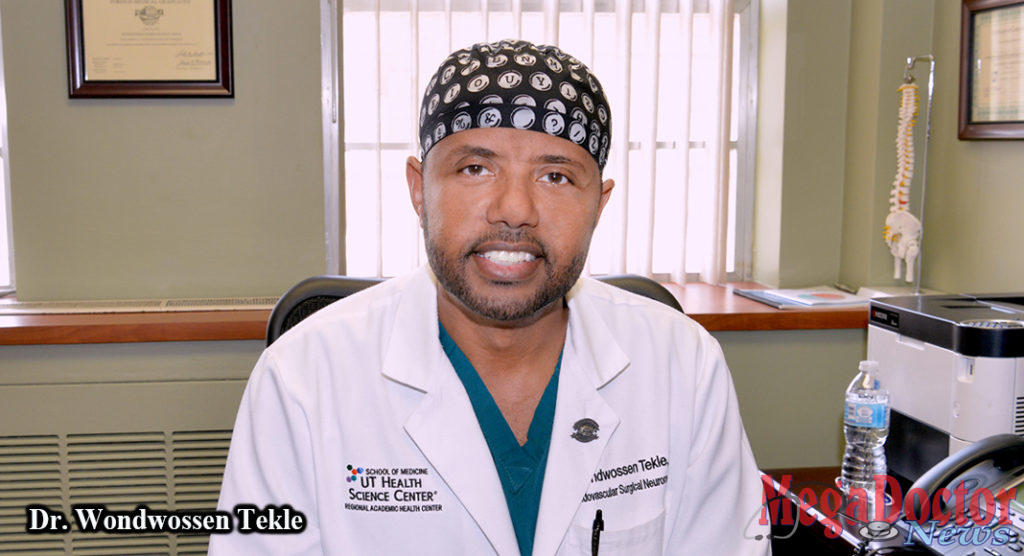 Mega Doctor NEWS
Every time I have the chance to talk at length with a physician, I get informed of the latest trends of a particular field of medicine. This year, I've met with several specialists in a field of endovascular and neurology services that fight stroke.
Even though we have not won the battle against this enemy, great strides have been accomplished.
This month, I met with Dr. Wondwossen G. Tekle, an extraordinary physician with a great humanitarian heart. He is an endovascular neurologist and the Director of the Stroke Program and Neurocritical Care at Valley Baptist Medical Center in Harlingen. He is also the co-director of the Endovascular Surgical Radiology program at McAllen Medical Center as of last year.
Dr. Tekle is originally from Ethiopia, in Africa and came to the United States to get more training in his field.
According to him, three hospitals in the Valley now provide services to stroke patients, and the awareness to educate the South Texas population against this horrible disease that overwhelms many continues to increase.
He told me that stroke treatment has three main categories, get to read about them, in this issue.
In this issue, I dedicated space to a Special Report based on comments made by Dr. Raul Barreda, the Trauma Medical Director at DHR Health.
Dr. Barreda's comments were made during an event by Doctors Hospital at Renaissance on May 1, 2019, regarding the recently created Level 1 Trauma Emergency Center. You will enjoy this article as well.
MORE News: Patients seeking surgical treatment for severe obesity and its related conditions have a choice for receiving treatment at South Texas Health System Heart's Bariatric Surgical Center.
Brenda Ivory, CEO of South Texas Health System Heart, announced that this health institution has achieved National Accreditation for Bariatric Surgeries.
In this issue, I also have an article that could be inspirational for everyone. My good and dear friend Letty Garza, former co-anchor of KRGV TV 5 in Weslaco, talks about her ordeal of kidney cancer. She is a fighter and she has defeated cancer. Dr. Christopher Wood from MD Anderson in Houston, Texas treated her with success. NowLetty tells her story to Mega Doctor News.
ASTONISHING NEWS: Are Men Losing Their Mojo? Can this be the extinction of humanity? This is an alarming story that needs to be told to the public many times over. Why? Because we have learned that sperm count in men is in significant decline for the last forty years.
According to Hagai Levine, MD, MPH, the lead researcher and Head of the Environmental Health Track at the Hebrew University-Hadassah Braun School of Public Health, said, "We don't really know the reason because so far we have neglected to study what the reasons for the decline of Western men's fertility are? However, we do know some of the factors which hurt male fertility are manmade chemicals, endocrine disrupting chemicals, which harm testosterone at the testicular development during the fetal period and also during adult life."
There are more stories in this issue that I know you will enjoy.