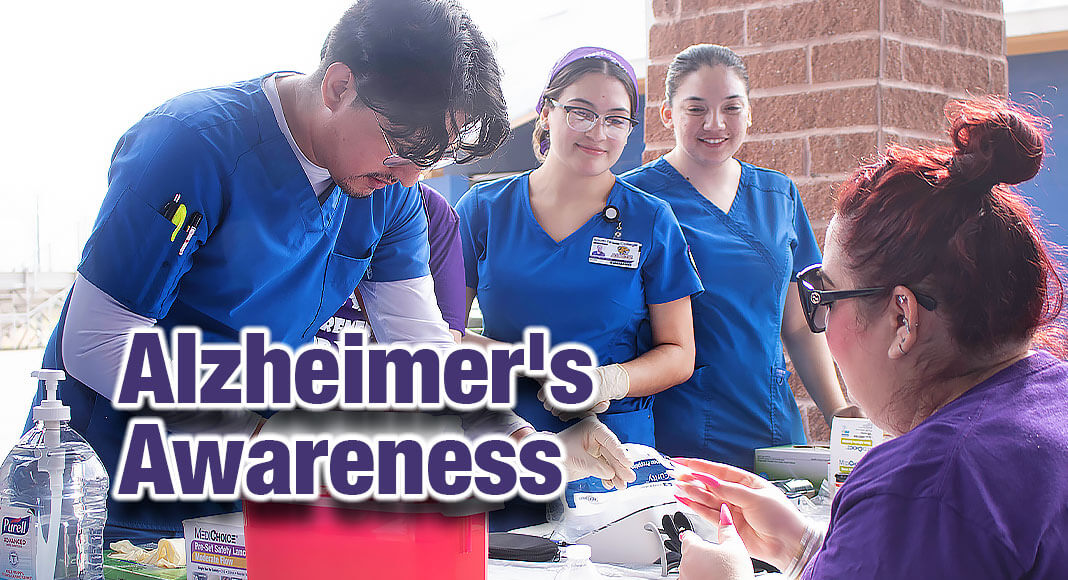 Mega Doctor News
- Advertisement -

RIO GRANDE CITY, Texas – "I will help you remember," was the mantra that was chanted throughout the day as a message to residents suffering from Alzheimer's disease. It was also a solemn vow by health care professionals in the region, as well as by South Texas College Vocational Nursing students joining the fight against one of the most prevalent diseases among the elderly in Starr County.
STC Vocational Nursing students recently participated in an inaugural Alzheimer's Awareness Event in Rio Grande City organized by El Faro Health and Therapeutics.
More than 80 students and faculty from the Division of Nursing and Allied Health attended the event, which consisted of vendors, informational booths, performances by schools in the community and an "Awareness Walk."
STC Vocational Nursing students complete rotations at El Faro Health and Therapeutics, a private clinical research site in Starr County created to bringing Alzheimer's-related research and care to a community where 1 in 4 of the elderly suffer from Alzheimer's, much higher than the national average of 1 in 9.
"Being from Starr County, I think it's amazing that we participated in this event with El Faro because we don't have any other research facility in the area. The closest one is in San Antonio," said Sylvia Contreras, an instructor of Vocational Nursing at STC's Starr County campus. "We as a program jumped to get our affiliation with El Faro so we can start getting our students involved. It's our job to try to open as many doors as we can for them."
In Starr County more than 26.4% of people over the age of 65 are suffering from the disease as of 2018. Hispanic Americans are more likely than white Americans to have dementia, according to representatives from El Faro.
Figures by RGV Health Connect, a source of population data and community health information for the Rio Grande Valley region found that Starr County has the highest prevalence in the Rio Grande Valley compared to Hidalgo County at 20.2%, Cameron County at 15.1% and Willacy County at 17.9%.
- Advertisement -

The reasons why the disease is so prevalent in Starr are not clear, according to El Faro representatives. The facility officially launched its first study in Feb. 2022 in partnership with the Global Alzheimer's Platform to begin looking for causes.
"Starr County is No. 2 in the nation for dementia cases, so we have created this event to increase the awareness about the disease in the community," said Jessica Cantu, research coordinator and site director for El Faro Health and Therapeutics. "We are not sure why there are so many cases in Starr County (but) we are hoping these research studies will help us find that out."
Cantu said she lost her father in 2021 to the disease.
"This advocacy is so important to me and I want to bring more awareness on what we can do, how we can help and how research can put an end to this," she said. "STC has helped us out tremendously. Sylvia (Contreras) has talked to me at length about how students can help and how we in turn can help them get better in this profession. We have opened our doors to them and we are looking forward to having them at our clinic again soon."
Emily Regalado said she entered the Vocational Nursing program at STC through her experience as a caregiver for a grandparent who suffered from Alzheimer's disease and for a brother stricken with Multiple Sclerosis.
Growing up in La Grulla, Regalado said she noticed early on that not only is there a severe shortage of health care workers in communities like hers, but overall awareness for diseases like Alzheimer's is also sorely lacking.
"It's very hard to see someone you love forget themselves, who they are and even their basic needs," said Regalado, who was among the students participating in the awareness event in Starr County. "By joining the Vocational Nursing program and becoming a nurse, I want to help those people in need and I think it's amazing what organizations like El Faro are doing here and I look forward to getting further involved."
For more information about STC's Vocational Nursing program visit nah.southtexascollege.edu/vn/.