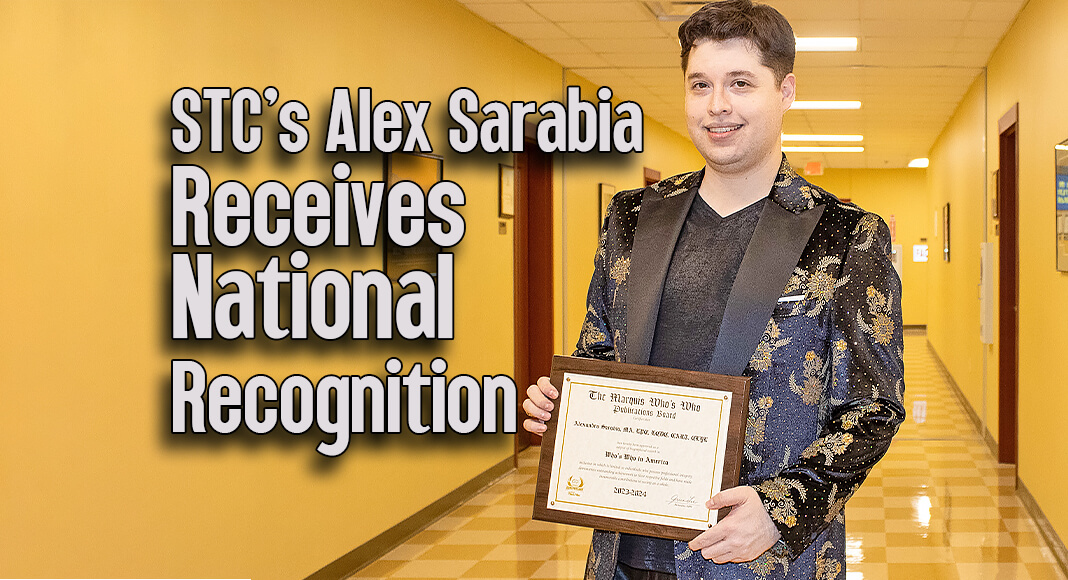 Mega Doctor News
By Selene Rodriguez
Fully committed to the betterment of Starr County through mental health awareness, South Texas College Assistant Professor of Psychological Sciences and 2023 Faculty of the Year Alex Sarabia was recently recognized for his excellence in the world of psychology education when he was named a member of the prestigious Marquis Who's Who in America biographical registry.
Through Marquis Who's Who in American, Sarabia is recognized as one of the publication's Top Educators and Distinguished Humanitarians.
"I'm beyond honored to have received this recognition. I'm here because I love teaching and I'm very passionate about forming talented and skilled professionals, but it's still feels nice to be appreciated along the way for doing what you love," he said.
Coming up on 12 years of teaching at STC, Sarabia has a clear mission to promote mental health and help break the stigma around the need for therapy in his community.
"We need to let go of that stigma and understand that everybody can benefit from therapy," he said. "Just like people can go to a doctor for any kind of pain and not be judged, it should be the same for mental health. We need to normalize taking care of our minds as well as our body for the good of our society."
Sarabia recalls a desire to educate others since childhood, putting on classes of what he learned at school for family members when he was only six years old.
"Even though my initial goal was to become a teacher, I found psychology to be fascinating; our behavior and feelings as humans, why we do the things we do and feel the way we feel is so interesting to me," he said. "It was during my first semester in college that I decided to major in psychology and to later become a professor. It's the perfect combination of both my callings."
With a master's degree in clinical psychology and certified as a Licensed Professional Counselor, the STC professor takes pride in making a difference in students' lives.
"It's always rewarding when students decide to major in Psychology because of my class, or when they say they start implementing what they learn into their lives to better handle their emotions, stress or to improve their relationships with friends or family," he explained. "I want to believe I'm making a difference in my community one student at a time."
It's precisely that commitment to his students that positioned Sarabia among the names of successful professionals in the United States through the Marquis Who's Who in America publication, which for the last 128 years has been recognizing individuals who possess professional integrity, demonstrate outstanding achievement in their respective fields and have made innumerable contributions to society.
The prestigious "Who's Who" registry also recognized Sarabia for giving back to his community through community service events he hosts as co-advisor for STC's Psychology Club.
"We try to stay involved so our students know what's going on around them. We participate in many events year-round such as the annual Walk All Over Cancer event or the Starr County fair," he shared. "We also do highway trash pick-ups and assist in donation campaigns. We basically go wherever we're invited."
Sarabia adds this national recognition to a long list of awards, including the National Institute for Staff and Organizational Development (NISOD) Excellence Award in 2015, given to college faculty and staff who go above and beyond.
He also lists STC's 2021 Distinguished Teaching and Learning Award as one of his proudest moments, given to him for his creative teaching techniques.
Additionally, he was most recently awarded the 2023 Infinity International Medallion for Philanthropy, as one of the most influential citizens of the Rio Grande Valley.
Having found success in life, Sarabia describes himself fulfilled and wishes to continue being of service to his students and his community.
"I love Starr County and being close to my family, so I want to stay around and improve my community in any way that I can," he said. "Maybe in the future I will consider opening my own practice, but for now I couldn't be happier. I got my dream job."
For more information on STC's Psychology program, visit southtexascollege.edu/academics/psychology/ or call 956-329-6480.