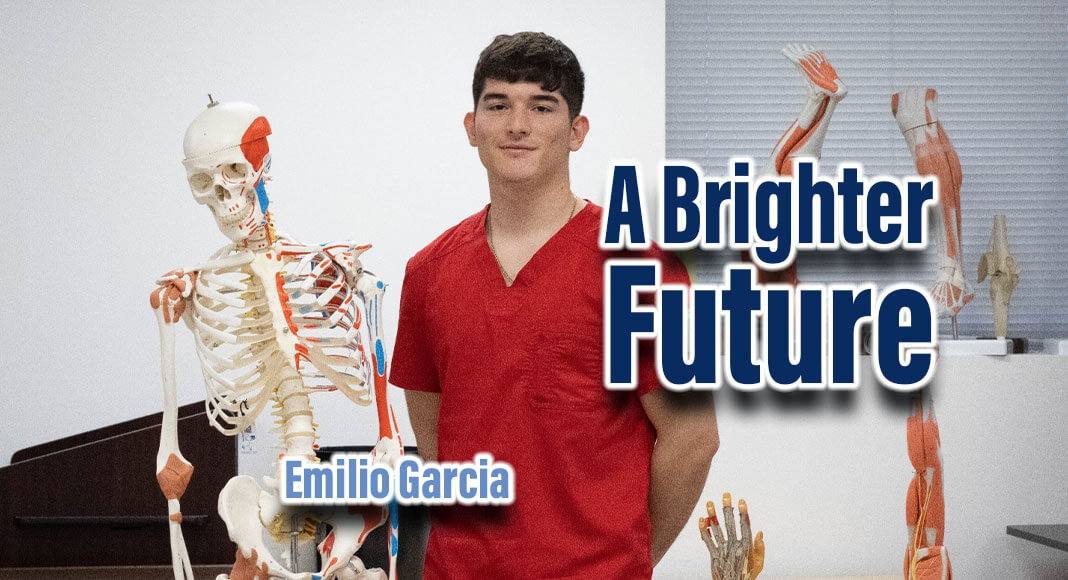 Mega Doctor News
- Advertisement -

By Selene Rodriguez
South Texas College student Emilio Garcia has not only found his professional passion through the Occupational Therapy Assistant program, but an entire community that has opened the doors for him to succeed.
"STC has changed my life in every way; it provided me with an affordable college experience, helped me choose what I wanted to do for the rest of my life and gave me the opportunities to meet many fascinating people that always encourage me to better myself. I'm truly enjoying my time at STC."
Raised in Roma, the 20-year-old recalls envisioning a different future when he was younger; it was through a relative who was a health care professional that he got interested in the Occupational Therapy Assistant program and found his career path at STC.
"My whole life my plan was to do labor work at the oil and gas fields away from home, like many do where I come from," he shared. "But my parents encouraged me to take a different path and sacrificed everything for me to move to McAllen and attend STC. I'm so grateful; I want to make them proud."
Garcia is currently halfway through the two-year program and took on the opportunity to get involved in various student organizations such as the Student Occupational Therapy Assistant club, where he serves as vice president.
"One of the best parts of this profession is that it is holistic. We look at the body from inside and out and work on everything," he explained. "We help people who have injuries, illnesses or disabilities improve their daily skills such as feeding and dressing themselves, communicating or driving. It's amazing to witness the difference that therapy makes and be part of that meaningful change. I love everything about it."
- Advertisement -

During his first year at STC, the first-generation college student joined the Nursing and Allied Health campus Student Government Association and recently traveled to Washington, D.C. to participate in the National Student Advocacy Conference, an event promoted by the American Student Association of Community Colleges.
"Coming from a small town, getting this opportunity to meet people from all over the country and learn about other cultures was everything to me," he said. "It's amazing what you can accomplish at STC, much more than just academic goals."
Garcia, along with nine other students representing all of STC's six campuses, had the opportunity to join other colleges in the advocacy for student rights, which includes an increase in financial aid, by meeting with elected and federal representatives.
"I just want to be involved in everything and learn as much as I can. Thanks to the student organizations I belong to, I've met people from different programs and have fallen in love with this community."
Garcia is also a member of the Student Leadership Academy, an organization that promotes workshops for STC students to gain valuable leadership skills and help them stand out to employers. "I look forward to my second year at STC; I still have so much to learn. I'm just passionate about making a change, whether that would be as part of the Student Government Association or as an occupational therapy assistant."
Garcia expects to graduate in May 2024 and prove himself as a health care professional.
"As an occupational therapy assistant there's many different pathways I could take. I could specialize to work with autism, diabetes patients or pediatrics; everything's fascinating to me," he said. "But for now, I just want to learn as much as I can and immerse myself in the field. It's exciting to think of all the possibilities."
Garcia showed his gratitude for his instructors, advisors and classmates for inspiring him to keep improving himself and plans to keep making the most out of his college experience.
"A huge motivation for me to leave my hometown and come to STC was to become happy with what I do and feel significant, which is definitely the case," he said. "I'm so grateful to my parents for helping me start my future here at STC. This is the best place to be."
For more information on STC's Occupational Therapy Assistant program, visit nah.southtexascollege.edu/ota/ or call 956-872-3161.