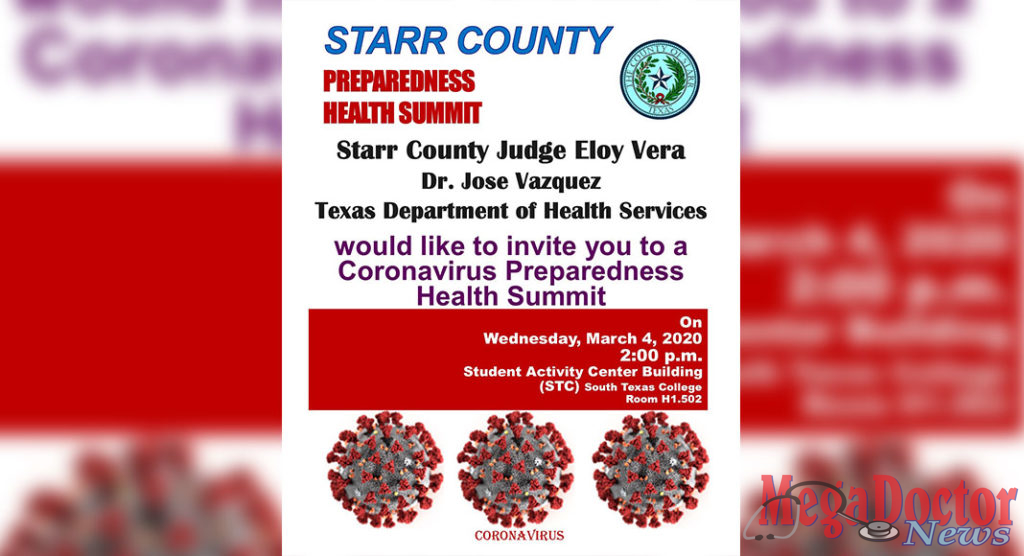 Mega Doctor NEWS
Starr County, Texas – Starr County Judge Eloy Vera, the Texas Department of Health Services and Starr County Local Health Authority Dr. Jose Vazquez will be hosting a health summit to inform and educate the community of ways to protect and prepare themselves from the imminent threat of the Coronavirus. The summit will be held Wednesday, March 4, 2020, at the South Texas College Starr County Campus Student Activity Center Building Room H1.502. 
A virus that erupted in China, which can be transmitted between animals and people, has spread throughout the world infecting nearly 90,000 and killing more than 3,000. There have been 88 cases reported nationwide resulting in six fatalities in Seattle, Washington, per the New York Times.
According to the World Health Organization, common signs of infection include respiratory symptoms, fever, cough, shortness of breath and breathing difficulties. In more severe cases, infection can cause pneumonia, severe acute respiratory syndrome, kidney failure and even death.
Standard recommendations to prevent infection spread include regular hand washing, covering mouth and nose when coughing and sneezing, thoroughly cooking meat and eggs. Avoid close contact with anyone showing symptoms of respiratory illness such as coughing and sneezing.
Although no cases have been reported in Starr County, community leaders are working to ensure that you are knowledgeable about the virus and the necessary precautions to prevent spreading.