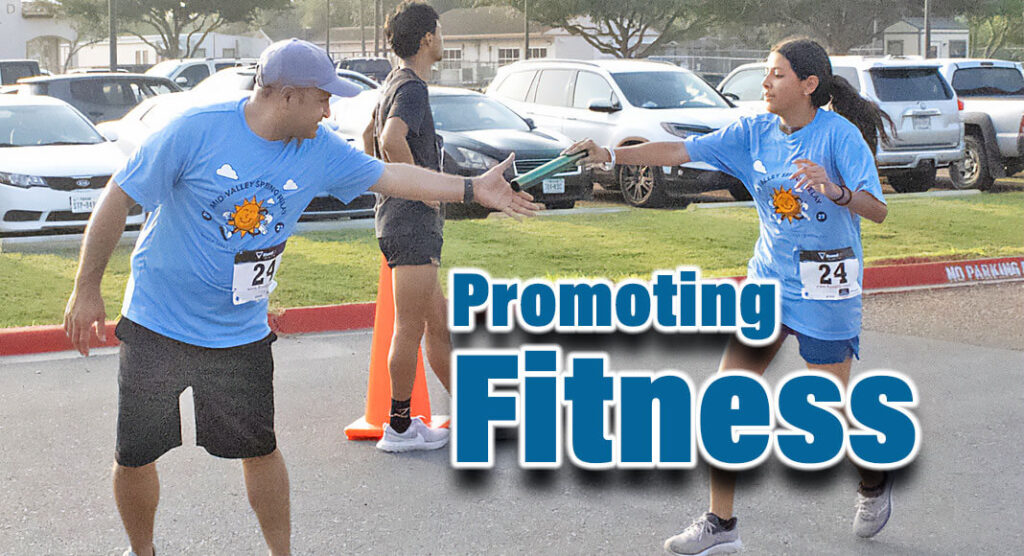 Mega Doctor News
- Advertisement -

By Clarissa Martinez
WESLACO, Texas – The first-ever South Texas College Spring Relay race held recently at the Mid-Valley campus to benefit its Child Development Center was a proven success.
The STC Kinesiology department organized the community race which included almost a dozen four-person relay teams. Each member of the team was required to run a distance of one mile. Free event T-shirts and goodie bags were distributed and medals were awarded to the overall top three teams.
Janice Ponce, Kinesiology instructor, said the newly created Mid-Valley Spring Relay was a way to help promote healthy and active lifestyles to community members.
"This is the very first time we've held this type of event here at the Mid-Valley campus," Ponce said. "It's all to benefit the STC Child Development Center, so we encouraged the community to come out and show their support."
The Mid-Valley campus Child Development Center is staffed by qualified professionals and STC students with varying degrees of education and experience and provides high quality services for children from 12 months to 5 years old.
Child Development Center Manager Sylvia Serrano and Assistant Manager Veronica Villarreal were part of their own relay team and said they were excited for the new event.
- Advertisement -

Villarreal said the staff saw considerable involvement from committed Kinesiology majors, STC community members and parents.
"It's important to get the word out to the community that we are here," Villarreal said. "Many people don't know that we have a child care center available to them on campus."
Serrano said the funds donated will be used to continue to support the Child Development Center operation with supplies and materials for the children.
"The relay was a great way to support the Child Development Center while focusing and encouraging healthy living in the Rio Grande Valley," Serrano added. "We really encouraged parents to participate."
Ponce cited a study that once again named the McAllen-Edinburg-Mission metropolitan area as the "Most Overweight and Obese Cities in the United States" in 2023.
"We need healthier families, and since we're supporting the Child Development Center we want to promote exercise among families," Ponce said. "These types of events really motivate people. They empower them. We're trying to get the community involved, and we also want to give our students this type of experience."
Ponce said the Mid-Valley Spring Relay will join the department's lineup of events, which includes the Pecan campus' annual Turkey Trot Run and Walk, which is now in its 18th year and benefits the STC Student Food Pantry.
"This is what we do at the Kinesiology department," Ponce said. "At Pecan, we host Turkey Trot and all the proceeds are donated to the food pantry. Now that we're hosting here at Mid-Valley, we wanted to benefit something we knew was a big part of this campus – the Child Development Center."
Edgar Castillo, Kinesiology major, said he always enjoys a chance to run and was happy to make a donation that will support his campus.
"The donation is going to a good cause, and there's just a lot of positivity at our college and department," Castillo said. "If we're running, you just don't finish and go home. We wait until the last person finishes and we cheer them on as they're finishing. I try to push everyone a little further. It's just about trying to make each other better."
For more information about the Child Development Center, visit southtexascollege.edu/child-development-center/ or call (956) 447-1254.