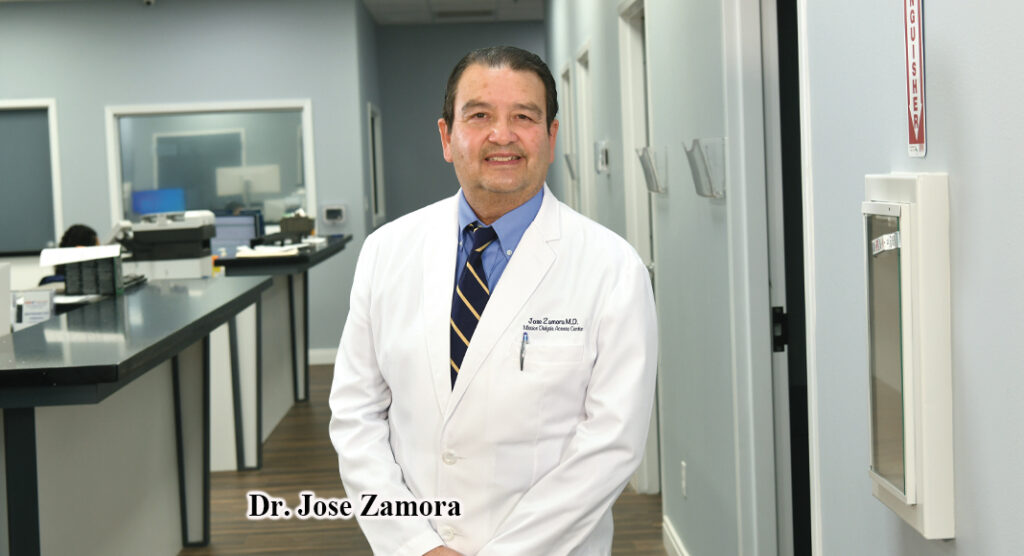 Mega Doctor News
- Advertisement -

Every time I have an opportunity to meet and interview a physician, I get to learn more about the medical industry. These professionals are experts in their field, so their telling is always an eye opener, like more than extraordinary.
I met Dr. Jose Zamora last year, as he and Dr. Pedro Mego were in preparation to enhance a state-of-the-art laboratory in Mission Texas. Dr. Zamora is certified by the American Board of Surgery, the American Board of Physician Specialties, and a Diplomate of the American Board of Thoracic Surgery. His primary interest is in dialysis access procedures. Dialysis is the lifeline of those who have advanced kidney failure. Dr. Zamora had training in Cardiovascular Surgery under Dr. Michael E. DeBakey and has published scientific articles on subjects related to dialysis. In this issue, get to know him and learn more of what he does in the world of catheters and fistulas.
On another matter, research, and data show that early detection of conditions caused by the thyroid gland can be imperative, as those conditions can worsen slowly over time. More in this issue.
Good news: DHR Health Institute for Research & Development has been granted Expanded Access by the FDA to offer fourth dose of Pfizer COVID-19 mRNA vaccine. DHR Health Institute for Research & Development is the first and only entity in the U.S., which has received formal approval from the FDA to administer the fourth dose of this vaccine. More inside.
Big applause for Hidalgo County. Judge Richard Cortez, STC President Ricardo Solis, Texas Workforce Commissioner of Labor Julian Alvarez, STC trustees, and administrators gathered for a check signing and celebration at STC's Nursing and Allied Health Campus on February 14, 2022. They pledged two million dollars to the college. Bravo!
We learned that DHR Health Offers Long-acting Antibody Treatment for Protection against Omicron Variant in Patients with Compromised Immune System. DHR Health Institute for Research and Development is currently offering long-acting monoclonal antibody treatment to prevent COVID-19 in high-risk patients. This is the only treatment currently available to prevent infection by the Omicron variant of SARS-CoV-2, the virus that causes COVID-19. Read the rest of the story inside.
On December 8, 2021, the U.S. Food and Drug Administration issued an Emergency Use Authorization allowing the use of AstraZeneca's long-acting antibody EVUSHELDTM to be used for prevention of COVID-19 in subjects 12 years and older with moderate to severe immunocompromised status before exposure to the virus. More inside.
- Advertisement -

February is American Heart Month ― a time to call attention to heart health issues such as heart disease and stroke. Cardiovascular disease is the No. 1 killer of women, causing 1 in 3 deaths each year, according to the American Heart Association. Progress has been made to reduce cardiovascular disease for every age and gender over the past two decades, but the progress has been slower in improving risk factors and death rates in women under 50.
There is so much more in this issue, Enjoy!