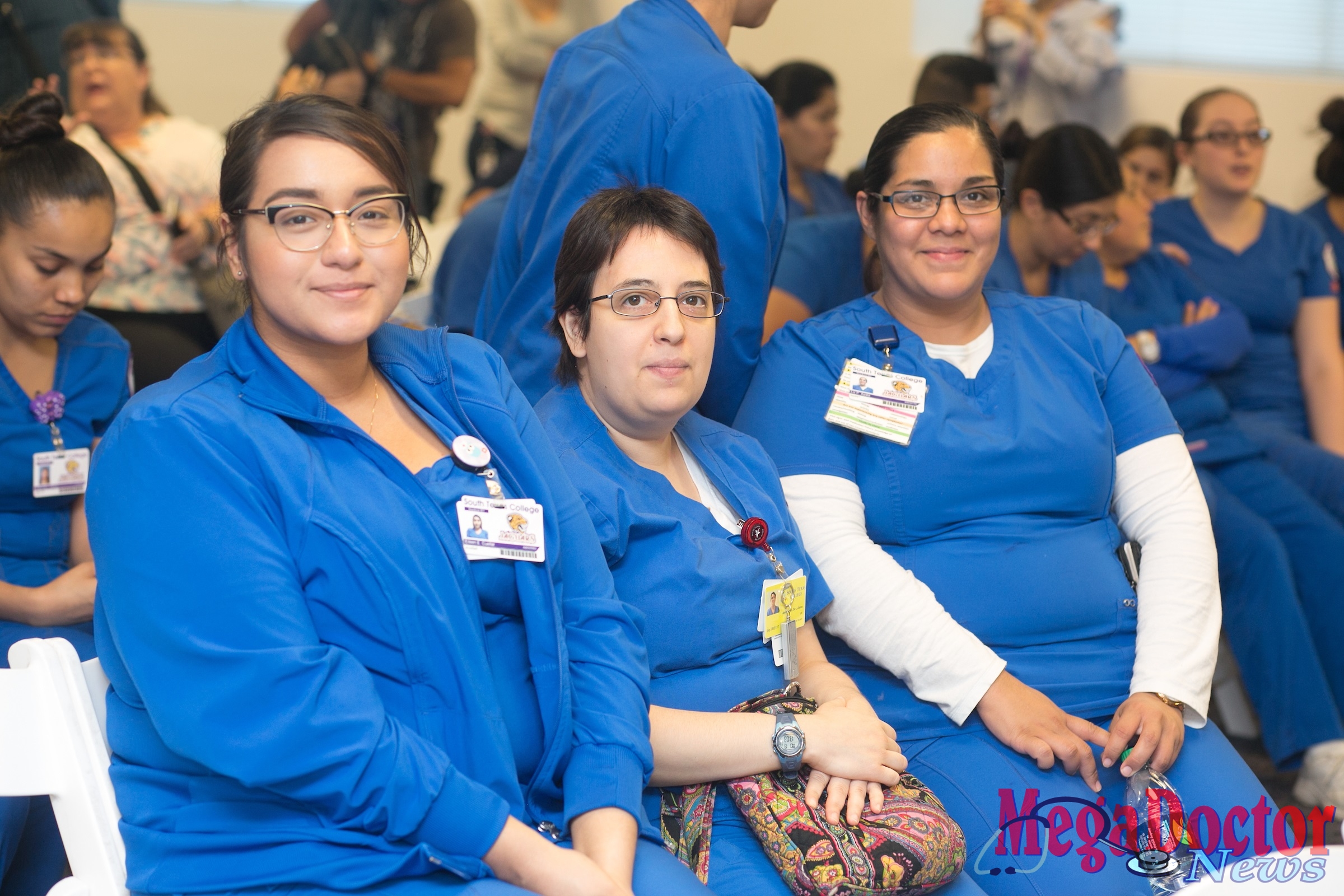 Mega Doctor News
MCALLEN, TX (June 20, 2017) – As large portions of the population begin to retire, it is expected that there will be 12 million older Americans that will require long term care, according to a 2014 study conducted by the National League for Nursing.
Considering that more than 70 percent of care in nursing homes is performed by Licensed Vocational Nurses (LVN), it is not surprising that the $223vocational nursing program at South Texas College supplies one of the most high demand occupations in the Lower Rio Grande Valley area.
Through partnerships with industry and collaborative support with governmental agencies like the Texas Workforce Commission (TWC) STC is prepared to meet the demand, and provide better lives for the people in communities across the region.
"LVN careers play a huge role in providing a patient centered care and evidence based care to community healthcare settings across the life care continuum," said Dr. Jayson Valerio, STC Interim Dean for Nursing and Allied Health. "STC shares a commitment with our partners in industry and government to provide better lives in the community to the people we serve."
At a check signing ceremony on June 19, TWC awarded South Texas College $223,109 in the form of a Jobs and Education for Texans (JET) grant. The grant will help the college purchase and install equipment to provide 150 students with training for careers in the medical profession as licensed practical and vocational nurses.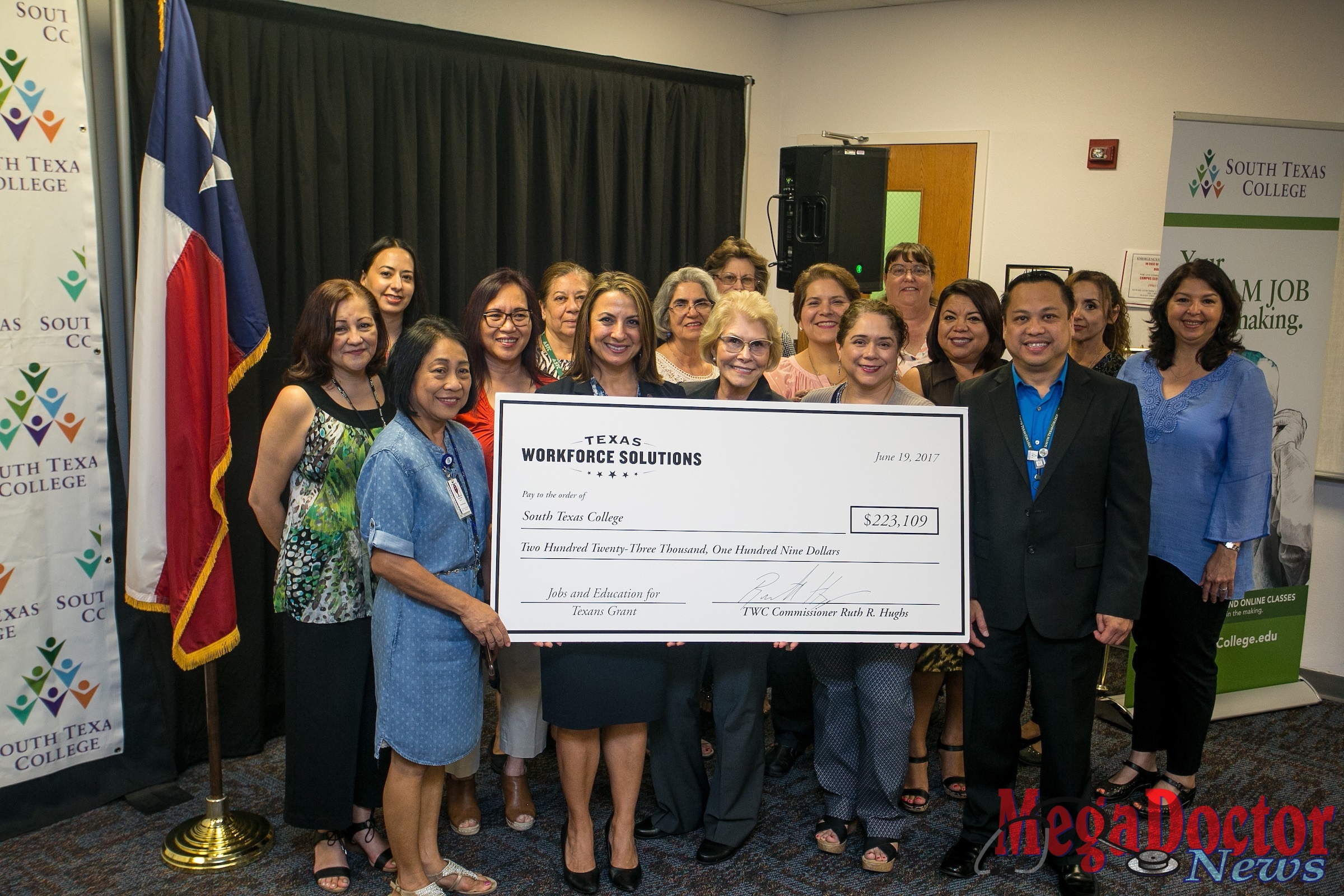 In attendance at the event was TWC Commissioner Representing Employers Ruth R. Hughs, LVN and nurse recruiter at Doctors Hospital at Renaissance Marcos Gutierrez, and Romeo Valladares, RN representing LVN employers.
Dr. Anahid Petrosian, STC Interim Vice President for Academic Affairs and Dr. Valerio spoke on behalf of the college.
"This is a grant that allows institutions to apply for equipment to train students," Hughs said. "It really helps us, particularly now in this ever changing and growing high technology world we live in, and helps us to stay on top of having students train on the most state of the art equipment so when they do graduate, they are workforce ready and trained on the equipment they will be using when they're in their careers."
The JET program provides funding for equipment to eligible educational institutions for the purpose of developing career and technical education courses and may include courses offering dual-credit and technical education programs. The equipment must be used to train students in high-demand occupations.
For the duration of the grant, the LVN program at STC will admit 160 students located the college's Nursing and Allied Health campus, as well as campuses in Weslaco and Starr County. The program aims to teach the primary basic nursing skills including the first year of nursing, and most students will then go to work in long-term care facilities, adult daycare centers, and in the community.
"Our primary goal at STC for the LVN program is to produce competent and safe nurses for the workforce of the Rio Grande Valley," said Daphine Mora, RN, MEd, Director for the LVN program at South Texas College. "This equipment will allow us to simulate real life nursing care to prepare students to care for patients in their workplaces and clinical sites safely and competently.
It's vital that students understand what the latest equipment is because they don't get a lot of training once they go into the healthcare field," Mora said. "It's vital they have all the equipment they need beforehand, and be able to utilize it when they go into the workplace."