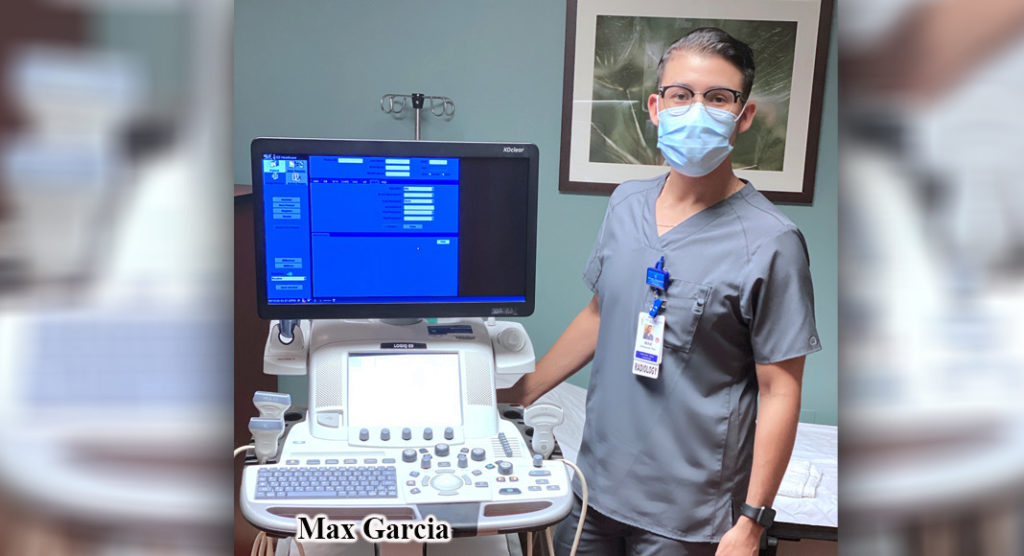 Mega Doctor NEWS
Brownsville, Texas – Never in his wildest dreams did Texas Southmost College graduate Max Garcia think he would become a frontline, essential worker during a global pandemic.
But after earning his associate degree in May from TSC's Diagnostic Medical Sonography program, that is exactly what the Brownsville native has become as an ultrasound technician at Valley Regional Medical Center in Brownsville.
Although the COVID-19 pandemic brought an unexpected learning curve for the new sonographer, he credits TSC for the instruction that prepared him to handle new challenges such as this one.
"From the very first day of my career I have been exposed to COVID almost on a daily basis as part of the team that provides a necessary service for these patients," said the 26-year-old. "Never could anyone have imagined this happening, but TSC prepared me and my hospital has kept me safe."
Garcia said that pandemic or no pandemic, his career is his passion, and he is glad he discovered the sonography program at TSC.
"What I wanted to be when I grew up wasn't always clear to me," said Garcia. "But when I found this program, it just clicked, and I instantly knew. It's surreal that because of this program and TSC, I was able to begin my career before even graduating."
Garcia said this experience has been humbling and he is thankful for the success he has found.
What made this success even sweeter for the first-generation college graduate was that only months before, he was at a Southeast Texas university struggling financially and without a set career path.
"The health care field wasn't always my first choice," he said. "I actually liked math and thought about working at a bank, but that all changed when I returned home and began working at a medical clinic as a clerk."
Since Garcia had just returned home from a university where he had no financial aid, he needed a college that was affordable and close to home – that was TSC.
"Every sonographer I knew talked very highly about TSC's sonography program," said Garcia. "And it certainly did not disappoint, in fact, it exceeded my expectations."
Garcia said the program was demanding and challenging, but it was his instructors' passion for their students and the field that made all the difference.
"The program provided us with everything we needed to understand concepts and procedures with hands-on learning, and to be successful sonographers with high standards of patient care," he said. "Our instructors even went as far to ensure we were prepared to pass our board exams and confident to enter the workforce."
It was the skills he learned as a TSC student and his hard work that got him noticed at Valley Regional Medical Center by his supervisor and lead sonographer Claudia Ahumada.
"Max left a great impression as a student completing his rotations at our hospital," said Ahumada. "He was knowledgeable, always willing to work hard and learn, and very personable. He's been a great person to have on our team."
Garcia recently earned his abdomen, obstetrics and gynecology sonography registries and will work toward his vascular sonography registry in the near future
He also said that he hopes to return to college for a bachelor's degree in radiology, health management or exercise science.
"TSC gave me the tools and resources I needed to learn and gain a meaningful career," said Garcia. "I now have the confidence to continue my education, pursue opportunities that before seemed impossible, and have a better life. TSC is a game-changer."